Syrian Foreign Minister Vows Democracy Amid Crackdown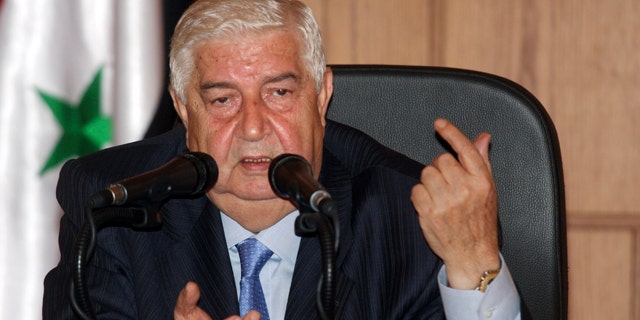 BEIRUT -- The Syrian regime, besieged by street protests at home and condemnation abroad, spoke again Wednesday of democracy over the horizon, after decades of iron-fisted rule and months of bloody reprisals. But a skeptical opposition dismissed the call for talks.
The overture from Foreign Minister Walid Moallem came in a Damascus news conference two days after a speech in which President Bashar Assad said he would convene a "national dialogue" on political reform.
"Be a partner in shaping the future," Moallem urged Syria's burgeoning anti-regime forces.
But a prominent dissident rejected the idea of talks while the Syrian military is occupying towns and shooting protesters. Seven were reported killed on Tuesday.
"There can be no dialogue when a gun is being held to your head," said the Damascus-based Hassan Abdul-Azim.
That view was echoed at the highest level of the United Nations later Wednesday, when Secretary-General Ban Ki-moon told New York reporters he didn't see "much credibility" in the Assad statements "because the situation has been continuing."
The U.N. chief suggested unified Security Council action to pressure Syria "would be helpful." Russia and China have opposed such action.
At his televised news conference in the Syrian capital, Moallem mixed defiance toward Syria's foreign critics with a conciliatory tone about its political future, in an apparent effort to present a picture of regime confidence at a time when Assad is coming under increased attack abroad and at home, where protesters demand his ouster and an end to 40 years of authoritarian Assad family rule.
Moallem lashed out at European governments for slapping sanctions on Syria for its bloody crackdown on street protests, saying it "amounts to (an act) of war," and accused the European Union of wanting to sow chaos and conflict in Syria.
"We will forget that Europe is on the map," he said.
He called for national dialogue and claimed the Damascus government would soon present "an unprecedented example of democracy" in the troubled Middle East -- a bold assertion for an embattled regime that has kept a hardline authoritarian grip on its people for decades.
"There will be social justice, equality before the law and accountability," he said, when asked about his vision for Syria in three months.
The statements by the longtime trusted Assad aide went beyond the vague promises of reform the president made in Monday's speech, and amounted to a rare official admission that Syria has ignored basic democratic principles.
It was the regime's latest attempt to blunt three months of widespread demonstrations, a movement that was inspired by pro-democracy upheavals elsewhere in the Mideast and that has persisted despite the reported killing of hundreds of protesters by security forces.
Moallem called for regime opponents to enter into political talks, and urged Syrian exiles to return, pledging that "even the harshest opponent" of the regime will not be arrested.
"Whoever wants to test our seriousness should come to the national dialogue to be a partner in shaping the future," he said.
In his speech, President Assad had said he was forming a committee to study constitutional amendments, including one that would open the way to political parties other than the ruling Baath Party. He said a package of reforms was expected by September or no later than the end of the year.
Responding to Moallem's statements, the dissident Abdul-Azim said dialogue was impossible with the regime's security forces still cracking down on dissent. "Such a dialogue would provide a cover for the security crackdown," he told The Associated Press.
Another dissident, London-based activist Rami Abdul-Rahman of the Syrian Observatory for Human Rights, said the regime needs to take steps to "restore trust" before any dialogue can take place.
"We are not against dialogue in principle, but we currently have no confidence or guarantees that anything would be implemented," he said.
Dissidents note that previous talk of reform has produced little change in Syria's autocratic system.
Among the opposition's demands is the withdrawal of Syrian troops from cities, putting on trial security personnel responsible for killing protesters, and the release of all political prisoners.
The opposition estimates 1,400 people have been killed and 10,000 detained in the attempted suppression of the 3-month-old pro-democracy movement. Hundreds of soldiers and police officers have also been killed.
Activists said the sweeping arrests have continued even after Assad's speech. Abdul-Rahman and others said dozens of students were beaten and others detained, including female students, during a raid at Damascus University dormitories Tuesday night.
Abdul-Azim said the scattered opposition movement would announce within a week the formation of a National Coordination Council for democratic change, encompassing all groups inside and outside Syria.
Foreign Minister Moallem sounded confident there would be no Western military intervention or no-fly zone over Syria, saying the international community is mired in the "scandals" of its military intervention in Libya.
He added that Arab countries "without exception" support Damascus. The Arab League on Monday issued a statement of support for Syria and opposition to foreign intervention there.
Moallem also denied that Syrian allies Iran and the Lebanese Hezbollah movement are helping the Damascus regime put down unrest. The U.S. has accused Iran of sending reinforcements and equipment to Syria.