Syrian Forces Launch Deadly Attack Against Northwestern Province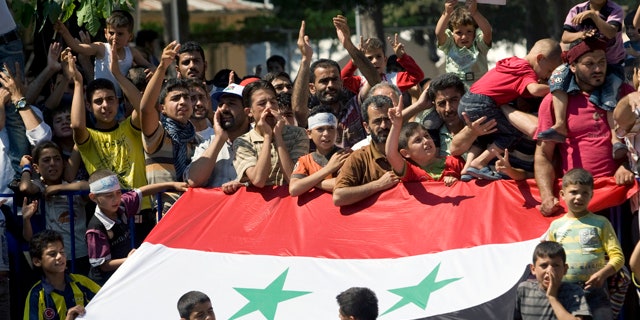 BEIRUT -- Syrian tanks and helicopters swept through a restive northwestern province Wednesday, shelling at least one village in an attack that killed four people, activists said.
Ammar Qurabi, head of the National Organization for Human Rights in Syria, cited witnesses as saying the military shelled Rameh village to quell daily protests against President Bashar Assad in the area.
Hundreds of other residents fled the village, an activist said by telephone from the area.
"The army is entering village after village," he told The Associated Press, asking that his name not be used out of fear for his safety. "The men have fled to Damascus and into the mountains. They are afraid they'll be tortured or arrested."
Syrian activists say 1,400 people have been killed as Assad tries to crush a nationwide pro-democracy movement that has lasted more than three months. The regime disputes that death toll and says "armed thugs" and foreign conspirators are behind the unrest.
The military operation in Idlib province is part of a sweep against dissident centers the government fears could become a base for a wider rebellion. Besides Rameh, the Syrian army advanced on a series of other hamlets: Marayn, Ihsim, Barshoun and the Roman-era village of al-Bara.
The activist said army units set up checkpoints at the entrances of some villages, checking the identity cards of young men.
Over the past three weeks, thousands of Syrians have streamed into refugee camps in neighboring Turkey.
On Wednesday, hundreds of refugees at two camps along the border held a simultaneous, hour-long protest against Assad and denounced the violence in Idlib.
It is nearly impossible to independently verify the claims on either side of the conflict in Syria, although witness accounts from refugees streaming out of Syria tell of a brutal government response to protests. Syria has banned most foreign journalists and restricts coverage by reporters inside the country.
In an attempt to rebuff those witness accounts, the government has offered several escorted trips to flashpoint areas. Syrian army officials took reporters Wednesday to the Turkish border and said there were rebels trying to stage an armed insurrection.
Speaking on condition of anonymity, citing military rules, the officials said the men erected checkpoints around a camp in the area, preventing Syrian forces from entering.
The army officials said they were watching the situation but had no plans to wrest back the area yet.
An Associated Press reporter traveling with army officials could see the camps from a nearby wooded hilltop, but there was no way to glean any details about the people living inside.