Syria says ready for cease-fire, prisoners swap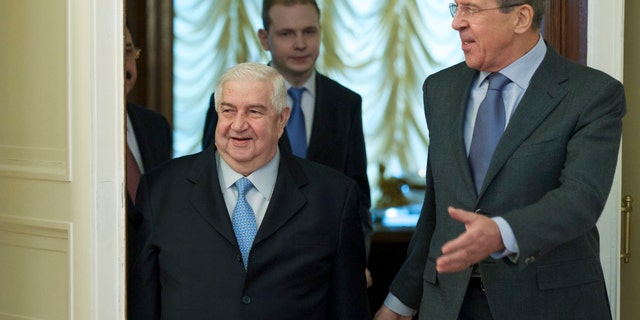 BEIRUT – Syria's foreign minister said Friday his country is prepared to implement a cease-fire in the war-torn city of Aleppo and exchange detainees with the country's opposition forces as a confidence building measure ahead of a peace conference opening next week in Switzerland.
Walid al-Moallem told journalists about the cease-fire plan after meeting in Moscow with his Russian counterpart, Sergey Lavrov. He did not divulge details of the plan, which would contain "measures to enforce security" in Aleppo, 190 miles from the Syrian capital, Damascus.
The announcement came as heavy battles raged between Syrian government forces and rebels near the border with Lebanon on Friday.
A barrage of almost two dozen missiles and shells from Syria slammed into Lebanese border towns and villages, killing seven people, including several children who were out playing, Lebanese security officials said, speaking on condition of anonymity because they were not authorize to talk to media.
The attack was the latest incident in what has been an increasing spillover of Syria's civil war into Lebanon, where violence from rockets, car bombs and sectarian clashes has claimed dozens of lives in the past year.
The meeting between Russian and Syrian sides was part of a final diplomatic push ahead of a peace conference dubbed Geneva 2, which opens on Wednesday in Montreux, Switzerland.
But prospects for the talks -- the first between the warring sides in Syria since the start of the conflict -- are dim as each party shows no inclination for compromise.
Syria's main Western-backed opposition group, the Syrian National Coalition, is meeting in Istanbul Friday to decide whether to participate in the peace talks.
The opposition group has remained adamant that the ouster of Assad is a condition for any deal, and al-Moallem's overtures in Moscow appeared to be an attempt to coax the group into attending the talks.
"As a result of our confidence in the Russian position and its role in stopping the Syrian bloodshed, today I submitted to Minister Lavrov a plan for security arrangements that have to do with the city of Aleppo," said al-Moallem. "I asked him to make necessary arrangements to guarantee its implementation and specify the zero hour for military operations to cease."
Al-Moallem said that if Lavrov's efforts were successful, the cease-fire plan could be used as a model for other parts of the country, where the conflict between Syrian President Bashar Assad's government and opposition forces has claimed over 130,000 lives since March 2011.
Al-Moallem also said his government has agreed "in principle" to release prisoners from Syrian jails in exchange for people kidnapped by armed groups, but he said there needs to be an exchange of lists and a mechanism for implementation.
Both a cease-fire and prisoners exchange have been a key demand of the opposition ahead of the planned talks. But it was unclear whether al-Moallem's announcement would help sway the opposition meeting in Istanbul, which is deeply skeptical of any government overtures.
On Thursday, Lavrov also met with the foreign minister of Iran, Syria's staunchest regional backer. Lavrov strongly urged the West to invite Tehran to participate in next week's peace conference.
In Lebanon, seven people, including at least three children who were out playing, were killed when a barrage of 20 rockets from Syrian slammed into Lebanese border towns and villages.
Most of Friday's casualties occurred in the town of Arsal, where thousands of Syrians have fled to escape their country's civil war over the past months. The state-run news agency said the attacks also wounded 15 people.
It was not immediately clear who fired the rockets, which struck several towns and villages in the northern Bekaa Valley, including Baalbek, Hermel and Arsal. A security official in the area said it was not known whether it was errant shells or deliberate firing. There was a total of 20 impacts, he said.
Residents in the area said heavy fighting between Syrian troops and rebels has been taking place on the Syrian side of the border since Thursday. Loud explosions could be heard from across the border and smoke billowed from the Syrian side.
On Thursday, a car bomb struck the center of the predominantly Shiite town of Hermel, which is about 10 miles from the Syrian border and a stronghold of Lebanon's militant Hezbollah group. At least three people were killed and more than 20 wounded in that attack.