Syria says ambassador who defected should be punished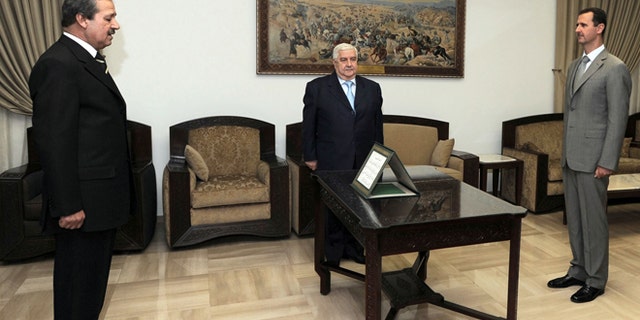 BEIRUT – Syria's Foreign Ministry said Thursday that the country's former ambassador to Iraq should be punished after his defection to the opposition seeking to overthrow President Bashar Assad.
In a statement reported by Syria's state news agency, the ministry said Nawaf Fares had been "relieved of his duties" and should face "legal and disciplinary accountability." Fares announced his defection in a video released Wednesday, saying he was siding with "the revolution" against Assad.
He is the highest profile diplomat to defect in the uprising and the second prominent figure to leave the regime in a week, suggesting some cracks in Assad's regime are appearing at senior levels although the core of Assad's regime has remained loyal despite growing international pressure.
Brig. Gen. Manaf Tlass, an Assad confidant and son of a former defense minister, fled Syria last week, but has not spoken publicly and he does not appear to have joined the rebel side. Opposition leaders and Western officials said they hoped Fares' defection would now encourage others to leave, too.
Syria's unrest began with protests in March 2011, but has since evolved into an armed insurgency with scores of rebel groups across the country clashing with government troops and attacking their bases and convoys. Activists say more than 17,000 people have been killed.
The Syrian government blames the uprising on armed gangs backed by foreign powers to weaken the state. It says more than 4,000 members of the security forces have been killed.
In Paris, Iraqi Foreign Minister Hoshyar Zebari confirmed Fares' defection, saying he quit while outside of Iraq.
Fares condemned Assad's regime in a statement broadcast on the satellite channel Al-Jazeera.
"Where is the honor in killing your countrymen? Where is the national allegiance? The nation is all the people, not one person in particular," he said. "The allegiance is to the people, not to a dictator who kills his people."
It was unclear where Fares recorded the statement. His current whereabouts remain unknown.
Appointed to the Baghdad post four years ago, Fares was the first Syrian ambassador to Iraq in 26 years. Like Tlass, he is a member of the privileged Sunni elite in a regime dominated by Assad's minority Alawite sect.