Surprising Brazil election gives boost to overlooked candidate facing incumbent in runoffs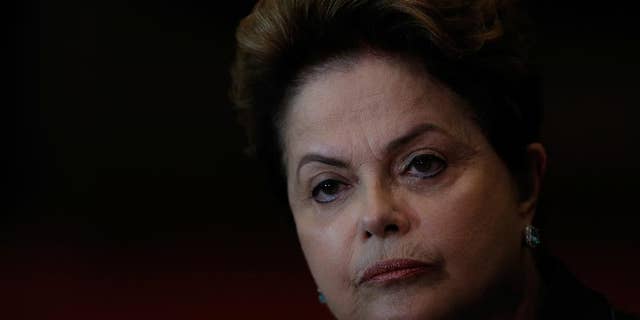 SAO PAULO – Aecio Neves turned Brazil's politics on its head with his surprise showing in the first round of presidential voting but his toughest task lies ahead — defeating incumbent Dilma Rousseff and her juggernaut Workers' Party which has governed for 12 years.
The business-friendly candidate who only surged in the final week of the campaign came within 8 percentage points of Rousseff in Sunday's election and has momentum and a strong center-right party on his side.
The challenge for Neves, who was born into affluence and political power, will be to connect with the millions of poor Brazilians who have directly benefited from Rousseff's policies.
"He needs a more popular dialogue to build a bridge to those voters," said Mauricio Moura, a Brazilian pollster and professor of political strategy at George Washington University.
The 54-year-old economist has three weeks to do it.
Neves defied expectations in Sunday's first-round vote, finishing second with 34 percent to Rousseff's 42 percent. Socialist Party candidate Marina Silva, who at one point led Rousseff in polling, finished third at 21 percent and will not advance to the Oct. 26 runoff.
Voters now have a clear choice: Re-elect the left-leaning Rousseff and endorse her protectionist trade stance or move to the right with Neves, who has promised to cut government spending, open infrastructure to the private sector and pursue direct trade deals with Europe and the United States.
They are positions certain to be attacked by Rousseff now that Silva is out of the race.
Silva, a popular former environment minister, drew huge support after she was named to replace Eduardo Campos, her party's initial candidate who died in a plane crash in August. But her appeal waned after Rousseff launched an aggressive campaign to discredit her, including negative ads that portrayed Silva's plans to loosen control of the business sector as a threat to the social gains made since the Workers' Party came to power in 2002.
"Aecio hasn't been under much scrutiny in the past month given Marina's surge. But now he is going to be the center of attention for the PT's (Worker's Party) machinery," said Joao Augusto de Castro Neves, Latin America director for the Eurasia Group consulting firm.
Rousseff was quick to take on her new target. In her postelection speech Sunday, she said a Neves victory would bring back the "ghosts of the past," referring to the high rates of inflation and unemployment that dominated the administrations of Neves' Social Democracy Party in the 1990s.
Neves struck back Monday, saying Brazilians are, on the contrary, care more about the stagnant economy and corruption cases that now dog the ruling party.
"In reality, Brazilians are very worried about the monsters of the present of high inflation, recession and corruption," he said at a press conference.
Rousseff has vulnerabilities. Her showing in the first round was the weakest for a Workers' Party candidate in 16 years. Neves' side has pointed out that opposition candidates pulled more votes than the president, a sign he hopes signals the nation is ready for a change.
His campaign manager, Jose Agripino Maia, wasted little time reaching out publicly to Silva in a bid to win her followers, saying that while the team will respect her decision, "I think our obligation is to fight to obtain Marina's formal support."
Silva said if she decides to make an endorsement, she will choose the candidate whose positions best match her own proposals.
Neves said Monday he believes his proposals are very similar to Silva's. He told reporters he spoke with Silva Monday morning and said that given her repeated calls for change in Brazil during the campaign, he hoped she would support his candidacy.
He said he is hopeful that many of the voters who supported Silva would choose him in the runoff.
"I am very confident that we have the conditions to increase our lead for all of Brazil to win," Neves said.
A poll published Saturday before the vote found 71 percent of Silva's supporters would vote for Neves if he faced Rousseff in the runoff. The poll by the Datafolha firm questioned 18,116 voters between Oct. 3 and 4 and had a margin of error of 2 percentage points.
Moura and other analysts, however, doubted Neves would do as well among Socialist Party supporters who are significantly to the left of him.
As the campaign shifts to the runoff, Neves stands to benefit from the strength of his Social Democracy Party, Brazil's most powerful opposition group. It held the presidency between 1994 and 2002, when President Fernando Henrique Cardoso was credited with stabilizing inflation. Neves also has the advantage of family legacy: His grandfather Tancredo Neves, was a cherished politician who was chosen to become Brazil's first post-dictatorship president in 1985 but fell ill and died before taking office.
And while Neves is well regarded as a former two-term governor of Minas Gerais, Brazil's second-most populous state, it is also the home state of Rousseff. In Sunday's vote, she outpolled him there 40 percent to 36 percent.
The business sector seemed to cheer Neves' strong showing. On Monday, the Ibovespa Index rose as much as 8 percent, the highest intraday climb since 2008, and the real strengthened against the dollar. At one point, Petrobras' shares rose 17 percent to 21.50 reals per share.
Brazil's economy has slowed in the past four years, and even Rousseff acknowledged in her speech Sunday that a second term would see some changes in her economic policy, although she did not offer specifics.
___
Adriana Gomez Licon on Twitter: www.twitter.com/agomezlicon