Support builds for ailing Pakistani Christian facing death for drinking from Muslim water cup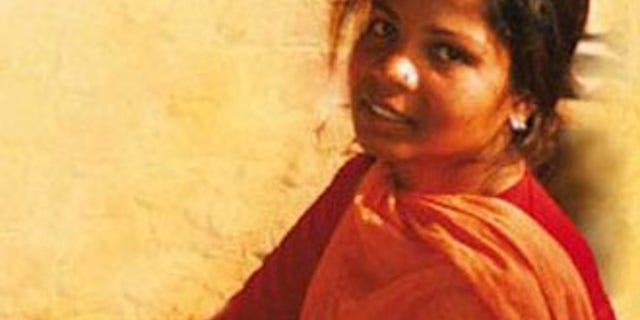 A Pakistani Christian woman facing death for drinking water out of the same vessel used by her Muslim co-workers is in such poor health her supporters fear she won't make it to her date with the executioner.
Aasiya Noreen, a wife and mother of five better known as Asia Bibi, was sentenced in 2010 to be hanged for apostasy. The grim verdict was handed down after her co-workers charged she had insulted Prophet Mohammed when she was told she could not share the water vessel. Now 50, Bibi is suffering from numerous health problems, including intestinal bleeding, according to Global Dispatch, which cited Bibi's family in reporting the woman is "so weak she could hardly walk."
"She is an exemplar of a gross miscarriage of injustice rooted in Pakistan's extremely unfair blasphemy laws and of how this law can victimize someone who should not be inside the criminal justice system whatsoever," said Phelim Kine, deputy director of Human Rights Watch's Asia Division.
Supporters of Bibi are calling on the U.S. to use the approximately $900 million in annual foreign aid it provides Pakistan as leverage to obtain justice for Bibi and others suffering under the Muslim nation's Draconian blasphemy laws. The Center for Research and Security Studies, which identified 247 blasphemy cases prosecuted in Pakistan since 1987 and found many were used to persecute religious minorities and settle personal scores.
In recent years, Bibi's case has received sporadic coverage due to several postponements of court hearings. The British Pakistani Christian Association is hoping to use the sixth anniversay of her arrest to bring renewed attention to her plight, sending out statements and releasing songs calling for her freedom. The group's chairman, Wilson Chowdhry, has urged nations with close ties to Pakistan, such as the U.K. and the U.S., to speak up.
"There has been a lack of mainstream media coverage, meanwhile her plight continues and she had been waiting for a Supreme Court hearing for eight months," he said. "People have to contact leaders of their nations asking them to engage in dialogue with Pakistani government for humanitarian rights alone."
Nazir Bhatti, president of the Pakistan Christian Congress, told FoxNews.com it is difficult for the international media to pick up news on Bibi's plight because it generates so little coverage within the country.
"Pakistani media do not often write about her case and are too afraid because they are under pressure from the government to stay silent," Bhatti said.
Pope Francis has called for clemency for Bibi, and last year, Kentucky Sen. Rand Paul called for an end to U.S. aid to Pakistan, noting the persecution of young women and Christians in the nation, and citing Bibi in particular. Last month, the U.S. Commission on International Religious Freedom pressed the Obama administration to designate Pakistan a "country of particular concern."
Those who have spoken up for Bibi from within Pakistan have done so at their own peril. Two, Salmaan Taseer, the governor of Punjab, and Shahbaz Bhatti, the minister of minority affairs, were assassinated after defending Bibi and speaking out against the blasphemy laws.
"The assassinations show how dangerous it is for politicians to challenge the blasphemy law. Militants will go to extreme measures for anyone who speaks for religious freedom or human rights," said Kine.
According to a recent Mission News Network article, there have been some recent internal attempts to overhaul the blasphemy laws due to international pressure. A March 2014 poll from the Pakistani English-language newspaper, The Nation, showed 68 percent of Pakistanis believe the blasphemy law should be repealed.
"It is not something that can happen overnight," said Hillel Neuer, executive director of the Geneva-based UN Watch. "The government needs to educate their people on what are universal human rights, what is respecting religious minorities and so on. Right now, I don't see that happening."
Chowdry, however, believes that reform of blasphemy laws are unlikely in a country he says is "hijacked" by extremists.
"We see what happens when someone tries to challenge the blasphemy laws," he said. "It got two key politicians killed…In a country with such animosity against Christians, I don't believe a Supreme Court judge will be brave enough to exonerate her."
The British Pakistani Christian Association has issued an online petition calling for Bibi's release.
FoxNews.com's Mary Kekatos contributed to this report.