Stalin monument dismantled in dictator's Georgian hometown to make way for 2008 war memorial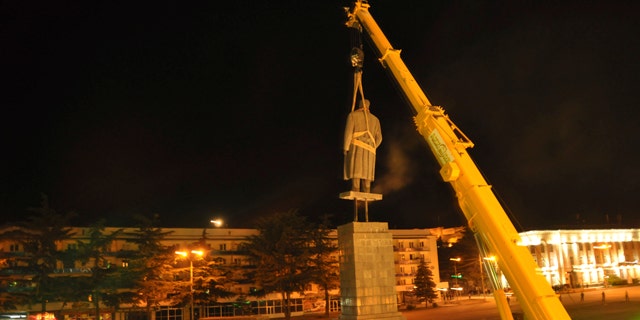 TBILISI, Georgia – TBILISI, Georgia (AP) — Authorities in Georgia on Friday tore down a monument to Soviet dictator Josef Stalin in his birthplace of Gori to make way for a memorial to the fallen in the Russian-Georgian war of 2008.
Gori is just a few kilometers (miles) from the separatist enclave of South Ossetia, where Russian forces crushed the Georgian army in a brief conflict in August 2008.
Officials say the overnight dismantlement of the towering bronze statue, approved last week by the city's parliament, was spurred by the appeals of a younger generation who have embraced Western ideals of freedom.
"A memorial to Stalin has no place in the Georgia of the 21st Century," President Mikhail Saakashvili said in televised comments.
Zviad Khmaladze, chairman of the local legislature, told The Associated Press the monument will be relocated to the town's Josef Stalin Museum.
"It's about time, too," local teacher Iya Kotetishvili said. The 31-year-old expressed regret that pervades the town that its most famous son wrought great suffering upon millions.
"Stalin has gone down in history — albeit an evil shade of history. We can't escape the fact that he was born in Gori," Kotetishvili said.
Saakashvili's political foes denounced the move. Opposition Labor Party leader Kakha Dzaganiya called it an "unthinkable vandalism."
Communists and other older generation residents share a nostalgia for their man who dragged the Soviet Union into the industrial age and helped lead the Allies to victory in World War II. Many others can't reconcile that with Stalin's Great Terror, which began in late 1930s and led to the deaths of millions by execution or in horrifying conditions in labor camps.
The 6-meter (nearly 20-feet) statue was pulled off its high pedestal before dawn — an unexplained move likely aimed at preventing protests and excessive media attention. Despite the timing, hundreds of locals watched the monument's removal by a huge construction crane.
Gori suffered artillery fire and airstrikes during the 2008 war and was briefly occupied by Russian forces. Moscow has recognized both South Ossetia and another Georgia's rebel province as independent states, but only Venezuela, Nicaragua and the South Pacific island nation of Nauru have followed its example.
The Stalin statue survived the bombing of the central square — a rallying point for journalists during the 2008 conflict. Its replacement will acknowledge the 228 Georgian civilians killed or missing and 162 of its soldiers killed in the fighting, which had all but ended when Russian tanks rolled into Gori and right past the statue.
Stalin was born to a modest family of cobblers in 1878; the statue in his honor was erected in 1952, the year before his death.
The Western-leaning Saakashvili last year blew up a huge memorial honoring the Red Army's fight in World War II.