Sri Lanka emergency law bans face coverings as church urges more vigorous crackdown on militants
Muslim women in Sri Lanka will no longer be able to cover their faces because of a new emergency law ordered by the president that bans all kinds of facing coverings that may conceal a person's identity.
The law, which took effect Monday morning, comes eight days after the deadly Easter bombings of churches and hotels that killed more than 250 people in the South Asian country. Dozens of suspects have been arrested but local officials and the U.S. Embassy in Colombo have warned that more militants remain on the loose with explosives.
President Maithripala Sirisena proposed the law that would prohibit any face garment which "hinders identification" to ensure his office. The niqab and burka – predominately worn by Muslim women – were not specifically named.
SRI LANKAN FORCES DISCOVER OVER A DOZEN BODIES, INCLUDING CHILDREN, AT ISIS SAFE HOUSE
The decision came after the Cabinet had proposed laws on face veils at a recent meeting. It had deferred the matter until talks with Islamic clerics could be held, on the advice of Prime Minister Ranil Wickremesinghe.
Muslim leaders criticized the move, with one person calling it the "stupidest thing to do."
"Three days ago we took a voluntary decision regarding this," Hilmy Ahmed, vice president of Sri Lankan organization of Muslim clerics told the BBC. "The All Ceylon Jamiyyathul Ulema told all Muslim women not to wear face veils for security reasons. If they want to wear a veil, then they were told not to come out."
He continued: "We see this as a reflection of the conflict between the president and the prime minister. We strongly criticize the decision. We will not accept the authorities interfering with the religion without consulting the religious leadership."
EAST SRI LANKA ON EDGE AFTER EASTER BOMBERS LINKED TO REGION
On Sunday, Catholics shut their churches for fear of new attacks, forcing many to watch on television Cardinal Malcolm Ranjith, the archbishop of Colombo, deliver a homily before members of the clergy and the country's leaders in a small chapel at his residence in the capital.
The closing of all of Sri Lanka's Catholic churches – an extraordinary measure unheard of in the church's centuries on the island – came after the warning by the U.S. Embassy in the capital.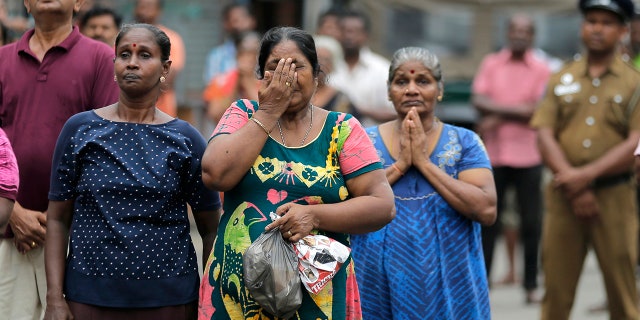 US RAISES TRAVEL WARNING AFTER SRI LANKA SUICIDE BOMBINGS
Before services began, the Islamic State group claimed three militants who blew themselves up Friday night after exchanging fire with police in the country's east. Investigators sifting through that site and others uncovered a bomb-making operation capable of spreading far more destruction.
"This is a time our hearts are tested by the great destruction that took place last Sunday," Ranjith told those watching across the nation. "This is a time questions such as, does God truly love us, does he have compassion toward us, can arise in human hearts."
On Monday, the cardinal urged the government to crack down on Islamic extremists with more vigor "as if on war footing." He said the church may not be able to stop people from taking the law into their own hands unless the government conducts a more thorough investigation and does more to prevent further attacks.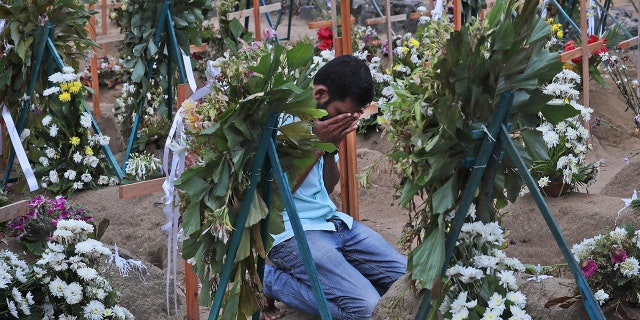 "All the security forces should be involved and function as if on war footing," Ranjith told reporters. "I want to state that we may not be able to keep people under control in the absence of a stronger security program," he said. "We can't forever give them false promises and keep them calm."
CLICK HERE TO GET THE FOX NEWS APP
Ranjith, however, said the church assures Muslims that it will not allow any revenge attacks against them.
He also said church services would be held this coming Sunday after necessary precautions are taken.
The government is accused of not having acted on near- specific information from a foreign intelligence agency over several weeks on an imminent attack.
The Associated Press contributed to this report.