Spurs' 11-Year-Old Anthem Singer Won't Let Racist Comments Bring Him Down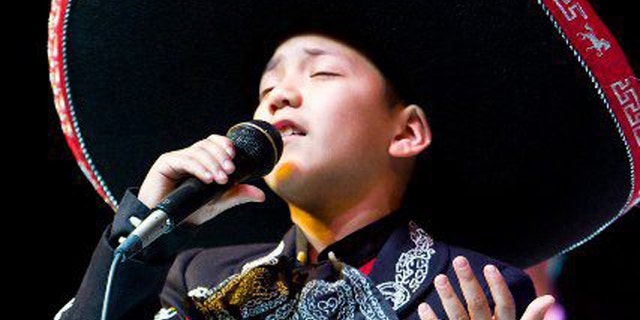 Despite being just a kid, 11-year-old Sebastien De La Cruz is taking the high road after having to deal with racist remarks over his Mexican-American heritage.
The young singing sensation is speaking out after his national anthem performance during Game 3 of the NBA finals sparked a series of anti-immigrant tweets from viewers.
Thousands of fans in the stadium were wowed by "El Charro de Oro" and his stunning voice, while some watching at home were appalled by the boy's choice to wear a traditional mariachi outfit during his performance.
"I think the people were talking bad because of what I was wearing and it's not my fault," De la Cruz told KSAT. "It's what I love and I'm just proud to be a mariachi singer. It's their opinion, actually, and if they don't like mariachi, that's their problem. I love it."
"To me, when I heard the crowd roaring when I was finished, I knew that I did my job," he added.
The young boy, who is a former contestant of "America's Got Talent," even took to Twitter himself writing, "Please do not pay attention to the negative people. I am an American living the American Dream. This is part of the American life."
Mature beyond his years, De la Cruz also held a brief press conference Wednesday to address his haters.
"They don't know my life. My father was actually in the Navy for a really long time…"
"People don't know, they just assume that I'm just Mexican. But I'm not from Mexico, I'm from San Antonio born and raised, a true San Antonio Spurs fan."
On a positive note, De la Cruz thanked those for the overwhelming support he has received since the incident.
"With the racism remarks, to be honest, it's just [about] how [people] were raised. My father and my mother told me that you should never judge people by how they look. You should judge them on the inside. And the saying that I go by is 'never judge a book by its cover'."
Along with thousands of other affirming comments, San Antonio's Mayor Julián Castro offered his own words of support on his Facebook page, telling De la Cruz to not "let a few negative voices get you down. You are a true talent and you represent the best of our nation's future!"
As for his mother, Stacy De La Cruz, she said that instead of dwelling on the stinging comments she is focusing on the joy her son's gift brings her.
"I'd rather shed more happy tears than sad tears," she said. "But I will say this: As a mom, a parent, I'm going to be overprotective. I'm going to look over my shoulder, over their shoulder. We have four children. I'm going to be looking over all of them. (But as for those negative) words, it's always that saying, 'Sticks and stones may break my bones but words will never hurt.'"
Knowing that he made his team proud is all that really matters for the boy with the golden voice.
"Just being able to get a handshake from Gary Neal, Danny Green, Duncan, Parker and Ginobli, it's just amazing to know people support me."
De La Cruz said he has not yet been contacted to sing the national anthem again, but he is ready for the challenge.
Follow us on twitter.com/foxnewslatino
Like us at facebook.com/foxnewslatino