'Speak English' sign that made waves in Philly cheesesteak stand quietly taken down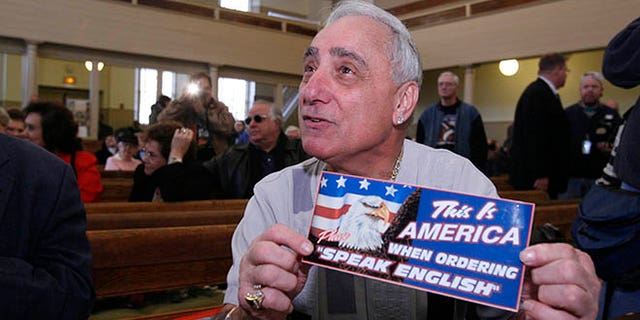 NEWYou can now listen to Fox News articles!
One of Philadelphia's most famous cheesesteak stands has removed a controversial sign posted a decade ago that instructed customers to order in English only.
Geno's Steaks in south Philadelphia made headlines in 2006 over a small sign posted at the shop stating, "This is AMERICA: WHEN ORDERING 'SPEAK ENGLISH'."
At the time, late owner Joey Vento said he posted it because of concerns over immigration reform and the increasing number of people who couldn't order in English.
Vento passed away in 2011 with his dying wish apparently being that the sign remain in place. When his son, Geno Vento, took over the business he honored his father's last request ... until this summer.
With little fanfare, the controversial sign was quietly taken down around the time of the Democratic National Convention in July.
The cheesesteak stand on Thursday said Geno Vento has "decided to move on from the sign."
The shop says in a statement, "It's not about a sign. It's about what you do and what your mark in life is, and Geno wants to change that mark in life."
Testing out the cheesesteak stands new policy, a reporter for the Philadelphia Daily News visited Geno's – which is located adjacent to another Philadelphia cheesesteak hotspot, Pat's King of Steak – and ordered "Dos, con Whiz, por favor."
While the reporter, Helen Ubiñas, said the cashier didn't totally understand the Spanish, the two worked through the language barrier and she eventually got her cheesesteak.
Geno's is located in a neighborhood that was once predominately Italian-American, but has in recent years become home to many Latino and Asian immigrants. The city's famed Italian Market has seen an influx of Latino-owned taquerias, botanicas and other businesses as immigrants from Mexico and Central America make the area their home.
"Truth is, the controversy over that vile sign near the ordering window was never just about a sign," Ubiñas wrote. "It was about ignorance and racism and refusing to acknowledge and respect the growing diversity in this city. The diversity that has been responsible for most of the city's growth and that will be responsible for it's survival."
The Associated Press contributes to this report.
Like us on Facebook
Follow us on Twitter & Instagram