Spare my son, begs mother of Delhi gang rapist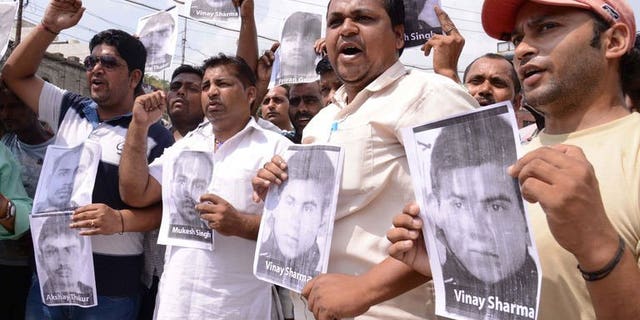 NEW DELHI (AFP) – The mother of one of the New Delhi gang rapists who will be sentenced on Friday has called for leniency to be shown to her 20-year-old son whom she said was led astray.
Champa Devi, mother of Vinay Sharma, spoke to AFP from the slum in the south of the city where most of the gang lived, saying her son and friend and fellow convict Pawan Gupta were "good boys."
"They are hard workers. Not one complaint against them," she said, sitting outside her brick hut with a corrugated iron roof, face veiled with her orange saree.
"Then this Ram Singh caught him that night and trapped him into this mess."
Sharma was working in a gym at the time of the crime and is the only one of the convicts to have completed schooling.
"The judge should give them a second chance to reform themselves. Even God gives every person a second chance," Devi said on Thursday afternoon.
Ram Singh was the ring leader, police say, as well as the regular driver of the bus on which the 23-year-old student was beaten, repeatedly raped and violated with an iron bar.
He was found hanging in prison on March 12, but his brother Mukesh has been convicted and faces a possible death sentence on Friday like the others who were convicted of murder, gang rape and theft.
Sharma, 19-year-old Gupta and the Singh brothers all lived in Ravi Dass Camp, a labyrinthine slum of narrow uneven alleys with rivulets of muddy water running along them.
The fourth adult convict, a labourer and father of a two-year-old son, Akshay Thakur, hails from eastern Bihar state where his family and wife have been praying all week.
"I am hopeful that God will help us during the worst crisis in our life," Thakur's mother told AFP by telephone from their home in Lahang Karma village in the south of the state.
"There is no one except God who I can trust for some relief to my son."
Back in Ravi Dass, not everyone called for the judge to resist widespread popular support for death sentences for the men, as well as calls for their execution in the media and from politicians.
"To be honest, I don't feel bad for them. They deserve it. They deserve the harshest punishment... Reform is out of the question," said Maur Singh, a one-time neighbour, adding that he would distribute sweets in celebration if they were sentenced to hang.