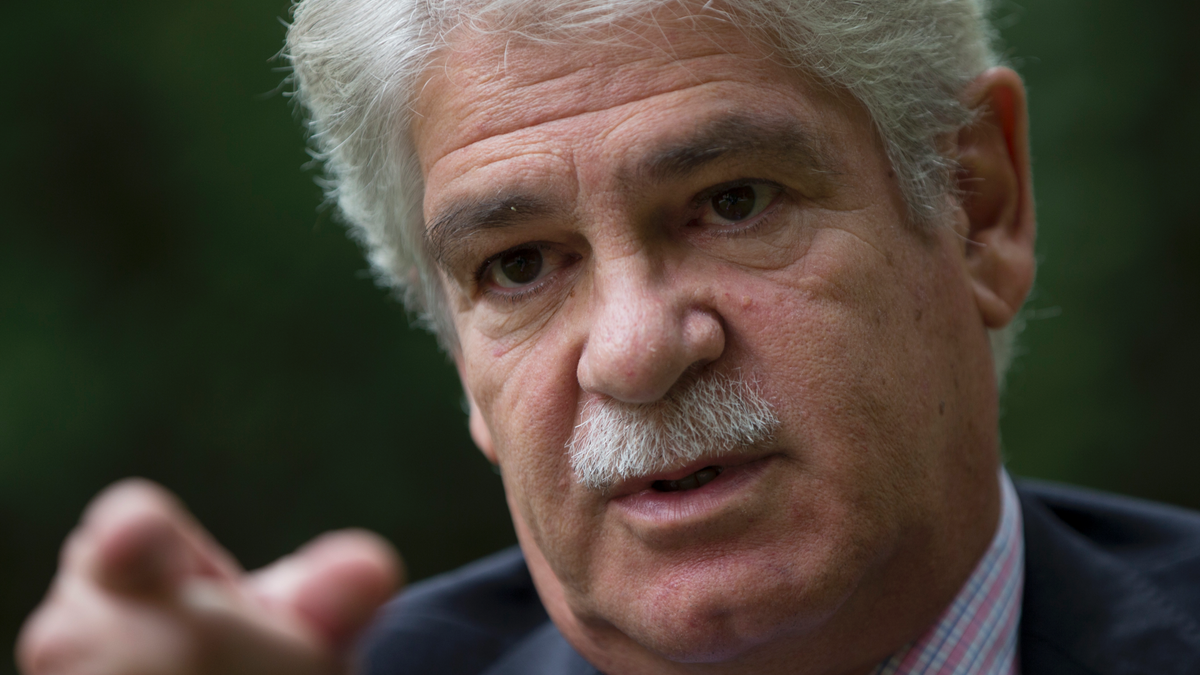 MADRID – Catalonia's deposed leader is now out of a job "no matter what he says" but could run in December's early regional election if he hasn't been imprisoned by then, Spain's foreign minister said Sunday.
Alfonso Dastis told The Associated Press that Catalonia's civil servants won't recognize former regional leader Carles Puigdemont's authority if he ignores the Spanish government's orders and tries to come back to work on Monday.
"If he wants to live in a parallel universe he may go on, but nobody, I think, is going to obey him," Dastis said in an interview in Madrid.
In an unprecedented move, Spain's central government took direct control of the northeastern region of Catalonia after the regional parliament voted Friday to declare independence from Spain. Puigdemont hasn't said whether he will leave office voluntarily but he appeared on regional television Saturday urging Catalans to peacefully resist the takeover.
"No matter what he says, the central government is now in charge of Catalonia, although we have clearly decided we don't want to be there for the long run," Dastis said.
The Spanish government has fired Puigdemont and his regional Cabinet and called for a new regional election on Dec. 21. It's unclear whether the pro-independence parties that currently have a narrow majority in Catalonia's regional parliament will participate in the vote or boycott it.
Puigdemont has said previously that he wasn't going to run for re-election but he hasn't said anything about the December vote.
Dastis said Catalan separatists "should think twice" before shunning that election because it "will be held according to the law. So the results will have to be respected afterward."
Puigdemont would be welcome to run, provided he hasn't been prosecuted for his role in staging an Oct. 1 referendum on independence that the Spanish Constitutional Court declared illegal, Dastis said.
"I don't know what kind of judicial activity will happen between now and Dec. 21," the foreign minister said. "If he is not put in jail at that time I think he is not ineligible."
Spanish prosecutors, however, have said they are considering whether to file rebellion charges against Catalan separatists who organized the Oct. 1 vote, which would presumably include Puigdemont and other top separatists.
Spain is taking a gamble by calling a vote that could strengthen the pro-independence majority in the Catalan parliament. But Dastis said he believes "common sense" will prevail as Catalans reflect on what he called "false promises" made by Puigdemont's government.
"They said the economy would flourish, that everything would be fine and dandy. The truth is that that is not the case," Dastis said.
Hundreds of Catalan companies have moved their registered headquarters to other parts of Spain as a result of the political turmoil. Pro-independence leaders have played down the effect and blamed the exodus on pressures from Spanish authorities.
Dastis noted the Catalan parliament's declaration of independence had no support among his colleagues in the European Union. He noted jokingly that the Spanish abbreviation for a unilateral declaration of independence is DUI, which in English is short for driving under the influence.
"Many people think, like me, that these guys were driving under some kind of influence," he said. "People are perplexed. And they didn't think that such a thing would be possible in Europe in the 21st century."
Asked to comment on possible outcomes of Spain's worst political crisis in decades, Dastis said he didn't think it would lead to the breakup of Spain but could potentially lead to expanded self-rule for Catalonia.
"I rule out full independence but not necessarily more autonomy, even if they are now already one of the regions with the highest powers and competences not only in Spain but in the world at large," he said.
Dastis has defended the actions of Spanish police who used batons and rubber bullets to disperse non-violent protesters at polling stations on Oct. 1. Although he said the perception of a violent police crackdown was "exaggerated," he suggested that Spanish authorities had absorbed some of the criticism.
"We are really aware of how this was perceived. And we intend to be as careful as we possibly can to prevent any such images to be repeated in the future," he said.