Spanish court clears the way for trial of Princess Cristina on tax fraud charges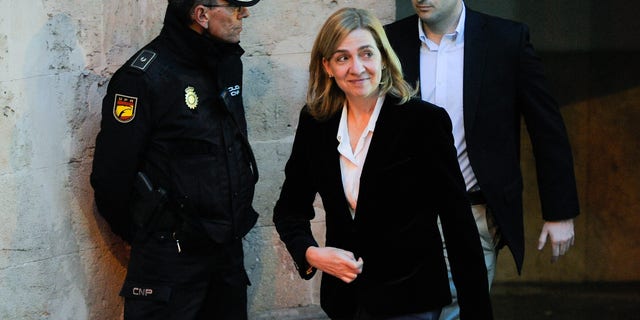 MADRID (AP) – A court cleared the way for Princess Cristina, the sister of Spain's king, to be tried on tax fraud charges Friday in a landmark investigation affecting the royal family.
The case's investigative judge, Jose Castro, must now decide over the coming weeks whether to formally indict the princess, but this might not occur given that the state prosecutor and tax authorities say there is no basis for tax fraud charges against her.
Cristina's lawyers maintained Friday that Spain's Supreme Court has ruled that people can't be tried on tax charges if neither the prosecutor nor tax authorities present charges.
The Palma de Mallorca court paved the way for Cristina's indictment after rejecting appeals against her being listed as a suspect in a corruption and embezzlement investigation centering on her husband, Inaki Urdangarin.
Castro said Cristina, 49, is suspected of two counts of cooperation in tax fraud. The court dropped a possible charge for embezzlement against her.
Urdangarin is suspected of embezzlement and fraud. He too has yet to be formally charged.
The case centers on allegations that Urdangarin used his Duke of Palma title to embezzle about 6 million euros ($8 million) in public contracts through the Noos Institute, a nonprofit foundation he and a business partner set up that channeled money to other businesses, including Aizoon, a company he owned with Cristina.
Cristina, sister of King Felipe VI, became the first Spanish royal to appear in court since the monarchy was restored in 1975 when she testified in the case in February.
The royal palace didn't immediately comment on Friday's ruling.
Follow us on twitter.com/foxnewslatino
Like us at facebook.com/foxnewslatino