Spanish air controllers start returning to work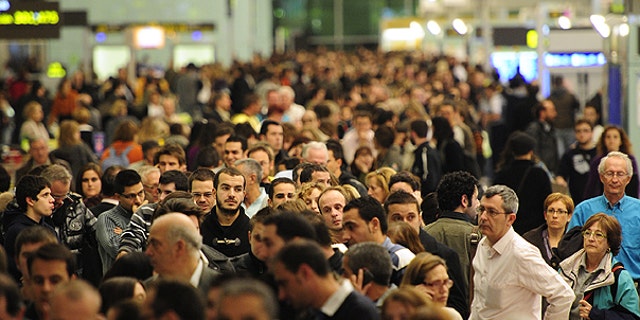 MADRID – Spain placed striking air traffic controllers under military authority Saturday in an unprecedented emergency order and threatened jail terms for those who refuse to go back to work in a bid to get the country's air space back to normal.
Civil aviation agency Aena said hours later that some strikers were back on the job. The wildcat stoppage that began Friday has largely closed the country's air space and stranded hundreds of thousands of travelers on a busy holiday weekend.
Aena's Twitter feed said Madrid's Barajas airport could be operating at 30 percent capacity by 4 p.m. (1500 GMT, 10 a.m. EST).
In announcing the approval of a "state of alarm" after an emergency Cabinet meeting, Deputy Prime Minister Alfredo Perez Rubalcaba accused air traffic controllers of "blackmailing all of our citizens." He apologized to irate travelers who spent Friday night sleeping at airports on what was supposed to be the start of a long holiday weekend.
The order placing the air traffic controllers under military authority went into effect about an hour after he spoke. A few hours later, Aena said 11 of 15 controllers stationed at Barcelona's airport have returned to work and an unspecified number are also back on duty at the air control center that oversees Madrid's Barajas. The official also said one flight has left the Canary Islands for Luxembourg.
But it was far from clear when Spain's airports would be fully back to normal.
The case is reminiscent of a wildcat air traffic controllers strike in 1981 in the U.S., although the Spanish government has stopped short of simply firing controllers and breaking their union as President Ronald Reagan did at the time.
This is usually one of the busiest travel weekends of the year in Spain because Monday and Wednesday of next week are holidays, and many people plan to take Tuesday off as well.
The air traffic controllers launched their wildcat strike in the culmination of a long-running dispute with the government over working conditions, work schedules and benefits.
Spanish air traffic controllers get triple time pay for overtime hours, for instance, and made much of their salary from this, earning an average yearly salary of euro350,000 ($463,600).
But in February the government slashed their allowed overtime hours drastically, infuriating the controllers who saw their pay nearly cut in half, although that is still roughly three times what Prime Minister Jose Luis Rodriguez Zapatero makes. The average yearly salary in Spain is about euro20,000 ($26,500).
The final straw seems to have been a decree approved by the Cabinet on Friday under which controllers who miss work shifts because of illness must make up lost hours and can be subject to medical checkups immediately if they call in sick.
Perez Rubalcaba said that in Spain as in other countries, air traffic controllers are a highly paid specialized group because of their unique skills, but in this case Spanish controllers are using their status to defend what he called "intolerable privileges."
The government reacted to the strike by placing Spain's air traffic control centers and towers under military control.
TV footage on Spanish television showed seas of stranded travelers wandering around Spanish airports Saturday. The flagship carrier Iberia canceled all its flights in Spain until early Sunday morning. Air France and Irish airline Ryanair also canceled all flights to and from Spain.
"It is very bad. Tourists from all over the world are affected," Yair Orgler, 71, of Tel Aviv, told APTN at Madrid's Barajas airport. "The situation is really serious. I hope it will be solved soon because we don't know what to do."
Thousands of Swedish, Norwegian and Danish air passengers were forced to put their holidays on hold and wait around in airport lounges and hotels as southern-bound airlines awaited the traffic chaos in Spain to ease.
Jan Lindqvist, a spokesman for Swedish airport operator Swedavia, said numerous flights had been delayed or canceled and two flights had been forced to return to Goteborg's Landvetter airport.
In Amsterdam, Schiphol Airport spokeswoman Antoinette Spaans warned travelers that winter weather and strikes in Spain were causing delays and cancellations.
Speaking after the emergency Cabinet meeting, Perez Rubalcaba said of the "state of alarm" would last 15 days, but could be extended if parliament approves it.
The "state of alarm" clause included in Spain's 1978 constitution, passed three years after the death of longtime dictator Gen. Francisco Franco, had never previously been invoked. It was designed to help governments deal with catastrophes such as earthquakes or floods or, as in this case, the collapse of an essential public service like access to air travel.