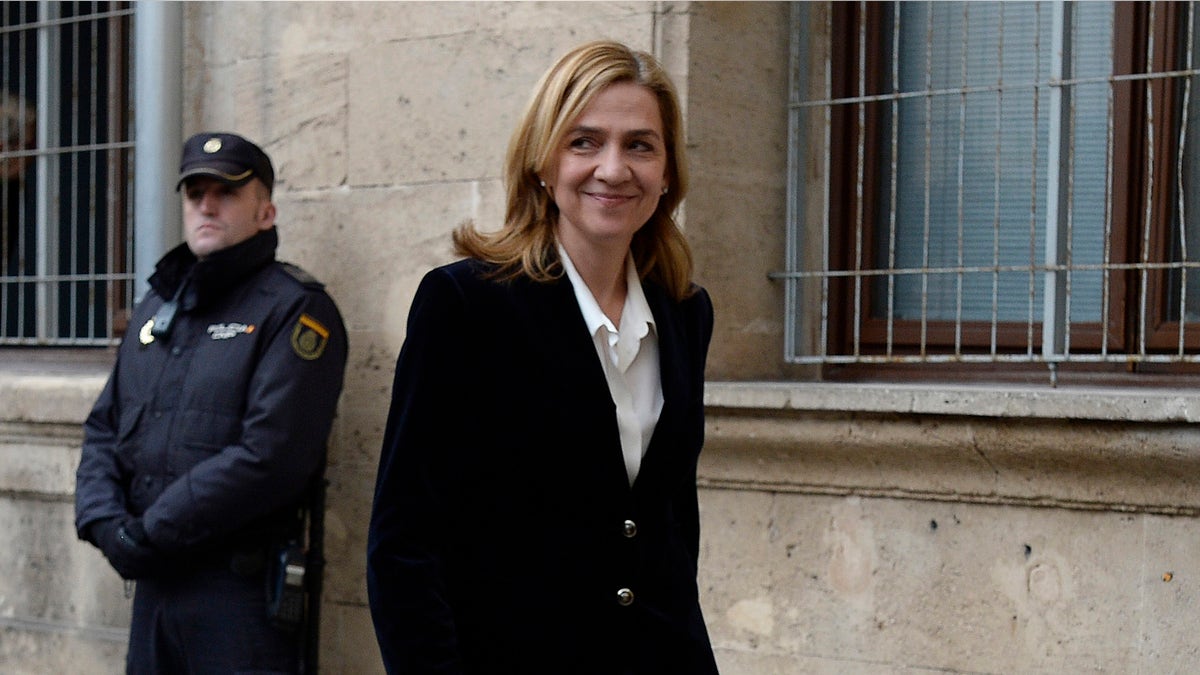 MADRID (AP) – A Spanish judge on Monday ordered the king's sister, Princess Cristina, to be tried along with her husband on charges of tax fraud — making her the first member of the country's royal family to face charges in court since the royalty was restored in 1975.
In issuing the indictment, Judge Jose Castro went against a prosecutor's Dec. 9 recommendation that Cristina should be fined and only her husband, Olympic handball medalist turned businessman Inaki Urdangarin, should be tried.
He set bail for her at 2.7 million euros ($3.3 million) and 15 million euros for her husband. If convicted, the 49-year-old Cristina could face up to four years in prison.
Suspected abuse of company funds to cover the couple's expenses at their Barcelona home, salsa dancing classes and stays at luxury hotels is among evidence Castro has compiled about Aizoon, a real estate and consulting firm Cristina co-owned with her husband.
The legal troubles of King Felipe VI's sister during a four-year probe seriously damaged the Spanish monarchy's image and were seen as extreme examples of royal excess as the country's unemployment rate rose sharply and the economy nose-dived and nearly imploded in 2012.
The case centers on allegations that Urdangarin used his Duke of Palma title to embezzle about 6 million euros ($7.4 million) in public contracts through the Noos Institute, a nonprofit foundation he and set up with a business partner that channeled money to other businesses, including Aizoon.
Cristina's lawyers have said she is innocent. Prosecutor Pedro Horrach recommended charges for Urdangarin carrying a possible sentence of 19½ years in prison while saying Cristina should not be indicted but ordered to pay to pay 580,000 euros ($711,000) to cover the amount she could have profited from because of her husband's alleged illegal dealings.
Castro had the option of accepting Horrach's recommendations or sending Cristina to be tried by a different judge. The case will probably go to trial at the end of 2015 in Palma de Mallorca in Spain's Balearic Islands, where most of the alleged offenses occurred.
Cristina denied knowledge of her husband's activities in February during an unprecedented appearance before Castro to answer his questions.
She and her husband moved to Switzerland in 2013, where she works for the foundation of Spain's La Caixa bank, which finances a variety of programs to help the needy and promote culture.
Cristina's brother Felipe, 46, became king in June when his father Juan Carlos abdicated after a four-decade reign.
Felipe pledged to restore public trust in the monarchy and ordered a palace reshuffle, meaning that Cristina and her sister, Princess Elena, are no longer official members of the royal family.