South Korea's president vows to disband coast guard in wake of ferry disaster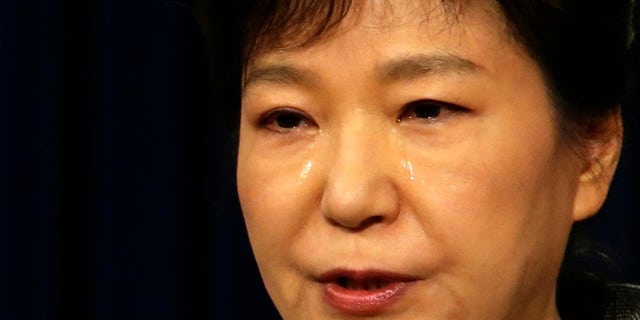 South Korea's president vowed to disband the country's coast guard in her first televised address since last month's ferry disaster that left more than 300 people dead or missing.
Park Geun-hye began her speech Monday with a formal bow and ended it by reading the names of passengers and crew who died trying to save others in the April 16 disaster. With her approval ratings plummeting ahead of local elections in about two weeks, Park's speech sought to acknowledge widespread anger over government failures in the tragedy as well as chart a path forward.
Most of the victims were students from a single high school near Seoul who were traveling to the southern tourist island of Jeju.
"We failed to rescue students who we could have saved," Park said. "The ultimate responsibility for not properly dealing with this incident is mine."
Park has apologized before, but critics have called for her to formally address the nation and respond to claims that incompetence, corruption and bad leadership doomed the ferry and those trapped inside it. Monday, Park decried the accumulation of "widespread abnormal practices" that she said triggered the sinking.
A focus was the coast guard, which has been under growing public criticism over allegations of poor coordination and slow search-and-rescue work during the initial stages of the sinking.
Park called the coast guard's rescue operations a failure and said she would push for legislation that would transfer its responsibilities to the National Police Agency and a new government safety agency she plans to establish.
She said the new agency would also take over maritime traffic controlling responsibilities, currently held by the Ocean Ministry, and safety and security responsibilities, held by the Ministry of Security and Public Administration.
Park Kwang-on, a spokesman for the main opposition party, said the plan to disband the coast guard gives the impression that the government is shifting all the responsibility for the sinking to the coast guard.
"The diagnosis (of the problem) is insufficient and the remedy is inadequate," he said.
The president's plans require parliamentary approval, according to her office.
Park said she would also push for separate legislation aimed at rooting out collusive and corrupt ties between bureaucrats and civilian sectors, something seen by many as a reason for the sinking. Park said retired officials have a tradition of working at the Korea Shipping Association, which oversees safety issues of ships.
The disaster has prompted soul-searching about the nation's neglect of safety as it built Asia's fourth-biggest economy from the ashes of the 1950-53 Korean War.
The tragedy exposed regulatory failures that appear to have allowed the ferry to set off with far more cargo than it could safely carry.
Park's speech may grate with her major political backers in the business community who may have little interest in a major anti-corruption push, according to Robert Kelly, a political scientist at Pusan National University in South Korea.
He called it "gutsy" that she explicitly targeted collusion and the "bureaucratic mafia."
"Let's see if she has the determination to see it through and push some serious prosecutions," Kelly wrote in an email.
More than one month after the sinking, 286 bodies have been retrieved but 18 others are still missing. Some 172 people, including 22 of the ship's 29 crew members, survived.
Prosecutors last week indicted 15 crew members tasked with navigating the ship, four on homicide charges.
The ship's captain, Capt. Lee Joon-seok, initially told passengers to stay in their cabins and took about half an hour to issue an evacuation order, but it's not known if his message was ever conveyed to passengers.
The head of the company that operates the ferry, Chonghaejin Marine Co. Ltd., and four other company employees have also been arrested. Authorities suspect improper stowage and overloading of cargo may have contributed to the disaster.
The Associated Press contributed to this report.