South Korea says North Korea fired dozens of artillery shells into sea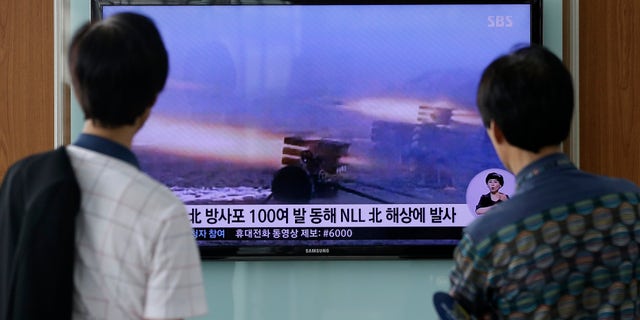 NEWYou can now listen to Fox News articles!
SEOUL, South Korea – Another day, another defiant weapons test from North Korea.
A day after launching two ballistic missiles from a base near the border with archrival South Korea, Pyongyang on Monday fired a barrage of artillery shells into waters near its eastern sea border with the South. Officials in Seoul have confirmed nearly 100 missile, rocket and artillery tests by North Korea this year, an output seen as significantly higher than past years.
The regular test-firings of short-range projectiles, analysts say, are the latest signal that the country's young leader, Kim Jong Un, is determined to do things differently than his father, dictator Kim Jong Il, who died in late 2011.
Analysts see no end to the test-firings in sight.
Kim Jong Un, who pushed tensions to extraordinary levels last year with threats of nuclear strikes against Seoul and Washington, will likely order his military to keep up the launches, they say, until the United States and South Korea make major concessions such as scaling down their regular joint military drills that Pyongyang insists are an invasion rehearsal. That's a major contrast to the style of Kim's father, who sparingly used longer-range missile and nuclear tests more as negotiating cards with the outside world to win concessions.
On Monday, about 100 shells fired from land-based multiple rocket launch systems and coastal artillery guns landed north of the Koreas' maritime border. Those shells flew about 1.9 to 31 miles, and South Korea didn't return fire because no shells fell in its waters, according to South Korean defense and military officials.
The eastern sea border is clearly marked compared with the Koreas' disputed western sea boundary, where the rivals have engaged in several bloody skirmishes in recent years. The Koreas exchanged artillery fire twice earlier this year near the western sea boundary.
North Korea routinely tests short-range projectiles, but the number of launches this year has been much higher than in previous years, according to South Korean officials and analysts.
The continued launches show North Korea's leader is pushing to strengthen military capabilities because his country feels threatened by U.S.-South Korean military drills even as it pushes for talks with the allies, said Lim Eul Chul, a North Korea expert at South Korea's Kyungnam University.
The launches come as North Korea pressures Seoul to accept a proposed set of measures it says are meant to lower tension.
Kim Jong Un's push for better ties with Seoul and Washington are seen by outside analysts as an attempt to help lure international aid and investment to revive the country's moribund economy. South Korean and U.S. officials have largely dismissed the North's overtures, saying the country must first take steps toward nuclear disarmament. North Korea is believed to have a small arsenal of crude nuclear bombs.
South Korea's Defense Ministry on Monday issued a statement calling the latest North Korean launches a provocation that raises a question on how sincere it is about its recent overture. The statement said South Korea will relentlessly retaliate if North Korean-fired projectiles fell in the South's waters.
South Korea said earlier Monday that North Korea has agreed to hold talks at a border village on Thursday to discuss the North's participation in the Asian Games in the South later this year.
The two Koreas have faced each other across the world's most heavily armed border since their war in the early 1950 ended with an armistice, not a peace treaty. Regular military drills between Seoul and Washington are a long-running source of tension on the Korean Peninsula, and the allies are set to conduct major annual summertime exercises in August. South Korea and the U.S. say the training is purely defensive.