South Korea, Japan continue hard line on NKorea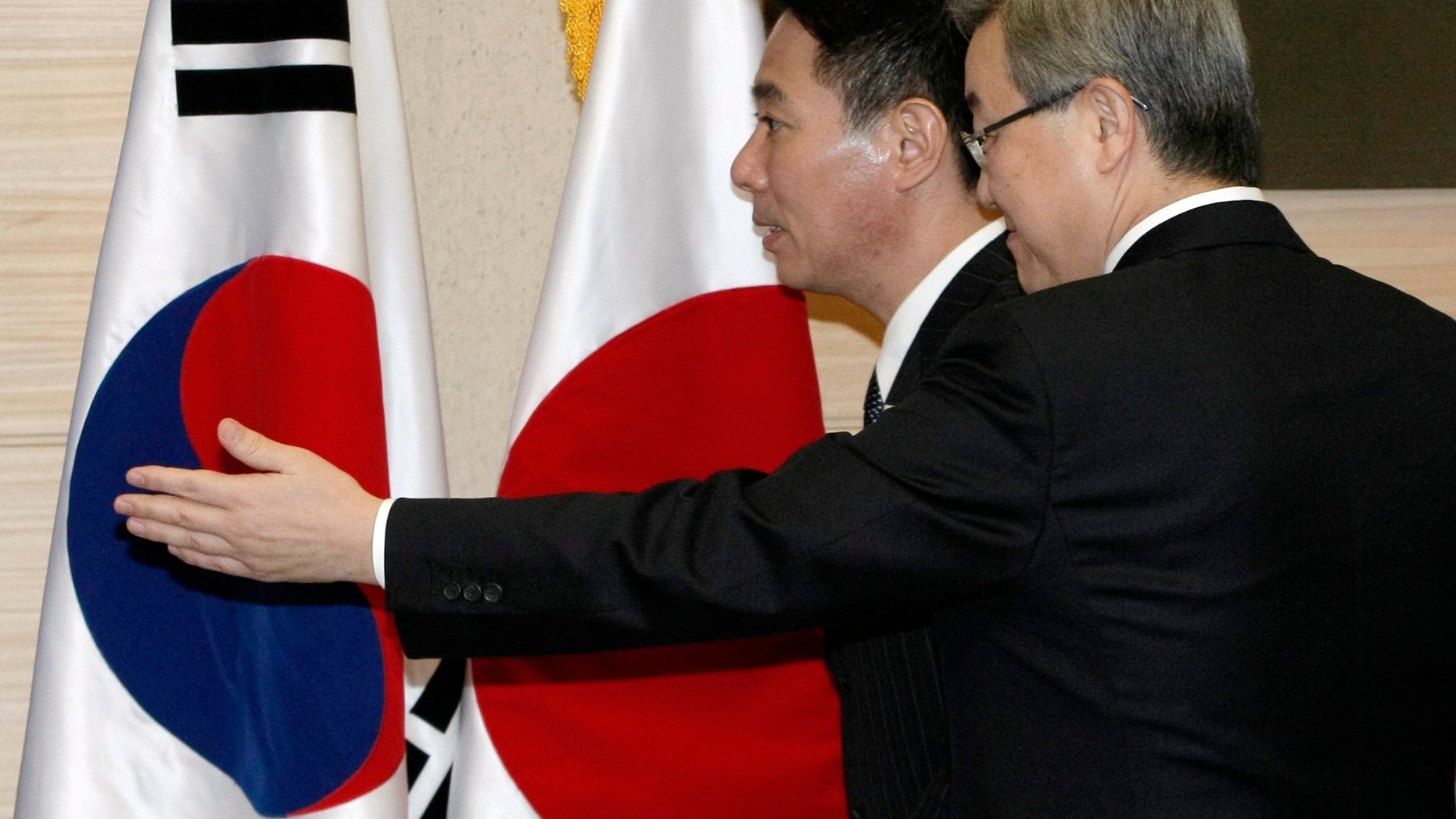 SEOUL, South Korea – The top diplomats of South Korea and Japan showed North Korea a tough, unified face Saturday, saying it must prove it is serious about giving up its atomic ambitions before they will allow a new round of aid-for-nuclear disarmament talks.
South Korean Foreign Minister Kim Sung-hwan told reporters after a meeting in Seoul with his Japanese counterpart, Seiji Maehara, that the North must demonstrate its "true commitment" to abandoning a nuclear program that is believed to have produced enough weaponized plutonium for at least half a dozen bombs. The North also unveiled in November a uranium enrichment facility that could give it a second way to make atomic bombs.
South Korean President Lee Myung-bak told Maehara in a separate meeting that the issue of North's uranium enrichment should be taken to the U.N. Security Council, presidential spokeswoman Kim Hee-jung said. Maehara agreed, she said.
North Korea, which shelled a South Korean island in November, killing four, has expressed its desire to restart the nuclear talks it quit in early 2009. The talks involve the two Koreas, Japan, the United States, China and Russia.
South Korea, the United States and Japan, frustrated over what they see as the North's habit of breaking nuclear deals once it has received much-needed aid, want it to first show its good faith on disarmament.
"North Korea should show its true commitment toward denuclearization through specific actions," Kim said. He didn't elaborate.
Maehara said he invited both Lee and Kim to visit Japan this year and emphasized Tokyo's commitment to pursuing strong ties with Seoul. Lee told Maehara that he will visit Japan, without giving any timeframe.
"In order to have dialogue with North Korea, I think it is necessary for it to show via concrete actions its intention to seriously carry out its own promise" regarding denuclearization, Maehara said.
Meanwhile, the North's official Korean Central News Agency said Saturday that a recent port call to South Korea by the USS Carl Vinson aircraft carrier was a rehearsal for war against the North. Despite repeated assurances, North Korea routinely accuses South Korea and the United States of seeking to invade.
Even so, the North again called for talks.
"Countries concerned should sit down with each other and make efforts to create the atmosphere for dialogue to end confrontation," the North's news agency said.
Tensions are high between the rival Koreas.
In addition to the Nov. 23 North Korean artillery barrage near the Koreas' disputed maritime border, an international investigation determined that a North Korean torpedo sank a South Korean warship eight months earlier, killing 46 sailors. North Korea has denied responsibility.
South Korea has rejected recent North Korean overtures for unconditional talks, urging the North to show it has changed through actions, not words. Still, Seoul has made a counterproposal for talks, calling for the North to take responsibility for the two attacks and not to repeat similar provocations.
Kim said Seoul is waiting to see how North Korea will react to its counterproposal.
Maehara said he and Kim discussed North Korea and the situation in the aftermath of its attack on the South's Yeonpyeong Island in November.
"Japan strongly supports South Korea's position," Maehara said.
Regarding strengthening South Korean-Japan defense ties, Maehara said the ministers agreed the countries would keep talking about accords to share intelligence and provide each other with fuel, food and other materials.
Maehara said he told Kim that he is well aware of the sensitivity of the issue in South Korea.
Seoul and Tokyo remain closely tied economically and are important U.S. allies in the region, but many Koreans balk at boosting defense cooperation with Japan, which brutally ruled the Korean peninsula from 1910 to 1945.
Maehara stressed the importance of close coordination between Japan and South Korea and the United States in pursuing dialogue with North Korea.