South Korea dismantles Christmas tree at North Korea border after 43 years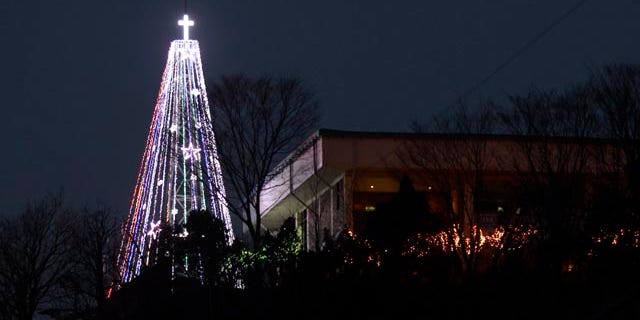 NEWYou can now listen to Fox News articles!
SEOUL, South Korea – South Korea has pulled down a 43-year-old front-line Christmas tower that North Korea viewed as propaganda warfare, with officials saying Wednesday the structure was unsafe.
The massive steel tower was demolished last week and South Korea plans to build a park in its place, according to South Korea's Defense Ministry and local city officials.
South Korea stopped the lightening of the tower in 2004 as relations with North Korea warmed during an era of reconciliation. But South Korea allowed Christian groups to light the tower in 2010 and 2012 as tensions spiked following two attacks that killed 50 South Koreans and a banned long-range rocket test by North Korea.
The tower, which was located about 1.9 miles from the border, sat on a peak high enough for North Koreans living in border towns to see it.
The news of the dismantling came three days after troops from the rival Koreas exchanged gunfire along the border, the second shootout in less than 10 days. There were no reports of casualties from either incident.
Earlier this month, there were signs of easing tensions after a high-profile North Korean delegation visited South Korea and agreed to revive senior-level talks.
South Korean Defense Ministry officials denied media speculation that the tower was dismantled as a conciliatory gesture aimed at improving ties with North Korea.
The Korean Peninsula remains in a technical state of war because the 1950-53 Korean War ended with an armistice, not a peace treaty.