South Africa goes on 21-day lockdown as coronavirus cases surge
South Africa's leader on Monday ordered a 21-day country-wide lockdown as the country confronted a rising surge in coronavirus cases -- a number that was the most of any other African nation.
In an evening address to the nation, President Cyril Ramaphosa said the drastic action was a necessary step to contain the spread of the global pandemic, according to reports.
He ordered South Africans to "stay at home" until midnight on April 16., the Johannesburg Sunday Times reported.
Ramaphosa said the order does not apply to essential services personnel, including police, health care workers and those involved in the supply of goods, including food.
He said the South African army had started deploying to support police in enforcing the new restrictions.
"We must do everything in our means to delay the spread of infection over a long period. It is essential that every person should adhere strictly to the regulations and measures we are announcing," said Ramaphosa, according to Sunday Times.
"The next few days are crucial. Without decisive action the number of infected people will increase," he said.
Earlier Monday, South African officials reported a one-day jump in coronavirus cases, from 274 to 402, a continuing exponential growth and worrying trend.
With the 128 new cases, South Africa as of Monday had the most virus cases in Africa, surpassing Egypt.
More South Africans have taken to wearing masks and gloves in public as the number of COVID-19 cases continue to climb.
SOUTH AFRICA'S CORONAVIRUS CASES NEARLY DOUBLE IN 'EXPLOSIVE' RATE, LOCAL TRANSMISSIONS DIAGNOSED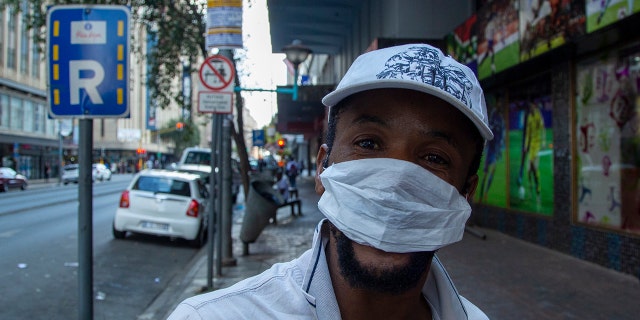 Ramaphosa had been scheduled to address the nation Sunday but put it off as meetings with his National Command Council stretched into the night, News 24 reported.
"We think it's better late than to take corners, in our view… again, we said he was likely to address the nation today. We're saying definitely now because he has heard the meeting that needs to advise him on these measures he'll be putting before the nation," Ramaphosa minister Jackson Mthembu said, according to the news outlet.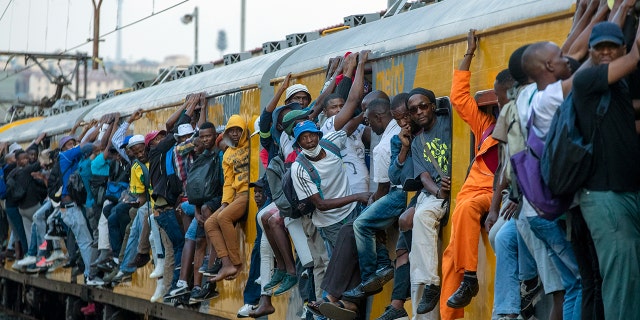 More than half of South Africa's total cases are in Gauteng province, which includes Johannesburg, the country's largest city with 5.7 million people, and the capital, Pretoria, with 2.4 million, according to the figures released by the government health ministry.
CORONAVIRUS IN AFRICA: HOW DIFFERENT COUNTRIES ARE STRUGGLING WITH THE OUTBREAK
South Africa has not registered a death from the disease. The majority of cases are from travelers from Europe and other countries, but the number of cases that are locally transmitted is rising.
Last week, South Africa imposed travel restrictions on visitors from the U.S. and other countries hard hit by the virus.
Africa's most populous country, Nigeria, planned to close its two main international airports in the cities of Lagos and Abuja on Monday night, Reuters reported. The number of reported cases there rose to 36 on Monday. One death has been reported.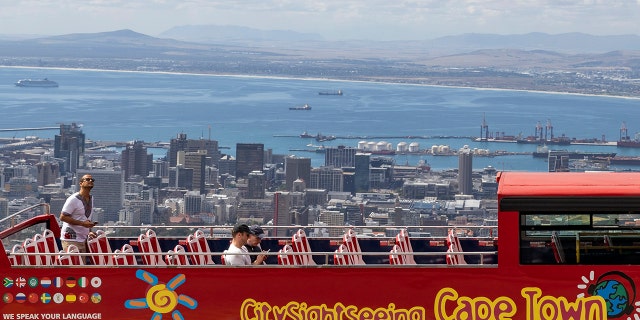 Rwanda, which has 19 confirmed cases, stepped up preventive measures on Saturday, banning travel between towns and other parts of the country for two weeks, closing all bars, and requiring all government and private employees to work from home, Reuters reported.
Angola, Eritrea, and Uganda on Sunday confirmed their first coronavirus cases.
CLICK FOR COMPLETE COVERAGE OF THE CORONAVIRUS OUTBREAK
In Egypt, there are now 327 confirmed coronavirus cases. The country has reported 14 deaths.
Both Rwanda and Uganda on Saturday announced they would close their borders.
The Associated Press and Fox News freelancer Paul Tilsley contributed to this report.