South Africa's Big Brother boots reality-show participant for punching female housemate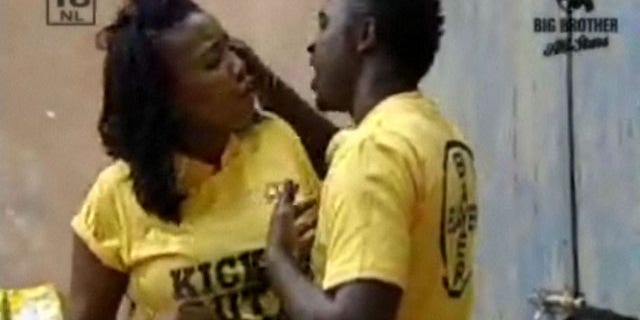 JOHANNESBURG – JOHANNESBURG (AP) — A South Africa-based satellite channel on Friday evicted a participant from its "Big Brother" reality show after receiving complaints from viewers and rights groups when he struck a female housemate.
M-Net spokeswoman Lani Lombard said Hannington Kuteesa breached the show's rules by assaulting contestant Lerato Sengadi on Tuesday, which prompted the channel to unilaterally evict him rather than allowing viewers to vote on it. Rights groups and viewers had called for his dismissal over the assault.
The show confines 14 people to a camera-rigged house in Johannesburg for 91 days. Viewers vote to evict contestants one by one.
British and American versions of the reality show were wildly popular, launching imitations worldwide, with some participants later becoming celebrities.
Lombard said Kuteesa, who was instructed to gather his belongings and leave the Johannesburg house within two hours, will be offered support and treatment after he leaves. She said Sengadi, a resident of Soweto, in Johannesburg's southwest, will remain but will be admonished for participating in the expletive-filled scuffle, in which she yelled and pushed back after Kuteesa struck the side of her face.
Kuteesa and Sengadi were part of a group of six who have been evicted from the main house to a separate barn-like house complete with a farm setting. The barnyard is a transit area for the "barn-mates," as they are called, before they are sent home.
Paloma Manda, from Zambia, the last arrival at the barn on Sunday, said she was disappointed and ashamed by the clash between Kuteesa and Sengadi. Paloma said on the show's website that the participants "behaved like animals." She apologized to the whole of Africa for their behavior.
A Johannesburg-based rights group, People Opposing Women Abuse, said M-Net took too long to act.
"M-Net should have evicted Kuteesa immediately on Tuesday," said spokeswoman Wendy Isaack, who said an immediate eviction would have sent a strong message that the channel does not tolerate violence and abuse of women.
She added Sengadi should have been given a chance to report Kuteesa to the police.
But in Kuteesa's native Uganda, some, like university student Enid Kanyanya, said they were disappointed to see their countryman go.
"I, however condemn his beating Lerato," said Kanyanya, 24. "Beating someone is not good at all."
But Henry Mwikala, a 45-year-old shopkeeper in Uganda's capital, said, "In my tribe if a woman provokes you, you have a right to beat her so long as you do it gently. Hannington should not be thrown out of the house simply because of beating up a woman who provoked him. I sympathize with him as a fellow man and also as a fellow Ugandan."
____
Associated Press Writer Godfrey Olukya in Kampala, Uganda contributed to this report.