South African President Jacob Zuma resigns from office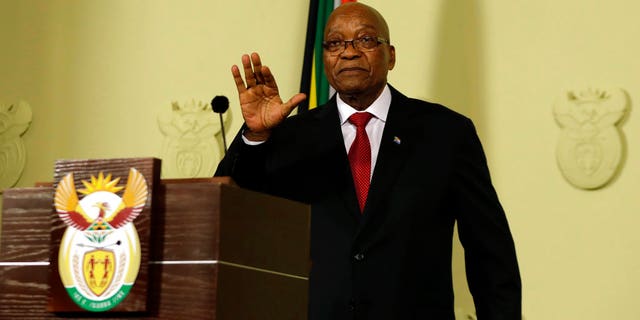 South African President Jacob Zuma, in a televised address to the nation, said he will resign from his position effective immediately.
"I have...come to the decision to resign as the president of the republic with immediate effect," Zuma said Wednesday.
The scandal-tainted leader said he has resigned despite his disagreement with the instruction of the ruling African National Congress party to leave office immediately. The ANC had been prepared to pursue a vote of no confidence in parliament on Thursday.

"I must accept that if my party and my compatriots wish that I be removed from office they must exercise that right and do so in the manner prescribed by the constitution. I fear no motion of no confidence or impeachment," Zuma said in his address, according to News24.
South Africa's ruling party welcomed Zuma's resignation after months of growing public anger over multiple corruption allegations.
The African National Congress expressed gratitude for Zuma's "loyal service" and encouraged party members to support Cyril Ramaphosa, who is now the country's acting president.
Ramaphosa is expected to be elected swiftly in a parliament vote and sworn in.
Zuma, 75, had been in office since 2009 and his tenure was marred by years of corruption scandals.
Just Wednesday, South African police raided the residential compound of a business family suspected of using its ties to Zuma to influence Cabinet appointments and land state contracts.
Agents from the Hawks, an elite police investigative unit, on Wednesday entered the compound of the Gupta family in Saxonwold, an affluent neighborhood in Johannesburg.
The Gupta business family has been a flashpoint for national anger over corruption in state enterprises during Zuma's tenure. A judicial commission is preparing to investigate the alleged graft.
Zuma and the Guptas deny wrongdoing.
The Associated Press contributed to this report.