Six-month fraud trial of Spain's Princess Cristina and her husband ends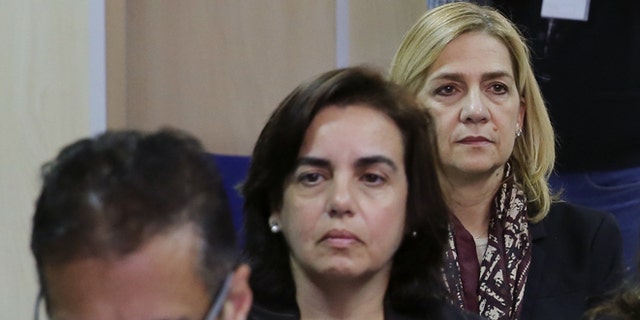 MADRID (AP) – A near six-month tax fraud and embezzlement trial involving Spain's Princess Cristina, her husband and 15 other defendants ended Wednesday as the judges retired to consider their verdict.
Defense lawyers and the accused wrapped up their final arguments before the court adjourned. The verdicts could take months to come.
Both the princess and her husband, Inaki Urdangarin, declined the court offer to the accused to make final declarations before the trial ended.
The trial centers on accusations that Urdangarin used his former title, Duke of Palma, to embezzle about 6 million euros ($6.6 million) in public funds for the nonprofit Noos Institute he ran with a partner that organized sport conferences. Among the companies they used was Aizoon, a real estate consulting company jointly owned by Cristina and Urdangarin.
An anti-corruption group wants Cristina jailed for eight years, while the state prosecutor proposed a fine.
Cristina, sister of King Felipe VI, faces two counts of tax fraud, each carrying a maximum jail sentence of four years. She is the first member of Spain's royal family to face criminal charges since the monarchy was restored in 1975.
Urdangarin faces stiffer charges of fraud and embezzlement and a possible jail sentence of nearly 20 years.
Both pleaded innocent.
During the trial, Cristina, 51, testified that her husband handled the couple's financial affairs.
Money went from Noos to Aizoon, which Urdangarin and the princess testified was set up to receive his income. A three-judge panel hearing the case will weigh whether the couple criminally abused Aizoon, described in court papers as a "front company" that may have funded luxury vacations and parties at the couple's modernist mansion along with other expenses.
The case was heard in Palma de Mallorca, the regional capital of Spain's Balearic Islands, because many of Urdangarin's business deals under investigation were for the islands.