Shiite cleric calls on Iraqis to defend country as militants capture 2 more towns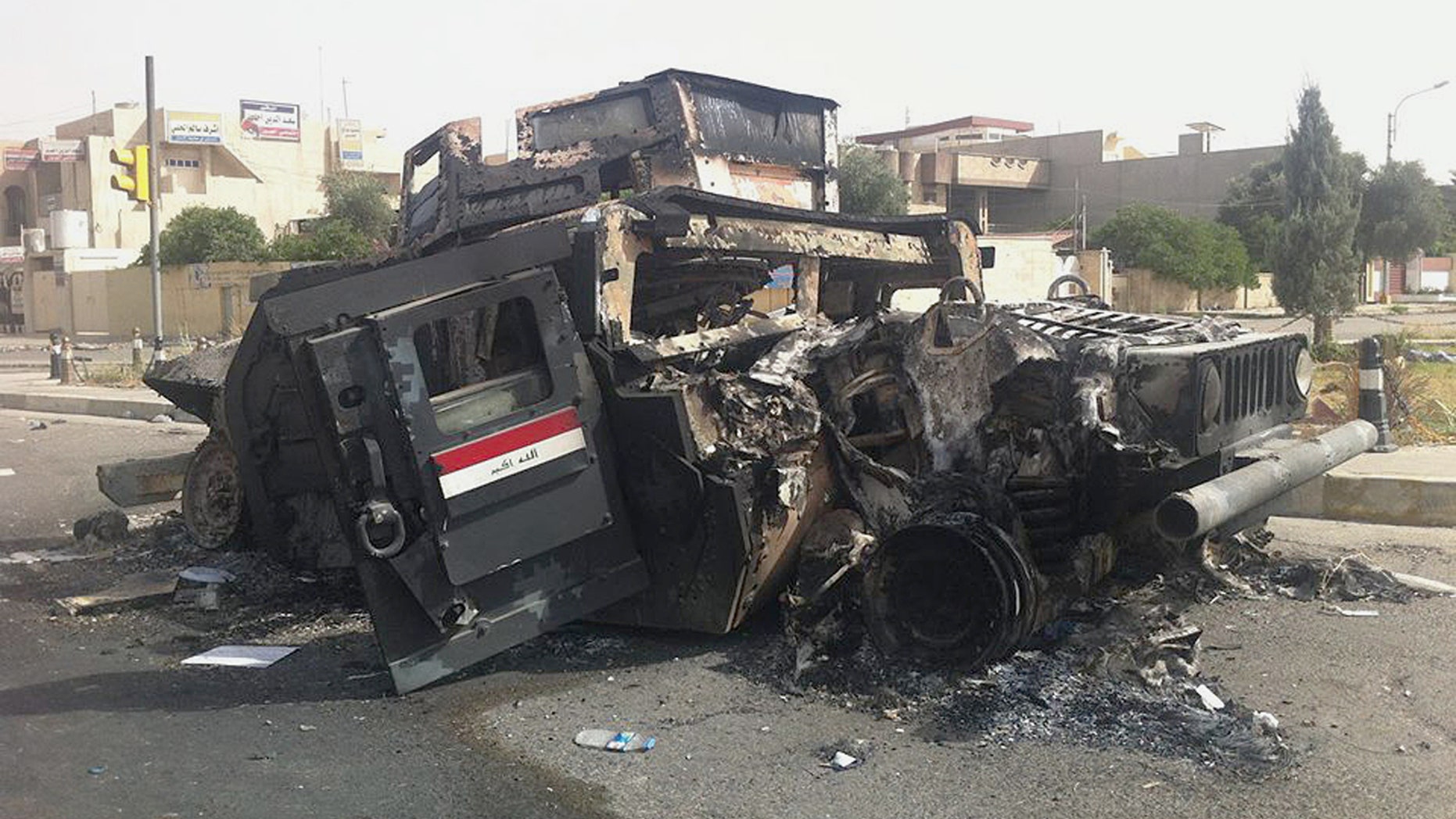 – Iraq's top Shiite cleric urged Iraqis to defend their country Friday, as militants seized another two towns northeast of Baghdad in more violent attacks in the nation's Sunni heartland.
Insurgents-- led by fighters from the Al Qaeda-inspired Islamic State of Iraq and the Levant (ISIS), and armed with machine guns-- drove in on pickup trucks to capture two towns in the Diyala province late Thursday, police said.
Iraqi soldiers abandoned their posts without any resistance in Jalula, 80 miles northeast of Baghdad, and Sadiyah, 60 miles north of the Iraqi capital. Residents of Jalula said the gunmen issued an ultimatum to the Iraqi soldiers not to resist, and give up their weapons in exchange for safe passage out, police said. After seizing the town, the gunmen announced through loudspeakers that they had come to rescue residents from injustice and none would be hurt.
The officials spoke on condition of anonymity because they were not authorized to talk to journalists, and the residents declined to give their names because of fears for their safety.
The militants followed through on threatened violence in other towns they've attacked in recent days. Death tolls in the hundreds are expected, and the number of wounded could approach 1,000, Rupert Colville, a U.N. human rights spokesman told reporters in Geneva.
The Shiite-led government of Iraq's Prime Minister Nouri al-Maliki remained in paralysis Friday, unable to form a clear response after militants overran the country's second-largest city of Mosul, Saddam Hussein's hometown of Tikrit and smaller communities, as well as military and police bases -- often after meeting little resistance from state security forces this week.
U.N. rights official Navi Pillay planned to issue a statement expressing alarm at the rapid deterioration of security in Iraq, and said the office has received reports that Iraqi army soldiers,as well as 17 civilians in a single street in Mosul had been rounded up and killed by militants Tuesday.
Trumpeting their victory, the Islamic militants also declared they would impose Shariah law in Mosul-- a city of 2 million people-- and other areas they seized.
Three planeloads of Americans were being evacuated from a major Iraqi air base in Sunni territory north of Baghdad, U.S. officials said Thursday. Other countries also evacuated staff from the city.
The Islamic State has vowed to march on Baghdad, but with its large Shiite population, the capital would be a far more difficult target.
So far, the militants have stuck to the Sunni heartland and former Sunni insurgent strongholds where people are already alienated by al-Maliki's government over allegations of discrimination and mistreatment. The militants also would likely meet far stronger resistance, not only from government forces but by Shiite militias.
The fast-moving rebellion, which also draws support from former Saddam-era figures and other disaffected Sunnis, has emerged as the biggest threat to Iraq's stability since the U.S. withdrawal at the end of 2011. It has pushed the nation closer to a precipice that could partition it into Sunni, Shiite and Kurdish zones.
Baghdad authorities have tightened security around the capital and residents are stocking up on essentials. Hundreds of young men crowded in front of the main army recruiting center in Baghdad on Thursday after authorities urged Iraqis to help battle the insurgents.
Meanwhile, Shiite cleric Sheik Abdul-Mahdi al-Karbalaie told worshippers Friday it is a civic duty to confront the threat facing Iraq. He represents Grand Ayatollah Ali al-Sistani, the most revered Shiite spiritual leader in Iraq.
"Citizens who can carry weapons and fight the terrorists in defense of their country, its people and its holy sites should volunteer and join the security forces," al-Karbalaie said.
Shiite cleric Muqtada al-Sadr and the Asaib Ahl al-Haq Shiite militia vowed to defend Shiite holy sites, raising concern over the possibility of more street clashes and sectarian killings.
In northern Iraq, Kurdish security forces moved to fill the power vacuum — taking over an air base and other posts abandoned by the military in the ethnically mixed city of Kirkuk.
Neighboring Shiite haven Iran signaled its willingness to confront the growing threat from this week's militant blitz, which the United Nations estimates has claimed hundreds of lives.
The advances by the Sunni militants are a heavy defeat for al-Maliki. His Shiite-dominated political bloc came first in April parliamentary elections -- the first since the U.S. military withdrawal in 2011 -- but failed to gain a majority, forcing him to try to build a governing coalition.
Al-Maliki and other Iraqi leaders have pleaded with the Obama administration for more than a year for additional help to combat the growing insurgency.
The fall of Mosul-- Iraq's second-largest city-- to Sunni militants this week was borne of the sectarian distrust and stalemate among Iraq's political leaders.
While the politicians were deadlocked in charge and counter-charge, the Sunni militants grew stronger, taking advantage of the political chaos, which could lead to Iraq's break-up into Shi'ite, Sunni and Kurdish territories.
Maliki's own senior commander in Mosul, Mahdi Gharawi, who fled the city early Tuesday, estimated in December that the province contained around 1,000 members of ISIS, a group that splintered from Al Qaeda, Reuters reported.
Critics say Maliki has played up Iraq's divisions to entrench his own political support. A key advisor to Maliki told Reuters that the premier's decision to take on militants in the Anbar province since late last year was to show Shi'ites he was strong, to improve his chances for a third term in the elections.
Iran's official IRNA news agency reported Friday that former members of Tehran's powerful Revolutionary Guard have announced their readiness to fight in Iraq against the Islamic State, while Iranian state television quoted President Hassan Rouhani as saying his country will do all it can to fight terrorism next door.
"The Islamic Republic of Iran will apply all its efforts on the international and regional levels to confront terrorism," the report said Rouhani told al-Maliki by phone.
The Associated Press and Reuters contributed to this report.