Sheriff Joe Arpaio's elite immigration unit tarnished by allegations of misconduct, criminality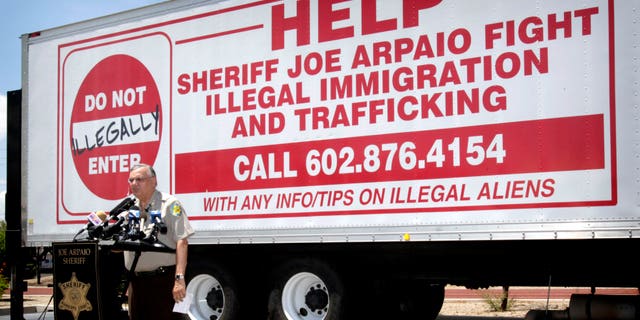 PHOENIX (AP) – As frustrations mounted a decade ago over illegal immigration, Sheriff Joe Arpaio created an elite squad to crack down on smugglers and, in the process, became known across the country as a tough-talking lawman willing to step in where the federal government wouldn't.
The fame helped the top law enforcer in Arizona's largest county attract a steady stream of endorsement requests from politicians and contributions for his own re-election campaigns.
Now, however, the disbanded squad has turned into a worsening legal liability, the thorniest one that he has faced in his 22 years as Maricopa County sheriff. It has forced Arpaio to do something unexpected: tone down his normally unapologetic rhetoric.
A judge will hold hearings beginning Tuesday over whether to hold the sheriff and the squad's leader in contempt of court for letting Arpaio's immigration patrols continue for about 18 months after he was ordered to stop them in a racial profiling case.
The sheriff has offered to publicly apologize for his acknowledged violation.
With the actions of the smuggling unit a key part of the upcoming contempt hearings, the Associated Press examined court records, employment files and job evaluations of the squad's members to detail the allegations against the squad. They include:
Shaking down immigrants
Then-Deputy Ramon Charley Armendariz was investigated for shaking down immigrants who are in the country illegally after his arrest nearly a year ago.
Hundreds of IDs, bags of evidence, drugs and more than 100 license plates were found in a police search of his Phoenix home. He implicated former colleagues on the squad in unspecified wrongdoing, quit his job and later killed himself by hanging. He had methamphetamine in his system when he died.
Pocketing items
Another former squad member told an administrative judge at a hearing over unemployment benefits last year that it was common for his colleagues to take IDs and other items during busts of smuggling safe houses.
In one instance, former Deputy Cisco Perez said squad members took a 62-inch TV. Other items regularly taken were statues depicting La Santa Muerte, Mexico's folk Death Saint who is popular among smugglers. Perez said his bosses and other higher-ups knew about the practice.
"Everybody in the unit took items from the houses and placed them on their desk, and we used them in our office as training items to educate other people on what to look for in drop houses," Perez said in a recording of the hearing obtained by The Associated Press through a public records request.
Though Perez initially denied the pocketing allegation, he later changed his story at the hearing because he believed a sheriff's official had implied that he took the items for personal reasons, meaning they were accusing him of theft, said defense lawyer Herman Alcantar.
Alcantar said Perez never considered the items taken in safe-house busts to be theft. The items weren't taken for personal reasons and instead were used for training purposes, and no drugs or money were pocketed, Alcantar said.
Across the country, police are required to make records of seized property before putting it into evidence storage. Such policies are aimed at heading off allegations that officers stole property.
Drug smuggling
Prosecutors said then-Deputy Alfredo Navarrette was deeply involved in the drug business. He was accused of laundering money and using a police database to pass along information on behalf of a cartel-connected ring that smuggled heroin into Arizona from Mexico.
Authorities say they were tipped off to Navarrette's illegal moonlighting after an informant reported seeing the deputy, who had a year earlier served on the smuggling squad, snorting cocaine at a 2010 party. The informant said Navarrette explained how he would follow vehicles carrying drugs and money to ensure they arrived at their destinations, getting paid by smugglers in exchange for their safe passage.
After leaving the squad, Navarrette would call friends who were still on the team to see where they were working for the day, raising suspicions that he was helping smugglers move their cargo around investigators, according to records.
Corruption charges against Navarrette and two other Arpaio employees were dismissed this year after prosecutors failed to file paperwork connected with a wiretap.
In an interview with investigators, Navarrette had denied escorting drug loads and doing damage control for the ring, but acknowledged making a bank deposit on behalf of an alleged ring leader. Alcantar, who also represents Navarrette, said any missteps were a byproduct of an immigration squad that was set up by the sheriff for political purposes.
Refusing to stop patrols
Arpaio and Lt. Joseph Sousa, the unit's leader, are among five officials who face the contempt hearings over the violation of a 2011 order barring the sheriff's immigration patrols. Rank-and-file squad members weren't told about the order for about 18 months.
Sousa's attorney said his client won't admit to the contempt allegations.
In a brief interview, Arpaio said his agency conducted an investigation of Navarrette that led to a criminal case against the former officer. He declined to discuss the actions his agency took after the 2011 wiretap call captured Perez telling another officer that he wanted to "pocket" items in a bust.
In early January, Arpaio said, "I don't care what people say," referring to the criticism of the squad. "The truth will come out." He has since struck a more conciliatory tone since the contempt proceedings have intensified.
His office declined a recent interview request.
Like us on Facebook
Follow us on Twitter & Instagram