Shake On It: Obama-Castro Greeting Sparks Debate Among Cuban-American Groups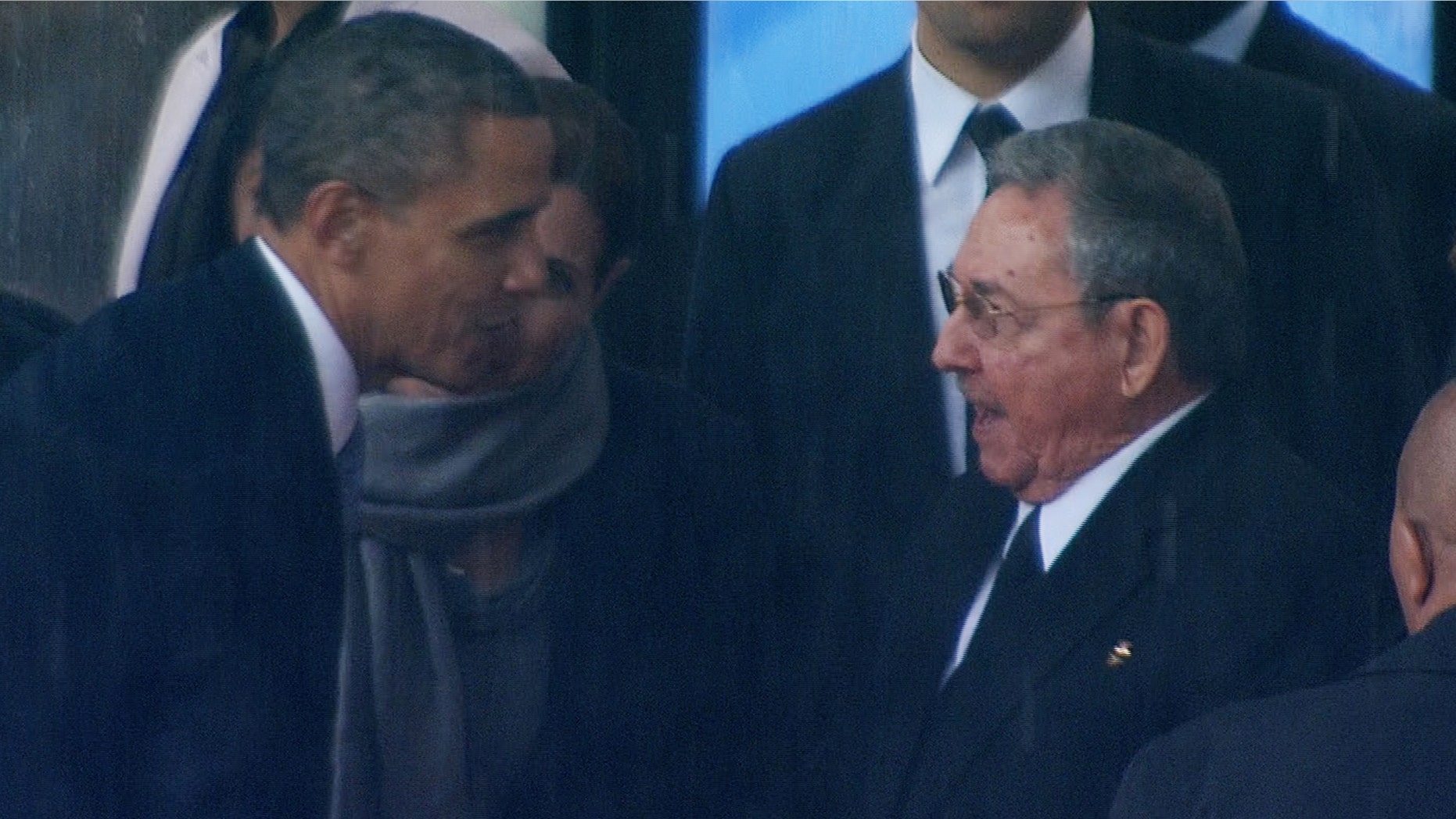 A simple handshake between U.S. President Barack Obama and Cuban leader Raúl Castro during a memorial service for Nelson Mandela in Johannesburg, South Africa, has sparked a debate over whether or not it signals a thaw between the two Cold War adversaries, if relations should be getting better and, of course, furor among Cuban-American exile groups.
The brief encounter occurred when Obama was greeting everyone in a line of world leaders before delivering his own tribute to the former South African president, in which he urged a new generation to embrace Mandela's life work as their own.
More than half a century after the U.S. cut off diplomatic relations with Cuba, such exchanges between American and Cuban leaders are exceedingly rare. U.S. officials often have gone to great lengths to avoid having sitting presidents meet Cuban leaders, even in passing.
Despite the handshake, Obama offered an implicit criticism of governments like Cuba's when, moments later, he said that too many people embrace Mandela's legacy of racial reconciliation but passionately resist economic and political reforms.
"There are too many who claim solidarity with Madiba's struggle for freedom but do not tolerate dissent from their own people," Obama said, referring to Mandela by his clan name.
Cuban-American groups in the U.S. – who tend to be fervently opposed to the Castro regime and any signs of rapprochement from Washington – criticized Obama over the gesture, calling the president "unaware" of the Castros' human rights abuses.
"The president means well but all the shaking hands and pleading so far only emboldens the Cuban dictatorship to take more aggressive action against Cuban human rights groups and U.S. interests on the island," Frank Calzón, the executive director of the Center for a Free Cuba, told Fox News Latino.
Despite the grumbling, experts in U.S.-Cuban relations say that the move was a political nicety and shouldn't be taken too seriously. "They had to make a decision whether or not to shake Castro's hand and the U.S. decided that it was the right thing to do at the service," Geoff Thale, the program director of the policy group Washington Office on Latin America, said. "Don't read too much into it, though."
Thale allowed that, when paired with the other gestures that have occurred during the Obama administration, the handshake was another "positive sign" toward the potential normalization of relations between the two longtime regional rivals. The U.S. has recently loosened travel restrictions to the island while mail service between the two countries was renewed earlier this year.
Cuba, however, has run afoul of the good graces of the U.S. at very inopportune times. Most recently Obama reestablished the right for Cuban-Americans to travel to the island, only to cancel it shortly after Cuba's detention of American contractor Alan Gross.
"This is one of the dangers that every U.S. president faces when dealing with Cuba," Peter Hakim, the president emeritus of the Washington D.C.-based think tank the Inter-American Dialogue, told Fox News Latino in July.
Castro wasn't the only world leader greeted by Obama who has recently had issues with Washington. The U.S. president also greeted Brazilian President Dilma Rousseff with a kiss on the cheek. Rousseff and Obama have fought over reports that the National Security Agency monitored her communications, leading Rousseff to call off an official state visit earlier this year.
The Associated Press contributed to this report.