Saudi woman, 18, barricaded in Thai hotel room temporarily admitted into country, meets with UN refugee workers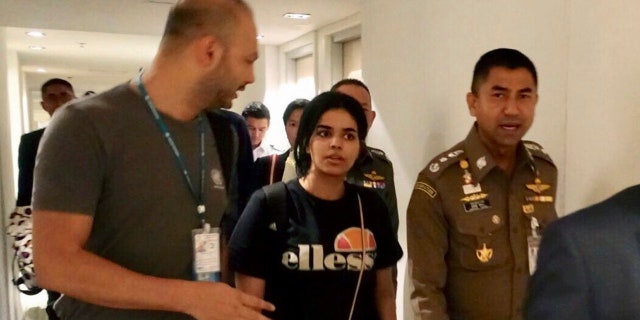 The Saudi Arabian woman who renounced Islam, fled the country and barricaded herself inside an airport hotel room in Thailand to avoid being deported was allowed to enter the country Monday to meet with United Nations refugee workers, officials said.
Thai authorities halted their plan to deport 18-year-old Rahaf Mohammed Alqunun and temporarily allowed her into the country while the U.N. High Commissioner for Refugees reviewed her case with immigration officials.
Meanwhile, her father is reportedly on his way to Thailand from Saudi Arabia.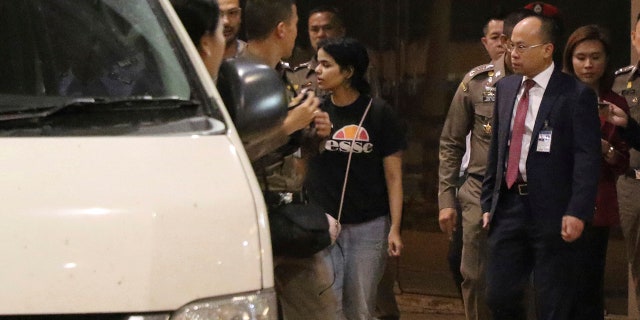 "We and UNHCR will talk to her and ask her what her wishes are, whether she wants to request asylum," immigration chief Surachate Hakparn said during a news conference Monday, according to Reuters.
He said Thai officials were following the law initially refusing her entry but added: "if she is to be hurt or punished or killed, we will need to take into consideration human rights principles."
The UNHCR is expected to take at least five to seven days to evaluate her case and claims for asylum status.
CLICK HERE TO GET THE FOX NEWS APP
Alqunun barricaded herself inside a hotel room in Bangkok's international airport Saturday after she arrived from Kuwait. She was traveling to Australia for asylum in a bid to escape alleged abuse by her family.
In a series of pleas posted on social media, the 18-year-old said her passport was taken away from her when she arrived at the Thai capital and she feared she would be killed if she was returned to her family, members of which could not be reached for comment on her accusations of abuse.
She posted a video Monday on Twitter of her barricading her hotel room door with a table and a mattress.
She told the BBC she had renounced Islam and is fearful of her father's retaliation. She told Human Rights Watch she was fleeing beatings and death threats from her male relatives who forced her to remain in her room for six months for cutting her hair.
"They will kill me," she told Reuters via text and audio messages. "My life is in danger. My family threatened to kill me for the most trivial things."
Surachate said Alqunun's father would arrive Monday night, and that officials would see if the young woman was willing to depart with him.
He said the Saudi embassy had alerted Thai authorities of Alqunun's arrival.
"The Saudi Arabia embassy…said that the girl had run away from her parents and they fear for her safety," Surachate said, according to Reuters. "We acknowledged this and checked her paperwork. She had a passport but no return ticket, no travel plan, and no destination or hotel reservation in Thailand…so per airport security procedures, immigration denied her entry."
THAI POLICE SAY THEY WILL NOT DEPORT SAUDI WOMAN CLAIMING TO ESCAPE ABUSIVE FAMILY
Surachate contradicted parts of Alqunun's story, including her claim that she had an Australian visa. However, he did not show her passport.
In a Twitter post, the teenager said she finally received her passport after she was placed under UNHCR protection.
"My father just arrived as I heard witch (sic) worried me and scared me a lot and I want to go to another country that I seek asylum in," she wrote.
The UNHCR said its representative had met her but would not comment on the details of the meeting or its outcome.
It said in a statement that Thailand had a responsibility not to expel or return anyone to a territory where their life or freedom would be threatened.
"This principle is recognized as customary international law, and is also enshrined in Thailand's other treaty obligations," the UNHCR statement said.
Her pleas for asylum have also brought international attention to the obstacles women face in Saudi Arabia under male guardianship laws, which require that women, regardless of their age, have the consent of a male relative — usually a father or husband — to travel, obtain a passport or marry.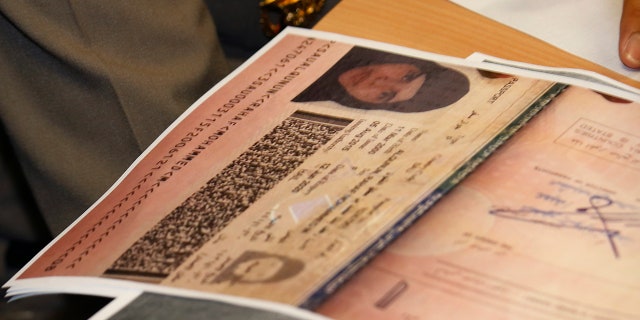 A family trip to Kuwait apparently allowed her to evade Saudi Arabia's restrictions on travel.
Saudi Arabia's charge d'affaires in Bangkok, Abdullah al-Shuaibi, was quoted in Saudi media as saying the embassy in Thailand was monitoring the situation.
Thailand vowed to protect her while she remained in the country.
"She is under Thailand's sovereignty now. No one, no embassy can force her to go anywhere," Surachate said. "We will protect her as best as we can."
The Associated Press contributed to this report.