Salvadoran Castaway To Meet With Companion's Family In Mexico To Fulfill A Promise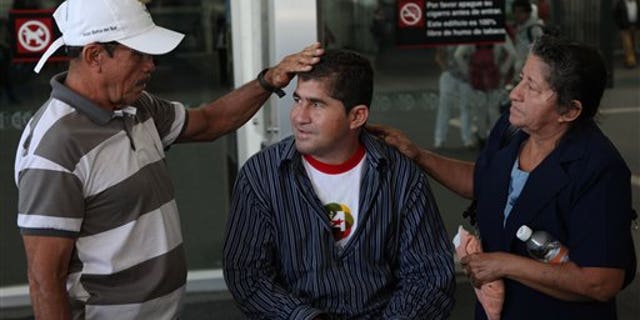 TAPACHULA, Mexico (AP) – A Salvadoran fisherman who says he spent 13 months adrift in the Pacific Ocean arrived in Mexico Friday ready to meet with the family of a young companion who died early in the voyage.
Jose Salvador Alvarenga said he promised his friend Ezequiel Cordoba, who died about a month into the ordeal, that he would give a message from him. The Salvadoran castaway didn't reveal the words his friend asked him to convey.
Alvarenga's boat washed up in the Marshall Islands in February and now he is back in the country where the journey began in December 2012. His tale of survival was difficult to believe for many who couldn't explain how a man managed to survive by catching turtles, fish and birds, drifting more than 6,500 miles (10,500 kilometers) into the sea.
The 37-year-old man landed in Mexico City's airport Friday with his parents and lawyer before catching another flight to Chiapas state to meet Cordoba's family.
"I feel like a hero," said Alvarenga after arriving in the Chiapas town of Tapachula, from where he will drive to the fishing village of Costa Azul, the place where it all began.
Alvarenga said his boat engine stopped working on Dec. 12, 2012, when a storm hit and sent them further and further into the ocean, making it impossible to return to land.
"There was nothing else we could do, except cry and suffer," Alvarenga said.
There was a lot of suffering from hunger, and he said he often cried and prayed to God for a miracle. Other than that, Alvarenga offered little details of the incredible voyage, saying he wants to save them for a book.
"I don't feel capable yet of telling what I remember," he said. "When I talk about that day, I feel like I am back there in the moment when I was suffering and hurting... what I am trying to do is to forget that."
The sea survivor limped, but unlike his first public appearances where he spoke pausing a lot, he was articulate this time.
Alvarenga's attorney, Benedicto Perlea, said that they are in talks with publishers and producers for a book and a movie about his survival.
Alvarenga said he has decided that he no longer wants to be a fisherman and prefers to find a safer job in his native El Salvador.
Follow us on twitter.com/foxnewslatino
Like us at facebook.com/foxnewslatino