S. Lankan train rolls into Tiger territory after 23 years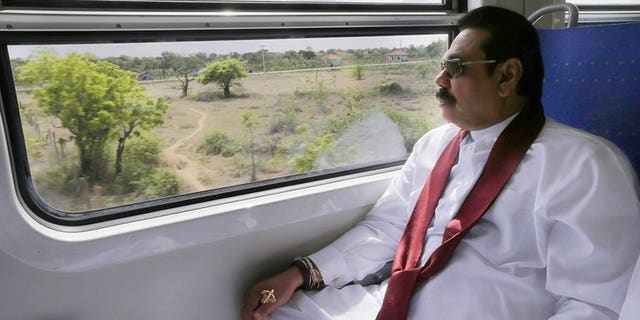 COLOMBO (AFP) – A train linking the political home of Sri Lanka's Tamil Tiger rebels with the rest of the island rolled into service on Saturday after a 23-year interruption, officials said.
The train, carrying President Mahinda Rajapakse, arrived in the town of Kilinochchi, 330 kilometres (200 miles) north of the capital Colombo, four years after the end of a nearly four-decade civil war.
The project is part of efforts to promote reconciliation with the Tamil minority and heal the scars of the long-running separatist conflict.
A new track had to be laid along a 63-kilometre stretch of the line inside the former war zone because the rebels had removed rails and used sleepers to build bunkers during the war, officials said.
Rajapakse was carrying "a message of friendship" from the Sinhalese people in the south to the Tamil-dominated north, the president's office said in a statement.
The rebel Liberation Tigers of Tamil Eelam launched their struggle for a separate Tamil homeland in 1972 and set up their political headquarters in Kilinochchi in 1995.
The war ended 14 years later in 2009 after a no-holds-barred military offensive.
Before the conflict escalated, trains regularly operated between Colombo and Kilinochchi and further north to the Jaffna peninsula.
The newly laid stretch of line is Sri Lanka's fastest track and can accommodate speeds up to 120 kilometres (75 miles) an hour, officials said.
The link is due to be extended to Jaffna by the end of next year.
Road access to the peninsula was bitterly contested during the height of the war, with thousands killed while trying to take control of the main supply route to Jaffna.
The rebels also attacked passenger and cargo trains operating in the war zone forcing the railways to abandon regular services.
Saturday's reopening of the line came ahead of local council elections in the north.
The September 21 vote is in line with Colombo's promise to share limited power with Tamils through a local council.
Getting off the train at the newly constructed Kilinochchi railway station, Rajapakse attended an afternoon political rally in support of his United People's Freedom Alliance (UPFA) candidates, the president's office said.
The Sinhalese-dominated government is under international pressure to promote ethnic reconciliation and investigate allegations of war crimes by its forces in the final stages of the war.
Railways were established in Sri Lanka by its British colonial-era rulers in 1864 for the transport of coffee and tea from the central region of the island to the main sea port of Colombo.