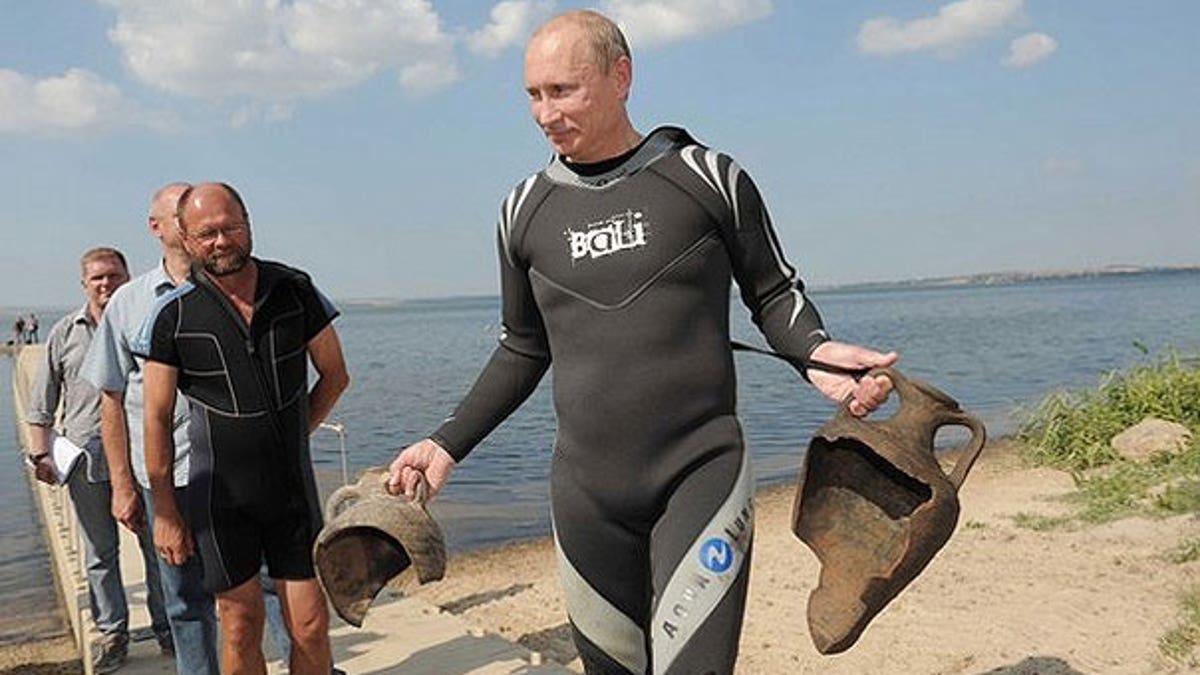 He has flown warplanes, shot at tigers, ridden bare-chested on horseback, and now Russia's macho prime minister can add diving for ancient treasure to the list.
Prime Minister Vladimir Putin pulled on a wetsuit Wednesday and went scuba diving in the Black Sea at the site of a Greek ruin.
After diving just 6.6 feet and with the cameras rolling, Putin spotted two sixth century Greek urns, Russian news agencies reported.
Television footage showed two moss-covered vases with ear-like handles sitting neatly next to each other on top of the sandy bottom as Putin swam into view.
"Treasure!" Putin told reporters with a big grin. "They drank it all already," he added when asked if there was anything left in the jars.
Russian news agencies said it was only Putin's third scuba dive.
Former Soviet intelligence officer Putin rose to the presidency in 2000 on the back of a carefully-cultivated image that mixed nationalist rhetoric with a macho image that set him apart from other Russian leaders.
He has flown a fighter jet into Chechnya and descended to the bottom of Lake Baikal in a special deep-sea vessel. Russian media have published photos of Putin wearing his judo black belt and stripped to his waist on a hunting trip.
One of his more daring escapades last year saw him chase whales off Russia's Pacific coast with a crossbow in hand.
"Living in general is dangerous," his office later quoted Putin as telling a reporter at the scene. He later piloted a Formula One car on a circuit near his native city of Saint Petersburg.
NewsCore contributed to this report.