Russian spy Sergei Skripal assassination attempt: UK deploys military as Moscow, under suspicion, offers help
The British government deployed the military Friday to help with its probe of the mysterious nerve-agent poisoning of a former Russian spy and his daughter -- an apparent assassination attempt that also left 19 others seeking medical treatment.
The Metropolitan Police force said troops were called in because "they have the necessary capability and expertise" to help investigators scrambling to trace the nerve agent that left former spy Sergei Skripal and his daughter, Yulia, in critical condition.
The military was set to "remove a number of vehicles and objects from the scene in Salisbury town center," police said, adding the public should not be alarmed.
"We have the right people with the right skills to assist with this crucial inquiry. This is a dreadful incident and my thoughts remain with the victims and their families," Defense Secretary Gavin Williamson said in a statement, according to Sky News.
EX-RUSSIAN SPY, DAUGHTER POISONED BY NERVE AGENT IN 'TARGETED' ACT, BRITISH AUTHORITIES SAY
Meanwhile, Russia's foreign minister expressed resentment at suggestions Moscow was behind the attack and said the Kremlin was "ready to consider" lending a hand in any investigation, "whether it's [about] poisoning of some British subjects, whether it's rumors about interference in the U.S. election campaign."
"But in order to conduct such cases, it is necessary not to immediately run out on TV screens with unfounded allegations," Russian Foreign Minister Sergey Lavrov was quoted as saying by Russian state news agency Tass.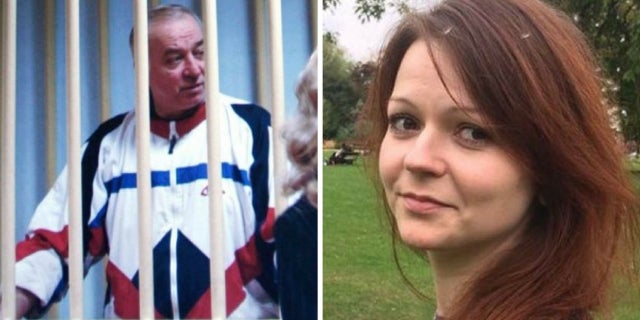 Skripal, a 66-year-old former colonel in Russia's GRU military intelligence service, was convicted in 2006 of spying for Britain and imprisoned. He was freed in 2010 as part of a widely-publicized spy swap in which the U.S. agreed to hand over 10 members of a Russian sleeper cell found operating in America in return for four Russians convicted of spying for the West.
He and his daughter, 33, were found collapsed on a bench near a shopping mall Sunday in the town of Salisbury, 90 miles southwest of London.
UK OFFICIALS SAY 21 PEOPLE NOW BEING TREATED IN EX-RUSSIAN SPY POISONING
Police officer Nick Bailey, who first discovered and treated the pair at the scene, is also in serious condition. A total of 21 people have received medical treatment.
Home Secretary Amber Rudd said the attack is an "outrageous crime" and a "brazen and reckless act."
British authorities say it's too soon to lay blame, but suspicions have fallen on Russia.
The Skripal case echoes the death of Alexander Litvinenko, a former Russian agent who was poisoned in London in 2006 with radioactive polonium-210.
A British public inquiry found Russia was responsible for Litvinenko's killing, and Russian President Vladimir Putin probably approved it.
A former head of London's Metropolitan Police called Friday for new investigations into the deaths of 14 Russians in the U.K. amid suggestions they were targeted by the Kremlin.
Fox News' Travis Fedschun and Kathleen Joyce and the Associated Press contributed to this report.