Russian minister accused of taking $2 million bribe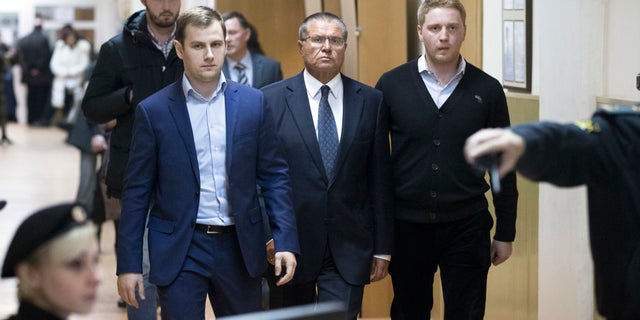 A senior Russian Cabinet minister has fallen very suddenly from grace, accused of bribery and abuse of office but seen by many observers as the victim of Kremlin tactics to balance one group of power players against the other, ensuring President Vladimir Putin remains the ultimate arbiter.
RUSSIA BOMBARDS SYRIA HOURS AFTER PUTIN SPEAKS WITH TRUMP
Economic Development Minister Alexei Ulyukayev was detained late Monday, immediately after he allegedly took a $2 million bribe in a sting set up by the FSB intelligence agency, the Investigative Committee said in a statement on Tuesday.
The investigators said Ulyukayev accepted the money for having given the green light to state-controlled Rosneft to take part in bidding for another oil company. Critics questioned why the payment was made a month after Rosneft completed the deal, why it was paid in cash and why the experienced Ulyukayev would be threatening the super-powerful Rosneft.
PUTIN, TRUMP SPEAK BY PHONE, AGREE TO WORK TO IMPROVE TIES
Ulyukayev, the highest-ranking Russian official to have been arrested since 1993, has been formally charged with extorting a bribe from Rosneft and threatening "to use his powers to put obstacles in the way of the company's activities." He was questioned for hours on Tuesday before being taken to court in the early afternoon where the judge is expected to rule on his possible arrest.
Putin had been informed of the FSB operation in its planning stage, his spokesman Dmitry Peskov said, insisting that the investigation should not affect the Rosneft deal.
Ulyukayev, who was appointed a deputy finance minister in 2000 and has held his current post since 2013, is a liberal who has spoken out against increasing government presence in the Russian economy. He had originally opposed Rosneft's bidding for the other company, Bashneft, saying it was wrong for a state-owned company to take part in a privatization drive. Putin had defended the deal, saying that because Rosneft has minority foreign investors, the sale wasn't simply a transfer of assets from one part of the state to another.
Ulyukayev's fall from grace has been widely seen as part of Putin's ongoing effort to preserve the balance between rivalling clans in the upper echelons of powers.
Mikhail Zygar, a prominent journalist and author of a best-selling book on Putin's inner circle, says it has been Putin's tactic for years to balance the influence of liberals in the government with the more conservative group of intelligence and security officers.
"There was a feeling in the wider circle lately that the liberals had got a boost and got a louder voice -- here you get a message that it is too early to celebrate," Zygar told The Associated Press. "It seems to be a story entirely in the president's character. ... When he thinks one group gets too weak, he needs to weaken the other side."
Grigory Yavlinsky, leader of the liberal Yabloko party, described Ulyukayev's arrest as a scare tactic to keep officials in check.
"The arrest of such a loyal and major official like Ulyukayev is a strong act of intimidation, (aimed) first of all, at officials," he said in a Facebook post. "Everyone should know: anything can happen to you at any moment, that's the main message."
Despite the investigators' assurances that Ulyukayev was caught in the act, the circumstances of the case prompted many to scoff at the charges. Bribery is common in Russia but it is unthinkable for a government minister to accept a bribe in cash, while corruption experts say $2 million is the bribe range of a deputy mayor, not a cabinet minister.
The economic development ministry's approval was a necessary step to allow Rosneft to bid in the tender for Bashneft but it was just one of several government approvals required to hold the tender and sell the company to Rosneft. The sale to Rosneft was finally agreed on Oct. 10 when Prime Minister Dmitry Medvedev sealed the deal -- a month before Ulyukayev received the alleged bribe.
What's more, Rosneft chief Igor Sechin, who has worked under Putin for two decades, is believed to wield an almost unlimited influence, and industry insiders find the very thought that anyone would be cheeky enough to extort money from Rosneft laughable.
Alexander Shokhin, head of a major business lobbying group, said he was convinced Ulyukayev is innocent and said he may have been framed.
"You have to be mad to threaten Rosneft," Shokhin said.
Vladimir Milov, a former deputy energy minister turned opposition activist, said in an opinion piece on the respected RBC news website that Rosneft could be behind the Ulyukayev case.
Milov said Rosneft could be looking to buy more assets in similar "privatization deals."
Uncharacteristically, Russian television did not run footage of the handcuffed official, nor did it show him accepting the alleged bribe as has happened in other high-profile cases.
Russian state-owned Rossiya 24 ran Ulyukayev's detention as the top story headlined "Fight on corruption," featuring comment from lawmakers who lauded the investigation as a major breakthrough in the long-anticipated clampdown on official graft.