Russian bombers flew near Alaska, intercepted by Air Force jets, US military says
The U.S. military said Wednesday that two Russian nuclear-capable bombers escorted by two fighter jets flew near Alaska on Sept. 11 before being intercepted by a pair of Air Force F-22 stealth fighter jets, according to a statement by the North American Aerospace Defense Command.
The Russian formation never entered U.S. or Canadian airspace, according to the statement.
NORAD said the Russian bombers and fighter jets were intercepted "west of mainland Alaska" by the American fighter jets at 10 p.m. ET Tuesday, but did not give a more precise location.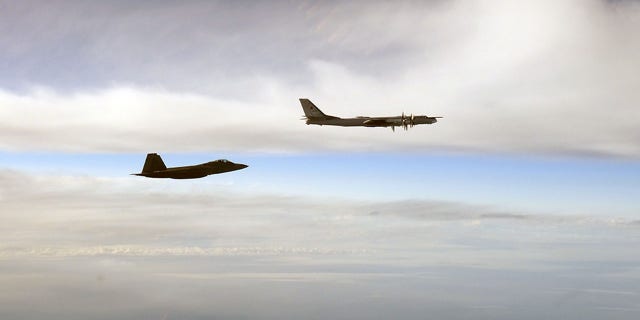 It's the second time this month a pair of Russian bombers flew near Alaska. On Sept. 1, the bombers were intercepted by F-22 fighters after crossing into the Alaskan Air Defense Identification Zone south of the Aleutian Islands.
In May, two defense officials told Fox News that two similar bombers came within 55 miles of the state's west coast. The Russian planes did not enter sovereign U.S. airspace on either of the previous two occasions.
The Russian military recently launched its largest military drill since 1981. According to the country's defense ministry, the Vostok -- or "East" -- exercise involves some 300,000 troops and over 1,000 aircraft.
Earlier Wednesday, the Russian military released video on Twitter showing a pair of Cold War era Tu-95 "Bear" bombers and a pair of fighter jets taking off from an airbase in eastern Russia.