Russia sends more weapons to Syria ahead of Lavrov visit to Washington
A day before the Russian foreign minister arrives in Washington, Moscow has sent dozens of new artillery howitzers to Syria to be used by the Assad regime in a future ground campaign against rebel forces, U.S. officials told Fox News on Tuesday.
The additional military weaponry comes days after a new ceasefire effort began in Syria. Russian Foreign Minister Sergey Lavrov is set to sit down with his U.S. counterpart, Secretary of State Rex Tillerson, on Wednesday. Last month, Tillerson traveled to Moscow where he said U.S.-Russian relations had reached a "low point" while seated next to Lavrov at a press conference.
Some 21 M-30 Russian artillery pieces arrived via cargo ship in the southern port city of Tartus in the past few days, according to two U.S. defense officials.
"This is not done by people who want to turn down the volume," one official said.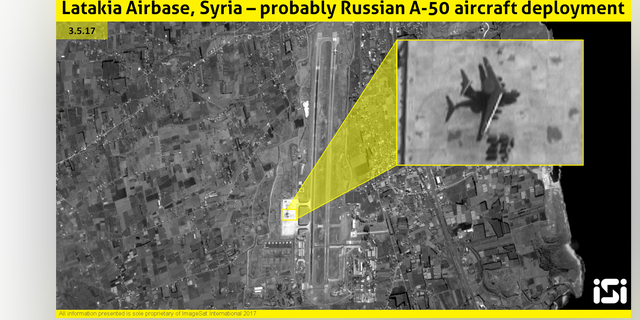 Russia also recently sent a new A-50 airborne early warning or AWACS plane to its large airbase in Syria, according to new photos from ImageSat International. In addition, Russian missiles heading to Syria are expected to arrive later this week.
PENTAGON ANNOUNCES PLAN TO ARM KURDS IN SYRIA, OVER TURKISH OBJECTIONS
The shipment of Russian SA-21 missiles for the advanced S-400 air defense system will "double" the number of surface-to-air missiles Russia has in Syria, according to officials. The increased air defense capability comes one month after President Donald Trump ordered a massive cruise missile strike into Syria destroying parts of a Syrian airbase, including nearly two dozen Syrian jets.
After the strike, Russia vowed to protect Syrian airbases with more air defense systems like the S-400. Dozens of Syrian jets were moved onto a large Russian airbase in Latakia along the Mediterranean coast recently, according to officials.
ISIS VIDEO SHOWS BEHEADING OF ALLEGED RUSSIAN SPY
Over the weekend, in a deal signed by Russia, Iran and NATO-ally Turkey, various "de-escalation" zones were established inside Syria. The United States was not a party to the agreement.
Gen. Joseph Dunford, the Chairman of the Joint Chiefs of Staff, spoke to his Russian counterpart on Saturday and said the United States and Russia would continue to de-conflict their military operations with one another in Syria without mentioning anything about the new ceasefire plan.
In December, Russian President Vladimir Putin announced Moscow's plans to scale down its military presence in Syria, but dozens of Russia's jets and helicopter gunships remain at an airbase along the Syrian coast.
Two months later, Russia sent Syria the largest shipment of missiles to date—50 SS-21 short-range ballistic missiles -- with a range of roughly 100 miles.
Russia later fired two of these missiles and longer range SS-26 Iskander missiles into Idlib Province, the same area where in April, the Pentagon says Syrian military forces launched a chemical attack killing dozens of civilians including women and children prompting the American military response.