Roadside Bombs Kill 18 in Afghanistan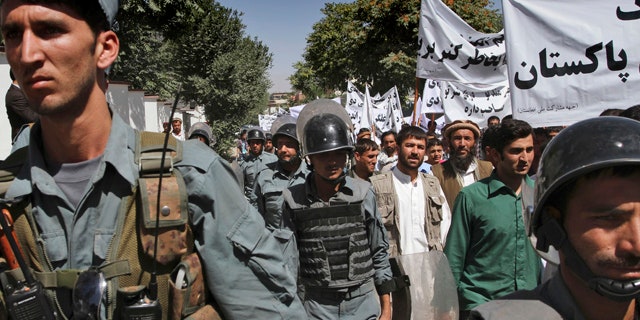 KABUL, Afghanistan -- A roadside bomb ripped through a van carrying a family Saturday in southern Afghanistan, killing all on board -- the deadliest incident in a string of attacks that killed 18 civilians, according to officials.
The Ministry of Interior said four women and two children were among 13 people killed in the van in Shamulzayi district of Zabul province.
In neighboring Kandahar province, two civilians riding a donkey were killed Friday night when the animal stepped on a bomb in Maruf district, said Gen. Abdul Raziq, police chief of the district's province of Kandahar.
When villagers came to recover the bodies, another roadside bomb went off killing two more civilians, he said.
President Hamid Karzai condemned the attacks, saying in a statement that "bombings that kill innocent civilians are the work of people who don't want the nation to have a life without sadness."
Also in the south on Saturday, two gunmen on a motorcycle killed Wakil Mohammad Khan, a member of the local council in Nahri Sarraj district of Helmand province, the Interior Ministry said.
In the north, a local government official in Ghazi Abad district of Kunar province was ambushed Saturday morning by militants as he drove to work with his son and two body guards, said provincial spokesman Wasifullah Wasifi. The son and bodyguards were later released, but the disctrict chief's whereabouts are not known, said Wasifi.
Separately, NATO reported the deaths of two coalition service members in roadside bombings -- one Saturday in the west and the other Friday in the south. Italian defense officials said the service member killed in the west was an Italian who died when a bomb exploded near a village in Farah province.
In the capital Kabul, about 500 demonstrators chanted "Death to the Pakistan military!" and "Long live Afghanistan!" in protest against deadly rocket attacks.
The rocket strikes have killed at least 36 civilians, including 12 children, along the eastern border with Pakistan in recent weeks.
The protest, organized by a group known as the National Participation Front, called on the international community to warn Pakistan against the attacks. Group director Najibullah Kabali accused the Pakistani army and intelligence service of launching rocket attacks on innocent civilians in Nangarhar and Kunar provinces.
Pakistan on Monday denied Afghan accusations that it fired hundreds of rockets into the two eastern provinces in Afghanistan, killing 36 people.
Pakistani army spokesman Maj. Athar Abbas said no rounds were intentionally fired into Afghanistan, but that some may have accidentally fallen onto the neighboring state's territory when security forces targeted militants carrying out cross-border attacks into Pakistan.
The back-and-forth accusations have further strained the troubled relationship between the two neighbors.