Rio cops, troops preparing to invade gang haven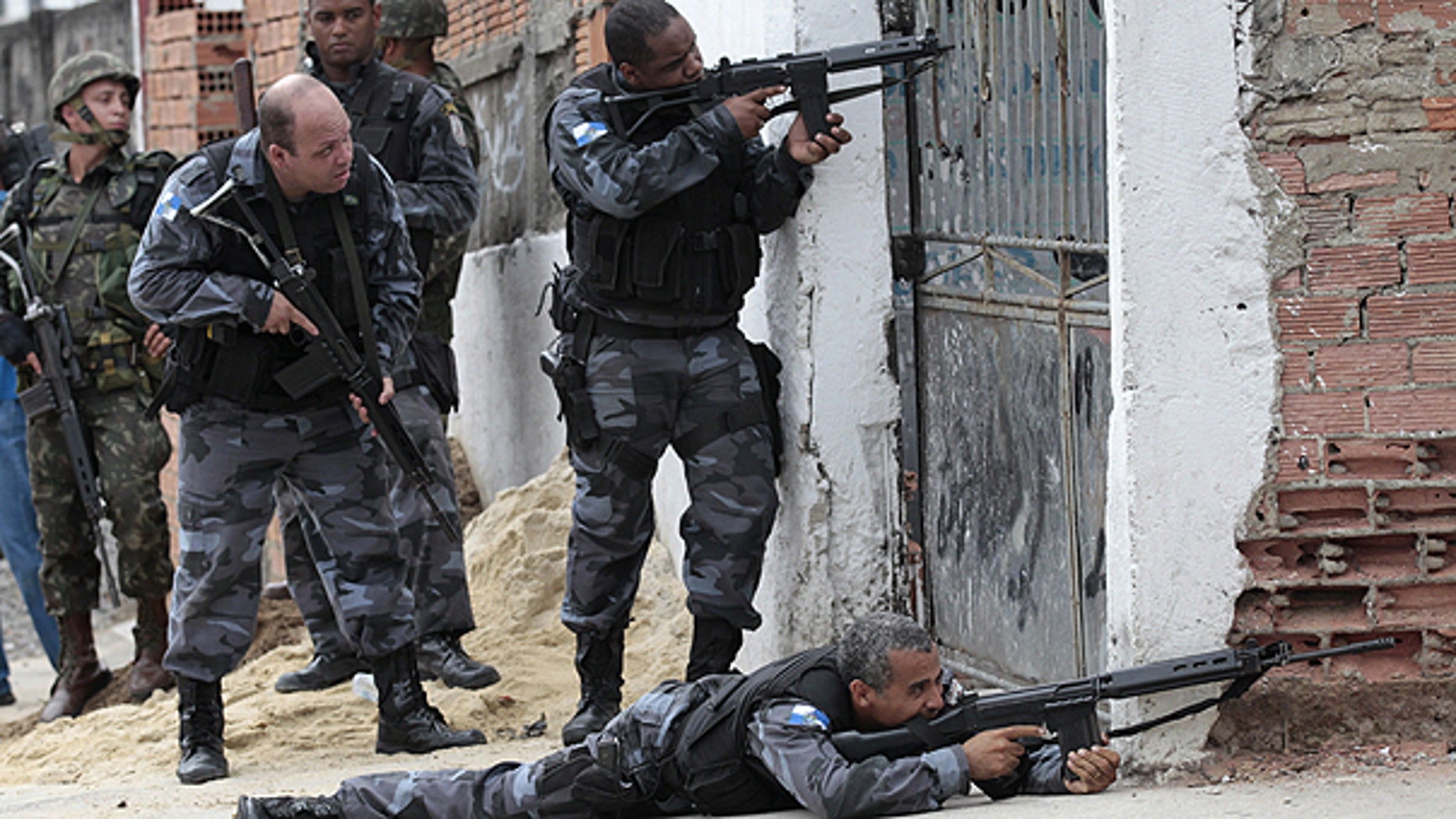 RIO DE JANEIRO – RIO DE JANEIRO -- Soldiers and police crouching behind armored vehicles trained their rifles on dozens of entrances to a sprawling slum Saturday, giving drug traffickers a chance to surrender before storming what is considered the most dangerous area of Rio de Janeiro, a city set to host the 2016 Olympics.
Many residents of Alemao, a patchwork of shantytowns covering a wide swath of steep hillside, could be seen streaming down the narrow alleyways carrying their belongings, hoping to avoid being caught in the crossfire of the looming invasion.
A police spokesman said the deadline for the drug members to surrender was "when the sun sets."
"We want them (the drug traffickers) to turn themselves in peacefully," spokesman Henrique Lima Castro Saraiva said. "We do not want a bloodbath, but if they call us to war we will respond with force."
Saraiva said the gang gunmen would be no match for security forces in a pitched battle, saying they were "exhuasted, hungry, thristy, stressed out" and had not been able to bring in more ammunition.
He also said the soldiers and police were trained and equipped to fight at night. "We have superior manpower and firepower, and nighttime favors us not them," he said.
By mid-afternoon, 16 men had accepted the police offer and turned themselves in -- one of them allegedly the right-hand man to the leader of Alemao's drug traffickers, said Allan Turnowski, the chief of the investigative branch of the police. Two other men were shot and arrested as they tried to escape.
Six wives or girlfriends of traffickers also had been arrested, Turnowski said.
Ten inmates suspected of orchestrating vehicle burnings and mass robberies early in the week in a campaign meant to scare residents and warn law enforcement away from their turf were transferred to federal, maximum security prisons away from Rio, according to a spokesman for the Rio state public safety department.
Saturday's siege followed a night that saw intense exchanges of gunfire, filling the dark sky with bright streaks as bullets whizzed in and out of Alemao. Soldiers in camouflage, black-clad police from elite units and regular police held their ground at the entrances to the complex where more than 85,000 people live, according to the Brazilian government.
The standoff comes after a week of widespread violence in Rio, with more than 100 cars and buses set on fire and at least 35 deaths, mostly suspected traffickers.
Authorities say the gangs are reacting to a 2-year-old police campaign that has pushed the criminals out of slums where they have long ruled with impunity. It's an effort to secure Rio before the city hosts the finals of the 2014 World Cup and the 2016 Olympics.
Rio de Janeiro's governor, Sergio Cabral, has vowed repeatedly to break the back of drug gangs that have ruled hundreds of shantytowns in the city of 6 million people -- and he and other officials say now is the turning point in that effort.
Vila Cruzeiro, a slum neighboring Alemao, was occupied by police Thursday. Video from Globo TV's helicopter that day showed about 200 heavily armed men running from Vila Cruzeiro across the green hilltop that separates it from Alemao.
A man who was born and raised in Vila Cruzeiro and still lives there with his mother said that "the peace we used to have is back now." He welcomed officers when they took the hillside, and wanted them to set up permanent posts to keep control of the community.
"Those of us who work, who are not involved with the (drug) traffic, we have nothing to fear," said the man, who didn't want to be identified for fear of retaliation, because he wasn't sure law enforcement would be able to hold on.
The chief Brazil photographer for the Reuters news agency, Paulo Whitaker, suffered a non-life-threatening bullet wound in the shoulder. The source of the shot was not immediately clear. He was released from the hospital Saturday.
The human rights organization Amnesty International complained that police have been too heavy-handed.
"The police response has put communities at risk," Patrick Wilcken, Amnesty International's Brazil researcher, said in a statement. "The authorities must ensure that the security and well-being of the broader population comes first and foremost in any operation carried out in residential areas."
Many Rio residents seemed to welcome the aggressive stance, however, applauding as armored vehicles rolled by and voicing hope that a new push would reclaim areas of their city that had been lawless for years.
An information hot line where residents can pass on tips about the movements of drug traffickers received a record number of phone calls over the last few days, the coordinator, Zeca Borges, told the Rio newspaper O Globo.
"People are supporting the operation," he said.
A mother pushing her 1-year-old daughter in a stroller alongside Ipanema beach said she often thought police were too aggressive, but this time she supported the law enforcement takeover of the slums.
"I'm not one of these people who says you just have to shoot the criminals," said Flavia Tavares de Almeida. "But we have this beautiful city, with 99.9 percent of people who are just workers, and want to live their lives, and are being terrorized by these traffickers."
Cabral, the governor, said police taking the Vila Cruzeiro slum and preparing to enter Alemao was a sign of a new Rio.
"We have demonstrated to those who don't respect the law ... the pre-eminence of a democratic state governed by the law," he said. "Bringing peace to this population makes this a very important day for Rio."