'Ring of Fire' fury strikes Alaska, Philippines, Japan
The volatile "Ring of Fire" seismic fault system contributed to a deluge of calamities Tuesday, encompassing the large earthquake off the coast of Alaska that triggered tsunami alerts across the U.S. West Coast and volcanic eruptions thousands of miles away in Japan and the Philippines.
More than half the world's active volcanoes located above ground are in this ring, according to the United States Geological Survey.
The region is the location of most of Earth's subduction zones, where oceanic plates slide under the lighter continental plates. Earthquakes tend to happen when those plates scrape or subside underneath each other, and when that happens at sea it can spawn tsunamis.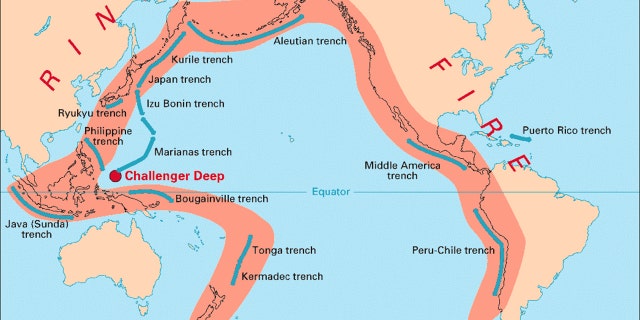 SKIERS TAKE COVER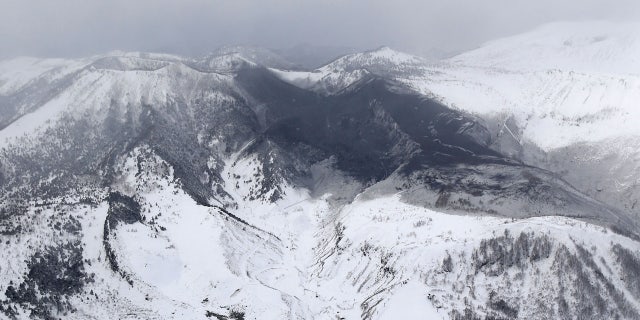 Twelve people, including eight soldiers, skiing on the slopes of a volcano in central Japan were injured Tuesday by flying rocks during a sudden eruption of Mount Kusatsu-Shirane that also triggered an avalanche officials said. One soldier later died from his injuries.
Four skiers were injured when rocks shattered the windows of a ropeway gondola, NHK World reported.
The Japan Meteorological Agency has since banned access to the mountain, and a large swath of the snow-capped volcano was covered by dark gray ash later in the day.
"I was scared to death," a 71-year-old man from Tokyo who was riding in the gondola told the Kyodo News. The man said the gondola was halted for about 30 minutes and two stones smashed the windows.
The agency said the eruption and the avalanche could not be linked immediately. Snow conditions and seismic activity are some of the potential causes of an avalanche.
ALASKA ON ALERT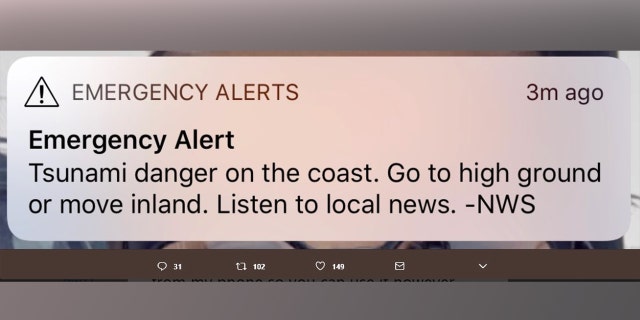 A large 7.9 magnitude earthquake off the coast of Alaska early Tuesday sparked tsunami warnings and watches that spanned all the way to the U.S. West Coast.
After a few intense hours, the tsunami warning was canceled, allowing people to return home from shelters. There were no immediate reports of damage, not even on Kodiak Island, the closest land to the epicenter of the quake, according to officials.
The Kodiak Police Department posted a video to Facebook imploring residents to leave their homes and to head for higher ground.
"This is not a drill," Kodiak Police Sergeant Derek Beaver said in the video. "This is an actual tsunami warning. Everyone please get at least 100 feet above sea level."
Alaskans also received an early morning alert: "Emergency Alert. Tsunami danger on the coast. Go to high ground or move inland."
People reported on social media that the quake was felt hundreds of miles away, in Anchorage. Reports varied about how long the quake's shaking lasted, depending on where people were located.
In the popular cruise ship town of Seward, about 110 miles south of Anchorage, fire chief Eddie Athey told The Associated Press the quake felt like a gentle rattle and lasted for up to 90 seconds.
"It went on long enough that you start thinking to yourself, 'Boy, I hope this stops soon because it's just getting worse,'" Athey said.
Elsewhere in the United States, Washington state, Oregon, California and Hawaii were under tsunami watches, which eventually were lifted. Officials in Japan said there was no tsunami threat there.
MASSIVE LAVA DISPLAY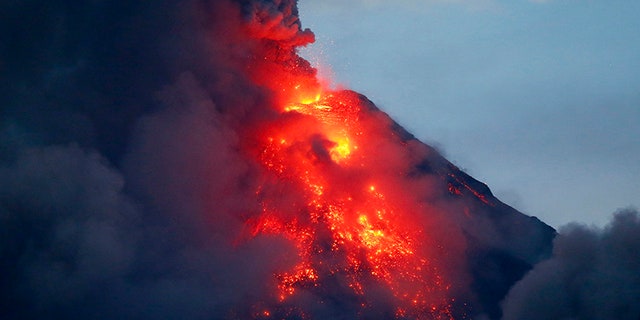 The Philippines' most active volcano erupted three more times on Tuesday, which happened one day after officials raised Mount Mayon's alert level to four on a scale of five. The eruptions sent lava fountains gushing up to 2,300 feet above Mayon's crater and ash plumes rose up to 1.9 miles Monday night.
"We couldn't sleep last night because of the loud rumblings. It sounded like an airplane that's about to land," Quintin Velardo, a 59-year-old farmer, told the AP at an evacuation center in nearby Legazpi city where he took his wife, children and grandchildren on Tuesday.
More than 56,000 villagers have fled to evacuation centers so far as the eruptions become increasingly dangerous. The volcano last erupted in 2014, according to Reuters.
With its near-perfect cone, Mayon has long been popular with climbers and tourists but has erupted about 50 times in the last 500 years, sometimes violently. The 8,070-foot volcano has generated tourism revenues and jobs in Albay, about 210 miles southeast of Manila.
Fox News' Greg Norman and the Associated Press contributed to this report.