Rights group: Trump should seek accountability from Duterte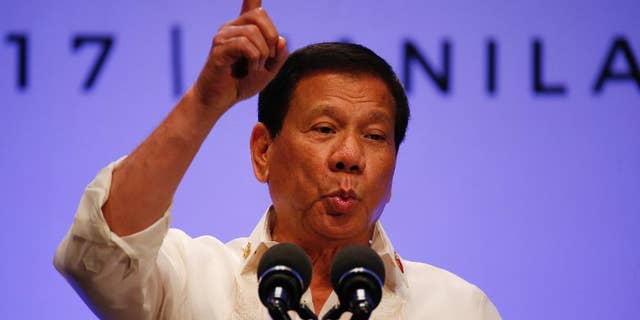 MANILA, Philippines – A U.S.-based human rights group says President Donald Trump should seek accountability and not offer to roll out the White House red carpet for Philippine leader Rodrigo Duterte, who the group accuses of being a mass murder 'mastermind' amid the thousands of deaths in his anti-drug crackdown.
Human Rights Watch and other critics reacted with alarm and outrage Monday at Trump's invitation for Duterte to visit the White House in a telephone call where the leader of the free world also affirmed America's treaty alliance and friendship with the Philippines and its new president, who has had an antagonistic stance toward U.S. security policies.
A left-wing Philippine group, Bayan, urged Duterte to reject Trump's invitation, saying the visit would not change what it said was America's lopsided relations with its former colony. "It may provide an interesting photo-op but nothing more," said Renato Reyes, Bayan's secretary-general.
The U.S. and other countries close to the Philippines "have an obligation to urge accountability for the victims of Duterte's abusive drug war, rather than offer to roll out the red carpet for official state visits with its mastermind," said Phelim Kine, HRW's deputy director for Asia.
Kine said separately in an emailed response to questions from The Associated Press that Trump may be undertaking action inimical to human rights by adopting an overly friendly overture to Duterte, who is facing a complaint for alleged mass murder before the International Criminal Court.
"Trump should recognize that he has cut a bad deal for the people of both the United States and the Philippines if he rolls out the red carpet for a Duterte visit without carefully weighing the implications of hosting and toasting a foreign leader whose links to possible crimes against humanity for instigating and inciting extrajudicial killings has already prompted warnings from the Office of the Prosecutor of the International Criminal Court," he said.
Duterte has said in the past that his administration did not have a policy backing extrajudicial killings, although he has repeatedly threatened drug suspects with death and unusual violence in his nationally televised speeches. Duterte's spokesman, Ernie Abella, did not immediately reply to an AP request for reaction to HRW's statement.
The Department of Foreign Affairs in Manila said Duterte has not yet responded to Trump's offer, adding that an official U.S. invitation would kick off diplomatic arrangements for Duterte's possible U.S. trip. If Duterte accepts, the trip may happen soon because of the urgent topic, department spokesman Robespierre Bolivar told reporters.
"The US apparently wants to consult allies and strategic partners in Asia to discuss an approach to the tensions over DPRK," Bolivar said, using the acronym of North Korea's official name.
Abella said in a statement that "the discussion that transpired between the presidents was warm, with President Trump expressing his understanding and appreciation of the challenges facing the Philippine president, especially on the matter of dangerous drugs."
A White House statement described late Saturday's call as "very friendly" and said the U.S.-Philippine alliance "is now heading in a very positive direction."
Trump's chief of staff, Reince Priebus, said the friendlier ties are needed even with concerns about Duterte's human rights record, which includes extrajudicial killings of suspected drug dealers and users as part of the government's drug war. Priebus cited the military threat of North Korea.
"The purpose of this call is all about North Korea," Priebus told ABC's "This Week" on Sunday. "It doesn't mean that human rights don't matter."
Duterte suggested in a news conference Saturday that the Trump administration should back away from an intensifying standoff with North Korea, not in surrender, but to avoid risking a nuclear holocaust that could smother Asia.
"It would be good for America to just restrain a little bit and if I were President Trump, I'll just back out, not really in surrender and retreat, but just to let the guy realize that, 'Ah, please do not do it,'" Duterte said.
Washington, he said, should not play into provocations of North Korean leader Kim Jong Un.
"It behooves upon America, who wields the biggest stick, just to really be prudent and patient. We know that we are playing with somebody who relishes letting go of his missiles and everything," Duterte said.