Rights advocates warn of backlash if Trump pursues torture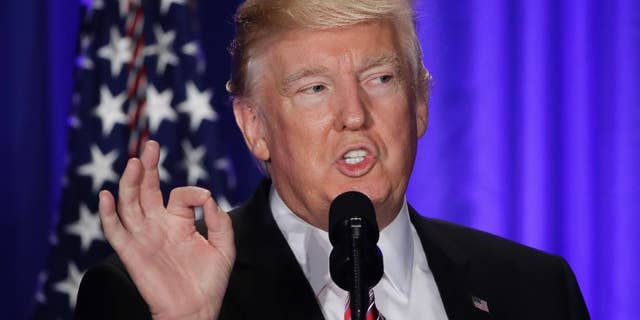 LONDON – It took more than a year's worth of beatings, sleep deprivation, psychological abuse and threats to his family before former Guantanamo Bay detainee Moazzam Begg said he cracked and confessed to being a member of the al-Qaida terror network. The only problem, he said, was that it was a lie.
Chris Arendt, meanwhile, worked as a guard at the U.S. detention facility in Cuba and said he routinely saw what could be defined as torture, including prisoners being unnecessarily pepper-sprayed or taken for interrogations that never took place. Instead, the prisoners were left shackled for hours as a means of punishment.
During the year he spent at the U.S. detention facility in 2004, Arendt said it was clear that most of the detainees had relatively little valuable intelligence.
"I thought that if I confessed I would at least get access to the courts and my interrogations would stop being so adversarial," the 48-year-old Begg said. Despite his confession in 2003, he was not released until 2005, along with three other British detainees. Like most Guantanamo detainees, he was never charged.
President Donald Trump is asking for recommendations on whether torture works, whether secret CIA black sites should be used again to interrogate suspects and whether the U.S. prison camp at Guantanamo Bay should not only stay open, but should accept future detainees, according to a draft executive order that signals sweeping changes to U.S. interrogation and detention policy. The Associated Press and other news organizations obtained a copy of the draft directive.
The draft order, which the White House said was not official, would reverse President Barack Obama's order to close the U.S. detention facility at Guantanamo Bay — a place Trump has said he wants to fill up "with bad dudes." It could also conceivably open the way for a new wave of terror suspects to be held.
Trump, who has pushed for tougher interrogation techniques, said he would consult with new Defense Secretary James Mattis and CIA director Mike Pompeo before authorizing any new policy. But he said he had asked top intelligence officials: "Does torture work? And the answer was 'Yes, absolutely.'"
"To say that torture works is a bit like saying slavery works as a model of economic production," said Nigel Inkster, former director of operations at Britain's foreign intelligence agency, MI6. "It's not the conversation we ought to be having."
If the Trump administration resuscitates policies used under President George W. Bush's administration, it could jeopardize relations and intelligence sharing between the United States and European allies such as Britain. Prime Minister Teresa May, who is scheduled to meet Trump on Friday, told reporters that Britain "absolutely" condemns the use of torture.
On Thursday, White House press secretary Sean Spicer said the draft order was not a "White House-originated" document, and House Speaker Paul Ryan said it was his understanding that it was written by someone who had earlier worked on the Trump transition team. "This is not something the Trump administration is planning on, working on," he said.
While it's unclear whether the Trump administration will return to policies seen in the war on terror, rights advocates say even the smallest move backward could bring legal troubles, especially with regard to CIA black sites that were used for interrogation.
Binyam Mohamed was a former Guantanamo prisoner who was held at a black site in Morocco.
The British and Ethiopian national was first arrested in Pakistan and then transported to Morocco under the U.S. "extraordinary rendition" program, where he alleged that he had his penis sliced with a razor blade. He was then transferred to Guantanamo Bay in 2004 and released in 2009.
He and other detainees sued the British government for collusion with U.S. authorities, and in 2010, the UK Court of Appeal ruled that he had been subjected to "cruel, inhuman and degrading treatment by the U.S. authorities." He and others were awarded a compensation settlement in 2011.
"It would become impossible for the UK to share any intelligence that could potentially lead to the mistreatment of anyone," Inkster said. "And I don't think there are many people in Western intelligence who regard Guantanamo as a success."
After the Sept. 11 terror attacks, no two prisons came to symbolize the war on terror like Guantanamo Bay and the Abu Ghraib prison in Iraq.
When the Guantanamo Bay camp opened in January 2002, months after the Sept. 11 terror attacks, European reporters flocked to the outpost, plastering front pages with the first images of terror suspects. The men, clad in orange jumpsuits, were shown kneeling and bound next to U.S. military guards.
More than 900 prisoners have circled through the prison camp since it opened in January 2002, some held for years without ever being charged. It also attracted a steady stream of controversies, including documents that showed prisoners were subjected to abuse.
The bad press at Guantanamo, meanwhile, coincided with graphic pictures of abuse out of Iraq's Abu Ghraib prison.
The 2004 photographs documented a wide array of abuses against prisoners held in U.S. custody. Prisoners were stripped naked or put in degrading poses. Two photographs showed a female guard holding a leash attached to the neck of a prisoner while another hooded prisoner was forced to stand on a box.
Some fear that if Trump embraces past policies, there could be a backlash from extremist groups, increasing the threat of terrorism against the United States. The Islamic State group has often shown prisoners wearing the same orange jumpsuits as Guantanamo detainees.
"Experience has shown that using torture doesn't work; it only grows hatred," said Ewan Watson, a spokesman at the International Committee of the Red Cross. "It sows the seeds of revenge, destroys the social fabric of communities and degrades a society's institutions."
The Geneva-based ICRC has been one of the few groups allowed to visit detainees in Guantanamo and other U.S. detention facilities.
The American Civil Liberties Union, meanwhile, warned that if past policies return, the United States could see itself in the middle of a flurry of legal challenges at home and internationally. Torture is prohibited under international law.
"Trump's executive orders bring us back to the dark, lawless days of the Bush administration," said Anthony Romero, executive director of the ACLU. "Black sites, Guantanamo, torture appear to be back on the table as official policy of the US government, even if these actions are known to be unlawful."
Arendt, who was a guard when Begg was in Guantanamo, now works at a tattoo shop in Detroit but is still haunted by his experience at Guantanamo.
"If I could deliver a message to Trump it would be: Please stop and look at history. Don't make us a country of concentration camps and black sites. No good country should have to stoop to this level."