Rich kids of Iran: Group flaunts wealth, hypocrisy in cash-strapped Islamic republic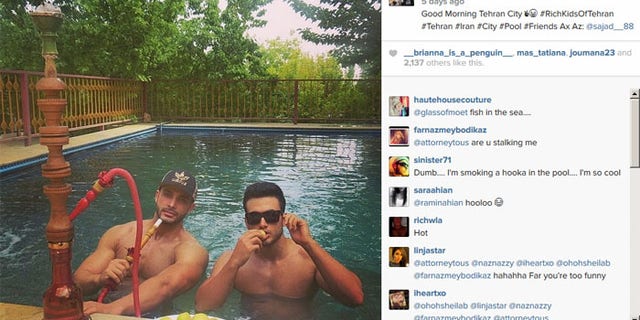 Hot girls, fast cars, huge homes and a life of luxury – that's present-day Iran for a new group of young friends who are taking social media by storm while also underscoring a class-based hypocrisy inside the Islamic Republic.
The Rich Kids of Tehran as they call themselves, began with a sole account on Instagram last month and grew steadily to Facebook and Twitter, gaining attention with three specific hashtags unusually paired together -- #lavish #lifestyle and of course, #Iran -- that helped them to establish more than 70,000 followers and growing. The photos posted would be normal coming from any Western or secular country in the world: girls in bikinis, young men bare-chested posing poolside, groups of girls in their tightest Friday-night-best, high-end cars parked seductively in an upscale neighborhood. But from a place like Iran, where women are forced to wear head-to-knee covering in public and co-mingling with the opposite sex is strictly forbidden, it's a behind-the-scenes look at life in Tehran that some have heard tales about, but most people have never seen.
[pullquote]
According to the individual who manages the group's official Instagram account, the Rich Kids of Tehran are "a group of kids in their 20s who like nice cars and own Porsches, Land Rovers, etc." whose objective in creating the Instagram account is "to show the world what they don't see on newspapers and TV... To show the world the good side of Iran-Tehran, which I think everybody should see before they judge us."
If the Rich Kids of Tehran sound a bit defensive, it's because not everyone in the public sphere has taken kindly to the tone or subject matter featured in their accounts. Some commenters have reprimanded the account's creators for what they perceive as the narcissistic flashiness of spoiled children. One Iranian viewer in Tehran was so outraged at the group's Facebook page that he decided to counter their social media sweep by creating a Poor Kids of Iran Facebook page, where he posts pictures and comments on what he calls the "real" Iran.
[image]
"I'm just disagreeing and contradicting with that stupid page," he wrote. "That page is just to show off cuz we all know how poor Iranian people are getting every day! With those sanctions .. those rich kids are all high-born people or people who are stealing our oil money and our people's money.
"I don't have any hopes for that stupid page cuz they're just trying to get famous through their mullah parents' money!" he continued. "They have no other purpose. You can't show the world that Iran is rich cuz it isn't."
[image]
Poor Kids of Iran stressed that despite international perceptions, conspicuous wealth is a common sight around Tehran. But the site noted that only those with political connections at high levels of the Islamic regime can get away with it.
"I've seen lots of these kids .. You can see them everywhere and recognize them by looking at their cars. Boys obviously flaunt cuz they will get more girls .. rich girls are less showy . They save the posture for Instagram.... Everyone knows that U can't have fun and party in Iran unless ur dad is supporting u through government or somewhere .. u will be executed for drinking in Iran after three times! They party and drink all the time and never get caught! Of course they are politically supported."
Ardalan Khalafi, an Iranian-American undergraduate student at New York University and member of the university's Persian Cultural Society, is another viewer who finds the account portraying lavish lifestyles to be distasteful.
[image]
"At first I was shocked because I thought maybe the page was a joke -- with the purpose of it to be shocking. You know, people just flashing their wealth, the typical of upper echelon of society. But it's kind of disappointing because it's a huge misrepresentation of Persian culture I think, whose key virtues are humility, depth toward character, and this page seems to be very shallow and almost arrogant."
Critics of the social media campaign note that sanctions against Iran are the heaviest that the international community has ever imposed on any country. Since 2011, the punitive financial restrictions have shrunk the nation's annual gross domestic product by an estimated 25 percent. That, combined with a 60 percent decline in oil revenue from 2011 to 2013 and an estimated inflation rate of 70 percent, raises questions about how anyone could afford the life of luxury of which the young adults boast.
In addition to shining a light on economic disparity within Iran, the ostentatious display would also seem to violate the Islamic republic's strict religious rules. When asked if they were worried about getting caught by the Iranian government for displaying photos which appear to document actions frowned upon inside the theocracy, Rich Kids of Tehran had no comment. Nor did they admit any attempt at challenging or intention to change the status quo in Iran.
"We are in no way political," the Instagram site's administrator replied via email. "We are just showing how beautiful Tehran and people from Tehran are. Especially with all the bad press in Middle East currently. We want the world to see Tehran is nothing like that."