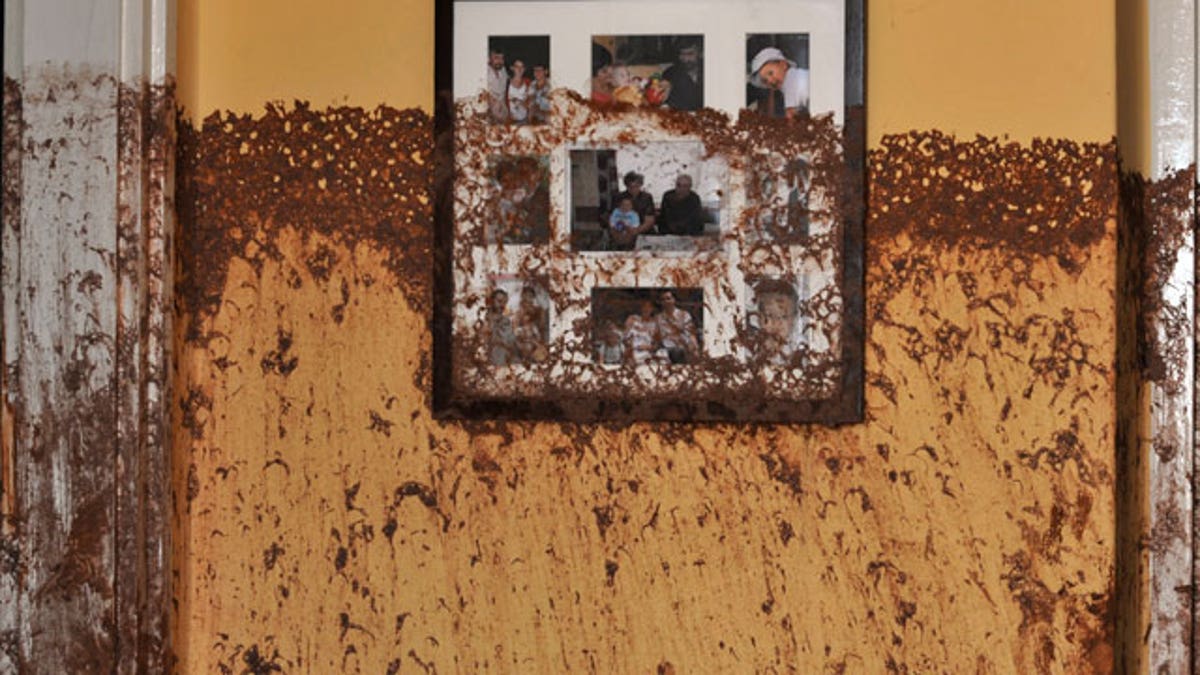 KOLONTAR, Hungary-- A month after a flood of red sludge devastated Kolontar, this town in western Hungary is struggling to overcome its deep scars.
While work crews use heavy machinery to dredge up and cart away the caustic ochre muck that once coated the town, residents are trying to heal less visible damage and figure out what lies ahead for them.
Katalin Holczer, her husband Balazs and their two children plan to pull up stakes and create a new life somewhere else. She said they were too traumatized by the Oct. 4 torrent of sludge from a burst factory reservoir that damaged their home beyond repair and left her legs scarred with chemical burns.
'It's not coming in here!' in his sleep," she said.
Others hope for the return of a normal life here, even if their houses were left a write-off by the disaster.
"My children say my sense of humor is coming back, which is half the battle," Erzsebet Veingartner said Wednesday as she watched her two young granddaughters, a month after fleeing her badly damaged home.
"The advice I've been getting is to not look back, look only forward, and keep in mind that I'm still alive," she added.
Such optimism was hard to find just four weeks ago, when parts of Kolontar and the neighboring towns of Devecser and Somlovasarhely were inundated by 184 million gallons of burning industrial waste. The waist-deep sludge flooded streets and swept through living rooms before spilling into creeks leading into the Danube, Europe's second-longest river.
Nine people were killed and dozens more hospitalized. Government officials and environmental groups described the spill as Hungary's worst environmental catastrophe, warning of lasting damage to soil and water by possible toxic heavy metals in the sludge. Angry villagers mobbed officials of the aluminum company that owned the failed sludge pond, calling for most of Kolontar to be bulldozed.
But now those fears have eased. Environmental agencies monitoring the Danube in Hungary and other nations downstream have reported no significant damage to marine life, and Kolontar Mayor Karoly Tili said air pollution levels could be considered normal.
Worries of a new torrent have also lessened, with cracks on the walls of the 10-hectare (25-acre) plant reservoir widening only a few millimeters in the past weeks.
Cleanup work continued Wednesday, with huge trucks carrying tons of red mud dug out of gardens and other surfaces to other reservoirs in the area. Road cleaning vehicles brought in from Budapest, the capital, sprayed water on paved streets, flushing red liquid into roadside drains.
In the unaffected parts of town, life went on as usual. Boisterous school kids on their fall break ran around the main street and local pubs appeared to be doing a brisk business.
Tili said once all the red sludge had been removed and the unrecoverable houses demolished -- which could take at least another week -- his town could slowly begin returning to normal.
"In Kolontar, real estate values now are practically zero, but nature is capable of producing wonders," Tili said. "Winter is coming, reconstruction will begin and people's mood will change."
Officials said the long-term plan was to restore the area to its pre-flood state by removing contaminated layers of soil from nearly 2,500 acres of residential and agricultural land.
"The aim is total rehabilitation," said Timea Petroczi, a spokeswoman for the Disaster Management Agency.
Still, about 100 of Kolontar's 800 residents expect their homes to be bulldozed, leaving many facing tough decisions. Should they accept compensation from the state or the company deemed responsible without clear figures from either? Should they rebuild? Should they go?
On Wednesday, officials inaugurated a new, 20-foot-wide bridge -- built in six days by army engineers across the Torna stream and sturdy enough to support a truck. The bridge links the main part of Kolontar with its most affected area, now a virtual ghost town.
Houses in the condemned area, where a memorial park is planned, looked eerily similar to how they appeared nearly a month ago. Many windows and doors had been removed by owners hoping to use them again. Large piles of stained, ruined possessions rose outside more than two dozen homes, with sneakers, tools and appliances strewn among twisted metal fences and other debris.
Only an egg packing plant, which sits on higher ground, was still functioning among the neighborhood's empty buildings.
Veingartner was still mourning her husband and mother who died last year when the sludge flood hit, forcing her to move in with one of her sons.
Sorting through boxes of donations -- from clothing to toys and furniture -- the 62-year-old former seamstress said she was overwhelmed by the kindness and solidarity others have shown.
"A former classmate I hadn't really spoken to in 45 years called me to find out how I was," Veingartner marveled.
Best of all, she now had a plan.
"At first, I felt despair, but my boys said I have to live another 20 years so now that's what I'm aiming for," she said.