REPORTER'S NOTEBOOK: Mixed emotions as Iran looks to promote investment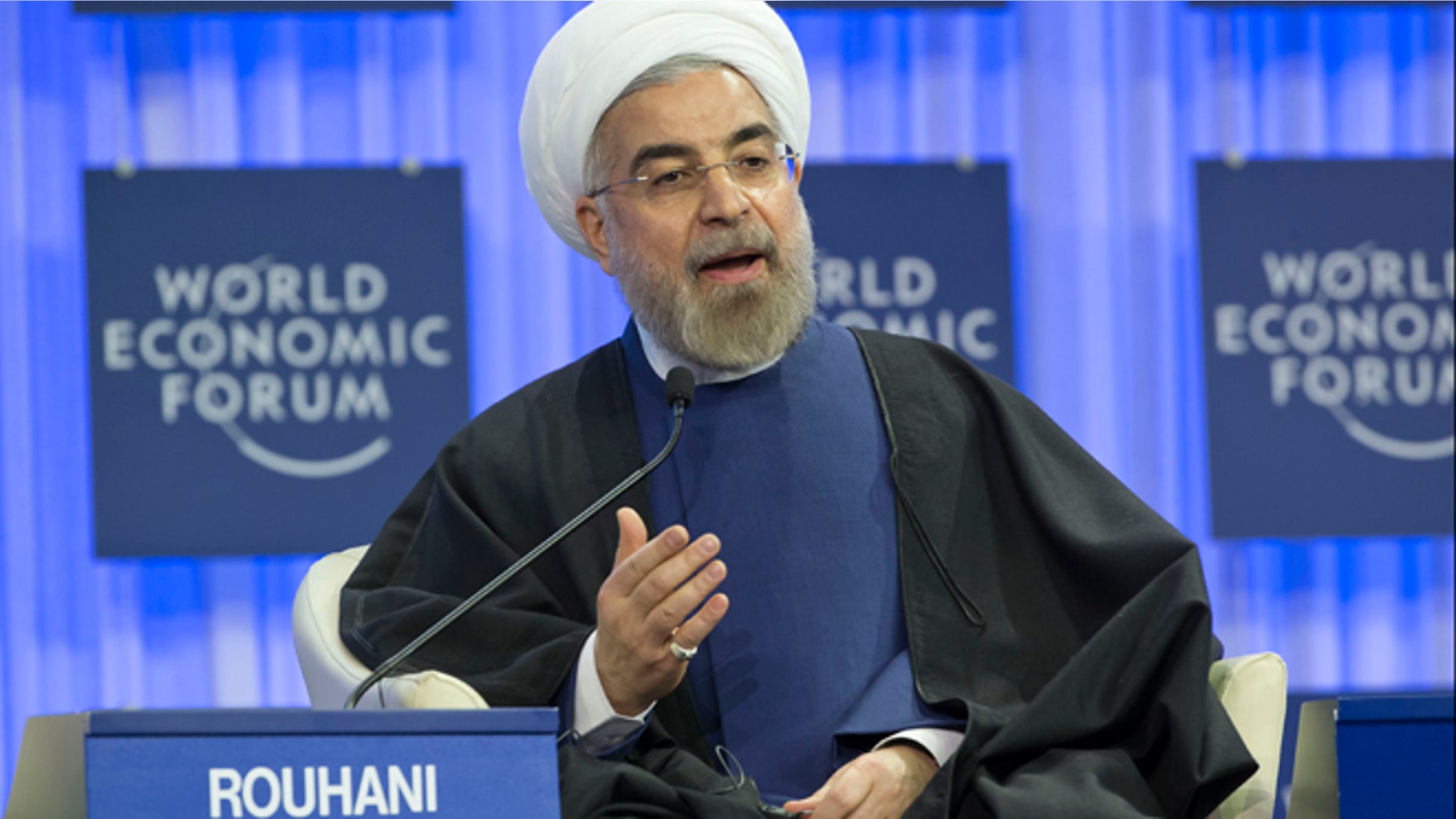 Watching the hordes jockey for position, trying to get into the room where Iranian President Hassan Rouhani's address to the World Economic Forum was to take place, an expatriate Iranian said to me he had mixed emotions: that this regime, which caused so many Iranians to run for their lives, is now the toast of arguably one of the most elite gatherings in the world.
Israeli Prime Minister Benjamin Netanyahu and U.S. Secretary of State John Kerry are also here, or will be here, before the party in Davos, Switzerland is over Jan. 25. This makes for a truly formidable troika that could, if it wanted, get together and change the world altogether. But as far as anyone knows, the trifecta won't intersect. Not this year.
There was a big Jewish contingent towards the front of Rouhani's venue, and presumably they want to know, among other things, what Rouhani means for Israel.
Moderator Klaus Schwab, the World Economic Forum founder and executive chairman, clearly wanted that answered as well. At the end of Rouhani's remarks, which included a strong message of wanting close cooperation with the world, and particularly with its neighbors, Schwab asked the Iranian President, "with ALL your neighbors?"
Rouhani smiled, replying, "All our neighbors we recognize." Schwab pressed again. Rouhani kept to his line, the implication being: Israel was not on the "neighbors to get close to" list. Some things don't change.
However, someone meticulously versed in the nuances of the region told me his take from a mention of solving the Palestinian problem in Rouhani's speech was that Iran sees a future where a relationship with Israel is, in fact, possible.
The Iranian president said he came with the principles of moderation and prudence, messages of peaceful coexistence and hopes for engagement, economic and political, with the region and around the world. He talked of the urgent need for job creation and the creation of equal opportunity for all as a way of countering extremism. He said there should be free and fair elections in Syria. And he reiterated the regime's insistence that Iran does not want a bomb. Rouhani said, "We have never sought anything but the peaceful implementation of this (nuclear) technology."
Netanyahu, speaking a lunch break away from Rouhani, dismissed the Iranian leader's remarks as "a change of words with unchanging deeds."
Meantime, one western business leader mulling Rouhani's speech afterward said it was bold, "given his constituency, which probably includes his own 'tea party.'"
Rouhani went further than indicating that Iran is open for business. He invited all participants of the World Economic Forum to go to Iran to check out the extensive opportunities for investment, and to experience Iranian hospitality.
Vali Nasr, dean and professor of International Relations at Johns Hopkins University, said this is the first time Iran has openly expressed interest in becoming a viable emerging market. The fact that Iran has such a large delegation here seems to back up that fact.
However, many layers of sanctions still stand in the way of doing business with Iran.
Rouhani said that the nuclear deal is a prelude to future agreements and engagement.
Netanyahu also declared his country open to business and investment with his neighbors.
He said business does wonderful things for peace, and said Israel is happy to share its secrets to tech success. At this mega economic conference where innovation is the buzzword, it is hard not to let one's mind buzz a bit with thoughts of where some of these invitations to "do business" could lead one day.