Report: US drone-fired missiles suspected to have killed Al Qaeda's Pakistani leader, 3 others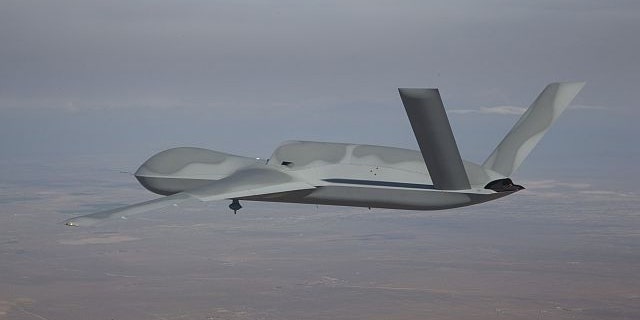 PESHAWAR, Pakistan – A US drone strike on a house in northern Pakistan killed at least four suspected militants, and is suspected to have killed Al Qaeda's Pakistani leader Badar Mansoor, Fox News reports.
The attack is the second in 24 hours. A strike Wednesday in the same area killed at least 10 and several others were injured.
The back-to-back strikes could be an indication the drone program is picking up steam again after a slowdown caused by tensions with Pakistan over accidental American airstrikes that killed 24 Pakistani soldiers last year.
The U.S. held off on carrying out drone strikes for over six weeks after the deadly accident on Nov. 26. There have been a handful of attacks since they resumed in January, but the last two are the first consecutive strikes since the border incident.
The house hit before dawn on Thursday was located in the main bazaar in Miran Shah, the biggest town in the North Waziristan tribal area, the country's main sanctuary for Taliban and Al Qaeda militants, said Pakistani intelligence officials. They spoke on condition of anonymity because they were not authorized to talk to the media.
President Barack Obama spoke publicly about the covert CIA-run drone program for the first time in a recent interview. But he and other U.S. officials refuse to openly say more about the details of the strikes because they are classified.
Pakistani officials regularly denounce the strikes as a violation of the country's sovereignty, but the government is widely believed to have facilitated the program in the past. That cooperation has come under strain as the relationship between the two countries has deteriorated.
Pakistan was outraged by the U.S. attack that killed its soldiers at two Afghan border posts in November. Pakistan retaliated by closing its border to supplies meant for NATO troops in Afghanistan and by kicking the U.S. out of a based used by American drones.
The U.S. and Pakistan disagree over who should be blamed for the incident, but there are signs that tensions are easing.
The Pakistani army held talks with NATO and Afghan forces Wednesday on how to improve coordination across the Pakistan-Afghanistan border to avoid such incidents in the future.
The top U.S. military commander in the region, Gen. James Mattis, is scheduled to travel Pakistan this month, the first high-ranking official to visit since the deaths of the Pakistani soldiers.
Senior Pakistani officials have said in recent days that the government should reopen its border to NATO supplies as long as it can negotiate better fees from the coalition.
The Associated Press contributed to this report.