Refugees stuck at border sew up lips in protest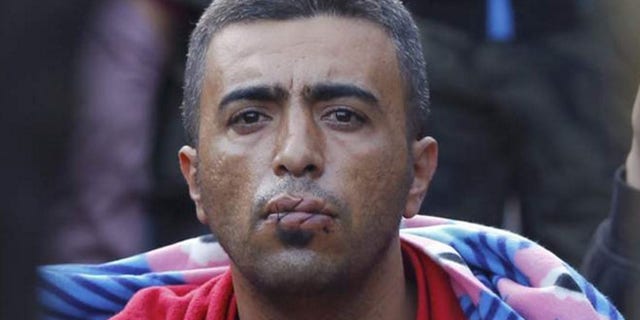 NEWYou can now listen to Fox News articles!
Migrants have blocked rail traffic at the Macedonian border as they protested against a decision to only allow Syrians, Afghans and Iraqis to cross there from Greece.
Several sewed their lips together with cord, with at least one declaring a hunger strike before sitting down in front of lines of Macedonian riot police.
A 34-year-old Iranian electrical engineer named Hamid, was asked where he wanted to go.
"To any free country in the world. I cannot go back. I will be hanged," he said.
Hundreds of thousands of migrants, many of them Syrians fleeing war, have already crossed into northern Europe from the Balkans having travelled there from Turkey.
Many have passed through Macedonia, Serbia, Croatia and Slovenia as they head to the EU's more affluent countries like Germany and Sweden.
Last week, however, Slovenia declared it would only grant passage to those fleeing conflict in Syria, Iraq and Afghanistan.
All others, who it classed as "economic migrants" would be sent back, the Slovenian authorities said.
That prompted Croatia, Serbia and Macedonia - countries on what is known as the Balkan corridor - to do the same.
Since then, growing numbers of migrants have been stuck on the Macedonian border with temperatures starting to fall.
Human rights groups have criticised the policy, saying that asylum should be granted on merit, not on the basis of nationality.
Rados Djurovic, director of the Belgrade-based Asylum Protection Centre, said: "To classify a whole nation as economic migrants is not a principle recognised in international law."
The new measure follows rising concern in the wake of the Paris attacks over the potential risk posed by the number of people heading into Europe.
While sympathy has been high for people caught up in the civil war in Syria, some commentators have asked whether people from countries where there is no war should be treated as refugees.
It has emerged that two of the attackers who blew themselves up travelled through the Balkans after entering Europe via Greece.
On the Macedonian-Greek border, a large group of migrants from countries including Iran, Morocco and Pakistan blocked the railway line running between the two countries, stopping at least one train.
A group of Bangladeshis who stripped to the waist wrote slogans on their chests in red paint. One slogan said: "Shoot us, we never go back."