Raqqa's escaping victims forced to live in toxic oil refinery with gasoline-laced water and no sewer system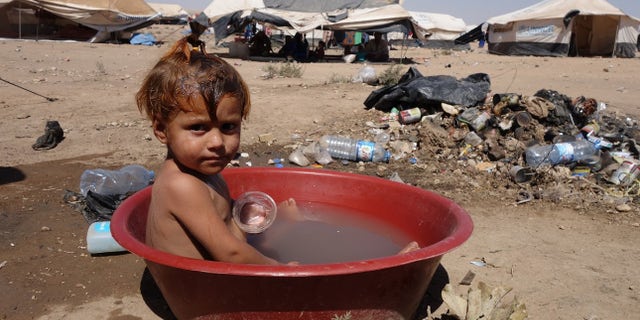 Thousands of Raqqa residents are trying to get out of the Islamic State's so-called capital in Syria, but their hell is far from over once they've escaped the war-ravished remnants of the city.
Fox News has learned that at least 6,000 people are currently wedged in the Arisha displacement camp in the Hassakeh governorate – some 30 miles from Raqqa city – in what was once an oil refinery, and still teeming with toxic waste.
"It is heavily polluted with oil, and people there have no choice but the bathe and drink from this water tainted with oil," Ingy Sedky, a Damascus-based spokesperson for the International Committee of the Red Cross (ICRC) told Fox News. "And then getting sick – diarrhea, skin diseases – and there is absolutely no medical care."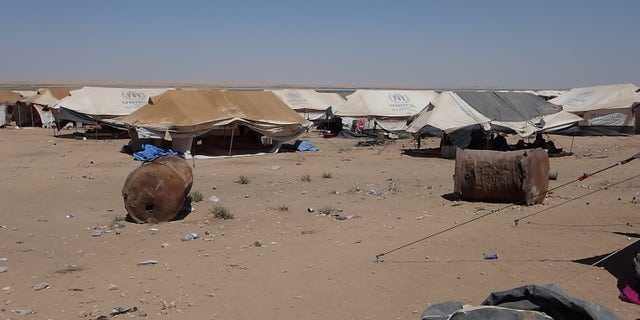 To make matters worse, Sedky noted, there is no sewer system and no functioning toilets on-site. Temperatures during the day can soar upwards of a blistering 120 degrees, igniting scores of heatstroke cases. As a short-term solution to mitigate some of these issues, the ICRC has distributed as many water bottles as possible. But it's not practical or affordable to keep doing that for much longer.
"The water pumping stations in the area need to be entirely rehabilitated," she observed.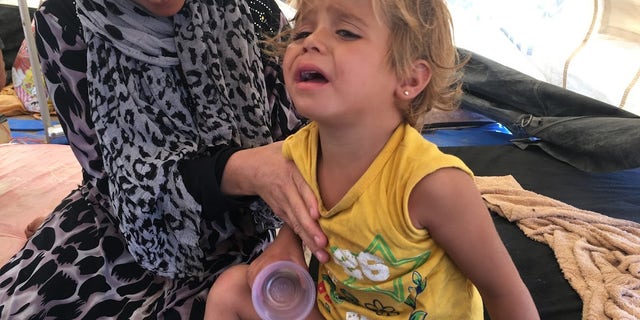 Earlier this month, Sedky and a team from the ICRC and Syrian Arab Red Crescent returned from their first visit to the Raqqa governorate since ISIS took over four years ago, to assess the humanitarian needs of those who had escaped the conflicts in Raqqa and the nearby Deir Ezzor city, which has also long been besieged by ISIS.
Those now living in Arisha, which was set up by local NGOs two months ago, live in nothing short of "inhumane" conditions where even a soiled, used mattress is a luxury.
"People keep arriving daily, and there is a waiting list of a week to ten days just to get a dirty mattress to sleep on," Sedky said. "Some sleep in cars."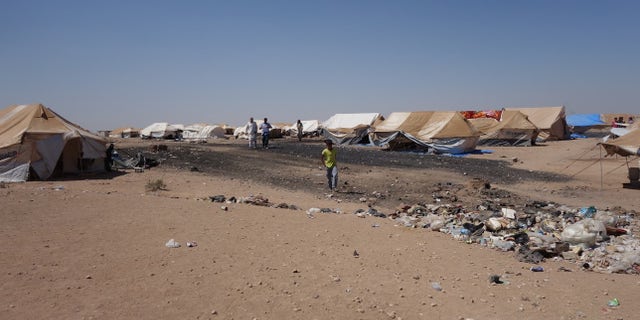 Medical care is said to be so scarce that even the basics are next to impossible to come by.
"One man we met had a fresh burn and there wasn't even a bandage for him to prevent further inflammation," Sedky continued. "Each day is a matter of life or death."
BATTLE TO FREE RAQQA PUTS COALITION UP AGAINST BOOBY-TRAPS, CAR BOMBS AND MINES
An estimated 50 percent of those stuffed into the oil refinery-turned-makeshift-camp are children, with at least ten percent unaccompanied because their parents died in the fighting. Their future is anyone's guess.
The journey to get outside of Raqqa continues to be akin to hell. Smugglers charge some $5,000 just to transport desperate civilians 1,600 feet across the river, where some never make it to the other side. Most arrive at the various camps scattered in the area, including Arisha, with nothing but the clothes on their back – but grateful to have survived the squandering summer expedition along the mine-riddled region.
ISIS GUNNED DOWN PREGNANT WOMEN, BABIES, FORMER NAVY SEAL RECALLS
And the fate of tens of thousands trapped inside the besieged city is largely unknown.
The main supply routes have been cut off – prompting massive food shortages – as U.S.-backed forces prepare their final assault to drive the militants out. The electricity supply has been out of action for three months, and the water system has been heavily damaged from the aerial bombardment, igniting yet another illness epidemic.
"They are going to the Euphrates to fetch water, and that is untreated," Ingy added. "We are very worried about the outcome of this."