Rain Kills At Least 8 in Rio de Janeiro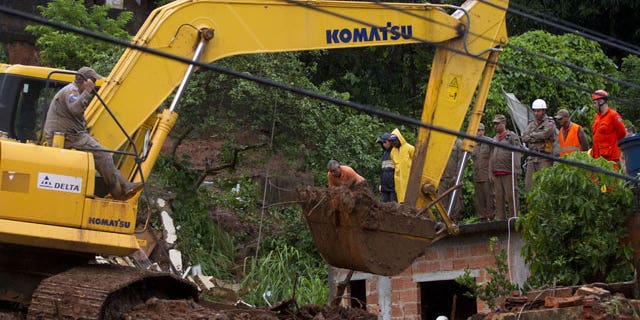 JAMAPARA, Brazil – Heavy rains caused mudslides that killed at least eight people in Rio de Janeiro state Monday, raising the number of dead in Rio and neighboring Minas Gerais state to 23 so far this year, civil defense officials said.
Mud loosened by the rain swallowed about 10 houses in the town of Sapucaia Monday morning. Seven residents were confirmed dead by rescue crews that are still searching for survivors. The eighth victim died when a house collapsed nearby.
Up to 20 other people are still missing, according to Rio state's civil defense department. Local authorities are still compiling a list of the disappeared.
Among the missing is a family whose car was caught in the mudslide as they tried to escape, said municipal spokesman Sergio Campante.
Last week, torrential rain burst a dam, leading to the evacuation of 4,000 residents of the town of Tres Vendas. Elsewhere in the state, another 4,000 people were forced from their houses and three people were killed by heavy rains and mudslides.
In the neighboring state of Minas Gerais, more than 10,000 people have left their homes, and 12 have died in floodwaters or mudslides, according to the state's civil defense department.
The southern hemisphere summer, which starts in late December, is Brazil's rainy season. It frequently brings devastation and death to communities perched on hillsides or near river banks. Nearly 1,000 people died last year around this time when torrential rain unleashed avalanches of mud in Rio's mountains.
In the capital, Brasilia, president Dilma Rousseff cut short her vacations and met Monday with cabinet members to discuss the relocation of residents of areas hit hardest by the storms.
"Avoiding deaths is our number one priority," said Rousseff's chief of staff, Gleisi Hoffmann.
The federal government announced the creation of a working group of 35 geologists and 15 hydrologists who will evaluate at-risk areas in Brazil's southeastern states of Rio, Minas Gerais and Espirito Santo.
"We're going to map out the locations to identify the most vulnerable areas and help relocate the families," said the minister of Science and Technology, Aloizio Mercadante, in a press conference held after meeting with the president.
Meanwhile, a severe drought in Brazil's southern state of Rio Grande do Sul led the governor, Beto Grill, to declare a state of emergency Monday. The federal Ministry of Agriculture announced it has alloted $9.7 million to build dams and wells among other public works designed to improve the situation.
Soy, corn and bean crops in the state have suffered a loss of about $1 billion, the state secretary of rural development, Ivar Pavan, said.
A two-month drought has also been hurting crops in countries south of Brazil. Paraguay's soy, cotton and corn harvests will be down by 40 percent, the vice minister of agriculture, Andres Werlhe, said.
In Argentina, the drought is eating into the country's main agricultural exports: soy, beef and corn. The provinces hit hardest by soaring temperatures and the lack of rain, Santa Fe and Buenos Aires, are the country's biggest farm producers