Qaddafi Forces, Libyan Rebels Battle at Key Oil Port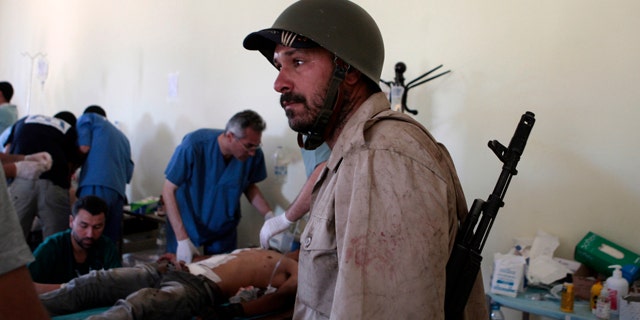 Libyan rebels battled their way back into a major oil port just 30 miles (50 kilometers) west of Tripoli, forcing Moammar Qaddafi's troops to close the vital coast highway and key supply route from Tunisia. The renewed rebel offensive marked a significant rebound for opposition forces who were crushed and driven out of the city nearly three months ago.
Rebels first took Zawiya in early March, but were brutally expelled less than two weeks later in an assault by members of an elite brigade commanded by Qaddafi's son Khamis. That had left rebels with only tenuous footholds in Libya's far west.
On Saturday, Guma el-Gamaty, a London-based spokesman for the rebels' political leadership council, said opposition fighters had taken control of a large area on the western side of the city. A rebel fighter who fled Zawiya at the end of March said "there are clashes inside Zawiya itself." The rebel, who identified himself only as Kamal, said "the fighters are back in the city" and that he had spoken with them.
While too early to mark a breakthrough in the stalemated civil war between Qaddafi forces and the rebels, who control roughly the eastern third of the country, an opposition offensive so near the capital was bound to put a nearly intolerable burden on Qaddafi forces.
They have been riddled by defections, badly hurt by ongoing U.N.-sanctioned NATO airstrikes and facing huge resupply problems as a result of the naval blockade that has clamped off ports.
The international actions are designed to help the four-month-old rebel uprising to drive Qaddafi from nearly 40 years in power in the oil-rich North African country.
Apparently prompted by the Zawiya clashes Saturday, Libyan soldiers sealed off parts of a crucial coastal road leading from Tripoli west to the Tunisian border.
An AP reporter traveling the coastal highway approaching Zawiya from the capital reported it was clogged with soldiers and loyalist gunmen with assault rifles, some patrolling the road, others manning checkpoints. Roadside shops were shuttered. The only vehicles on the road were white jeep-style vehicles use by Qaddafi soldiers.
Civilian vehicles were directed onto a narrow agricultural road through olive groves and past grazing cattle and sprawling homes. Traffic on the agricultural rode crawled past Zawiya and was only allowed back on the coastal highway at the historic Roman-era town of Sabrata, 20 miles (30 kilometers) west of the fighting.
The coastal road is a key artery from neighboring Tunisia for delivery for food, fuel and medicine for the Qaddafi regime.
Shelling continued sporadically Saturday near the rebel-held port city of Misrata, where Qaddafi forces hit towns on the western outskirts of the city, 125 miles (210 kilometers) east of Tripoli.
More than 30 rebels were reported killed in government fire from tanks, artillery and incendiary rockets that rained down on Dafniya, about 18 miles (30 kilometers) west of Misrata.
Casualty figures came from a doctor at Hikma Hospital in Misrata, who would only give his first name, Ayman. He said the shelling began Friday morning, intensified toward nightfall and continued periodically Saturday.
Along the Dafniya front line Saturday, rebels rested on mattresses behind barriers of dirt and tried on new sneakers distributed by the Red Crescent. Others maneuvered pickup trucks outfitted with anti-aircraft guns through a grove of gnarled olive trees and toward Qaddafi troops. They claimed to have taken out a tank.
Explosions boomed in the distance.
Abdel-Aziz Ibrahim sat behind a dirt mound peering through a pair of binoculars at Qaddafi's troops moving on foot and in civilian cars through the olive trees.
"I see them left and right across the road," he said. "They are just waiting, but we can take them."
Misrata remained one of the most important rebel footholds in the Qaddafi controlled west.
Government forces have the city surrounded on all sides but the north, where the city has access to the Mediterranean Sea for supplies and food through Libya's major port. Rebels have beaten back several government attempts to retake the city.
And now Qaddafi forces are pushing back as rebel forces try to break the siege for an eventual advance on Tripoli.
A rebel fighter in Misrata who identifies himself only as Abdel-Salem said Qaddafi's sons Khamis and al-Moatassem and top aid Abdullah al
Senoussi are in command of the operation that is dug in at Zlitan, about nine miles (15 kilometers) from Dafniya.
"The situation is very bad there. Qaddafi sent huge forces to Zlitan to fortify the city because he knows that if Zlitan falls in the hands of the rebels, the way to Tripoli will be wide open," Abdel-Salem said. "Now the ball is in the court of NATO, but we have not seen any NATO planes flying over despite the fierce battle."
Rebels complain that NATO airstrikes have focused too heavily on Tripoli -- the alliance has conducted some of the most intense strikes of the mission on the capital this week -- while spending too little time in areas like Misrata and Zawiya.