Qaddafi Deposited Billions in London Ahead of Asset Freeze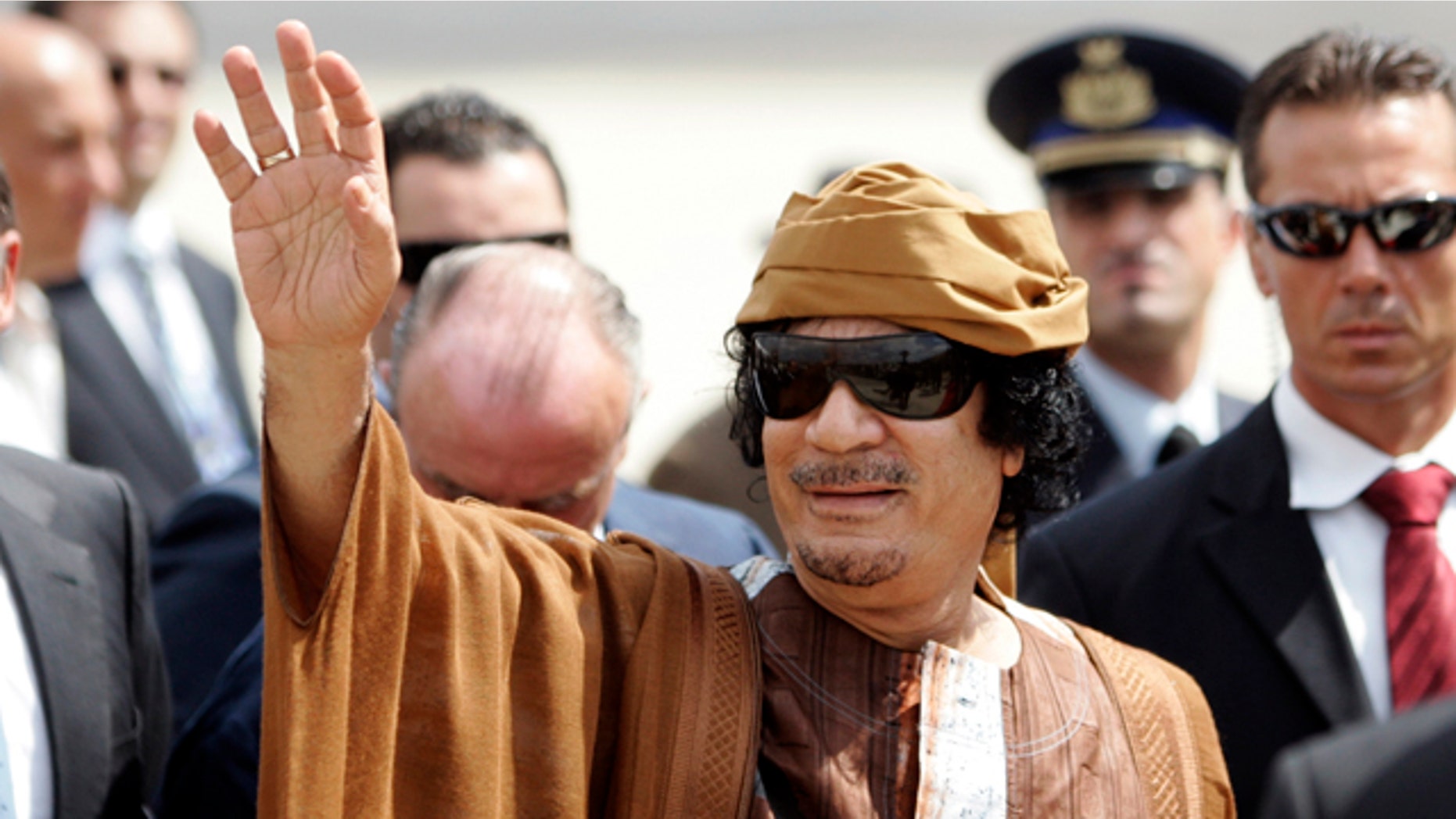 LONDON -- As the United States moved to lock up the American assets of Muammar al- Qaddafi Friday, it was revealed the Libyan leader secretly deposited £3 billion --$4.8 billion -- with one of London's private wealth managers last week in an attempt to protect his family's fortunes.
The deal was brokered on Qaddafi's behalf by a Swiss-based intermediary who had previously approached another well-known British stockbroking firm five weeks ago with a view to depositing funds.
However, when that stockbroker discovered the ultimate identity of the source of the funds, it advised the intermediary to take his business elsewhere.
"I said no, because personally I'm not comfortable dealing with murdering tyrants with blood on their hands," the chief executive of the firm told The London Times.
On Friday, President Obama imposed sanctions on Qaddafi's government over a brutal crackdown on protesters, in an apparent attempt to further weaken the long-time strongman's teetering rule.
Obama wielded presidential power in an executive order, seizing assets and blocking any property in the U.S. belonging to Qaddafi or his children.
In a statement, Obama said the measures were specifically targeted against the Qaddafi government and not the material wealth of the Libyan people themselves.
"By any measure, Qaddafi's government has violated international norms and common decency and must be held accountable," Obama said in a statement.
"These sanctions therefore target the Qaddafi government, while protecting the assets that belong to the people of Libya."
Qaddafi, whose 42-year regime is closer to collapse than ever, has been secreting money out of his oil-rich but financially impoverished nation and into private accounts around the world.
The U.K. Treasury stepped up efforts to trace and freeze Qaddafi's assets in Britain Friday, which are believed to include billions of dollars in bank accounts, some commercial property and a $16-billion mansion in London.
The Swiss Government told its banks Friday to freeze any assets belonging to Qaddafi, issuing a comprehensive blocking order covering 29 people, including the dictator's wife and children, some of his wife's relatives and six officials of the regime.
Also Friday, U.S. Secretary of State Hillary Clinton welcomed action by the U.N. Human Rights Council "in condemning human rights violations and violence committed by the Libyan government against its own people."
"We strongly support the Council's establishment of an independent commission of inquiry to investigate these violations with a view towards ensuring that those responsible are held accountable," Clinton said.
Clinton said the U.S. would work to build support for a resolution to suspend Libya from the council, with talks set to resume Saturday.
Qaddafi made a surprise appearance in Tripoli's Green Square earlier Friday, telling supporters to "prepare to defend Libya" as the U.S. announced it had suspended embassy operations in Tripoli and would temporarily withdraw all its employees.
The erratic, unpredictable Qaddafi, speaking from atop a rampart in images shown on state television, also declared arms depots would be open to his supporters if necessary, AFP reported.
As for the protesters whose weeks of battles with government troops vastly weakened his onetime stranglehold on power, Qaddafi vowed, "we will fight them and beat them."
Wearing what was described as a winter jacket and a hunter's cap, and thrusting his arms into the air and shaking his fists, Qaddafi told the cheering crowd, "Life without dignity has no value, life without green flags has no value. Sing, dance and prepare yourselves."
There were reports of intense clashes Friday in the streets of Tripoli, although no casualty toll was immediately available. However, Libya's former deputy U.N. ambassador said "thousands" had been killed since fighting erupted in the country Feb. 15.
As the situation in Libya deteriorated, White House spokesman Jay Carney announced the suspension of U.S. embassy operations in Tripoli. The State Department advised a plane left for Istanbul, Turkey Friday afternoon carrying American citizens, and Fox News Channel said these included the last remaining embassy personnel.
In Tripoli, several witnesses told CNN intense clashes had erupted in multiple parts of the city after Friday afternoon prayers. One witness said protesters in western Tripoli were met by plainclothes security forces who fired guns at them and later used tear gas to disperse the crowds.
"We're all in our houses like we're sitting in jail," a Tripoli resident said Thursday. "We can't go outside or we get shot. We hear the bullets."
Qaddafi's eldest son, Saif al-Islam Qaddafi, in an interview with CNN-Turk Television taped Friday in Tripoli, vowed his father would never depart.
Asked if Qaddafi had a "Plan B" to leave Libya, his son replied, "We have Plan A, Plan B, Plan C. Plan A is to live and die in Libya. Plan B is to live and die in Libya. Plan C is to live and die in Libya."
French President Nicolas Sarkozy became the first world leader to bluntly demand Qaddafi's ouster.
"Mr. Qaddafi must go," Sarkozy said during a visit to Turkey. "The systematic violence against the Libyan people is unacceptable and will be the subject of investigations and sanctions."