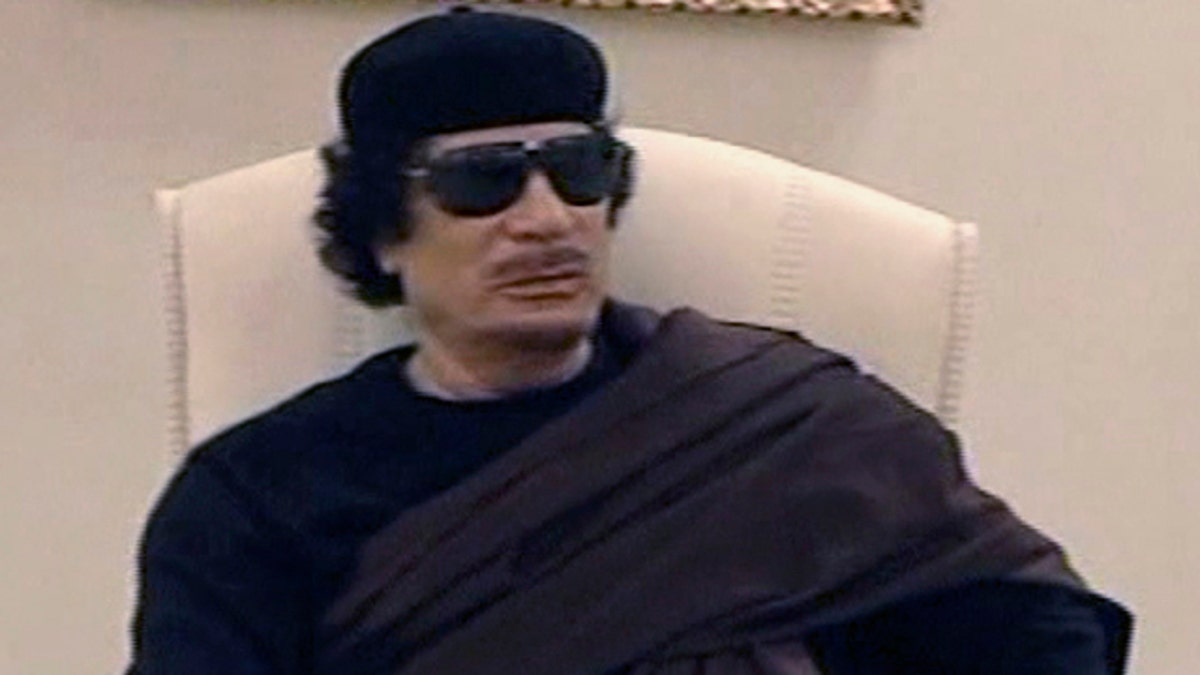 Pressure is mounting on Muammar al-Qaddafi from within his stronghold in the Libyan capital, with increasing NATO airstrikes and worsening shortages of fuel and goods. An activist said Friday that there has also been a wave of anti-government protests in several Tripoli neighborhoods this week -- dissent that in the past has been met with zero tolerance and brutal force.
Qaddafi's rebel opposition, meanwhile, received major political boosts from abroad. Britain promised to provide them with police gear, and the Obama administration invited a rebel delegation to the White House for talks on Friday.
Highlighting the pressure, the sound of two NATO strikes could be heard early Friday. It was not immediately clear what they targeted. They followed a round of NATO airstrikes early Thursday that hit Qaddafi's fortified compound in Tripoli. Just hours beforehand, the Libyan leader had appeared on state TV for the first time since his son was killed nearly two weeks ago. Before his appearance, rumors swirled that he had been killed or injured.
Reporters were shown the airstrike damage by Libyan officials, including one who said Qaddafi and his family had moved away from the Bab al-Aziziya compound some time ago. One missile appeared to have targeted some sort of underground bunker at the compound -- a sprawling complex of buildings surrounded by towering concrete blast walls.
NATO, which has hit the Libyan capital repeatedly this week, said Thursday's attack successfully hit "a large command and control bunker complex in downtown Tripoli that was used to coordinate attacks against civilian populations."
Early on Friday, an anti-government activist in the Libyan capital said there had been protests this week in at least three neighborhoods in the capital, accompanied by exchanges of gunfire between opposition activists and Qaddafi forces.
He said he saw in one neighborhood, Fashloum, there were soldiers flooding the area and were patrolling the streets in vehicles. He said he did not personally see a demonstration there but heard from other activists that there was a brief gunbattle in that area.
The sharp cracking sound of gunfire could be heard in a separate neighborhood close to the hotel where reporters must reside.
The activist's report echoed those made earlier to The Associated Press by a local journalist and resident on Thursday. All spoke on condition of anonymity out of fear of reprisals.
Reporters cannot independently confirm the information because they may not leave their Tripoli hotel without government minders.
When residents of Tripoli tried to protest against Qaddafi earlier in the uprising, gunmen in speeding cars tore through and fired wildly into the crowds, making many fearful to go out in the streets and demonstrate.
The activist said residents are deeply frustrated by a severe fuel shortage that forces some motorists to spend up to three days in line at gas stations. His report echoed what is clearly visible to reporters when they are shipped around on buses.
The price of black market fuel had reached 100 dinars for 5 gallons of gas -- in comparison to the government price of 3 dinar for the same amount. The government sells gas for 15 Libyan cents a liter.
He added there were sharp shortages in medicines and the price of some basic foods had doubled and tripled in price. The activist gave the example of a cholesterol medicine which was no longer available in Tripoli, and asthma medicine that doubled in price to 60 Libyan dinars. He said the price of vegetable oil quadrupled from less than one dinar to four, and the price of pasta -- a Libyan staple -- also rose from half a dinar to 2 dinars.
The head of the rebels' transitional government, Mustafa Abdul-Jalil, said during a high-level visit to London on Thursday that Qaddafi opponents in Tripoli were in the process of acquiring weapons and predicted they would eventually contest regime forces in the capital.
"Tripoli is surrounded both internally and externally, and every day its sons go out and execute a few limited operations, perhaps to acquire some weapons," Abdul-Jalil said. "Tripoli will rise to get rid of this regime."
Britain said in talks it would supply police officers in rebel-held eastern Libya with uniforms and body armor, but so far -- like other governments -- is declining to provide military weapons.
The rebels control most of eastern Libya, while Qaddafi controls most of the west, including Tripoli. The besieged port city of Misrata -- about 125 miles southeast of Tripoli -- is the only rebel stronghold in the west. Local doctors say more than 1,000 of its residents have been killed in the fighting and shelling during the siege by Qaddafi's forces.
According to NATO, Qaddafi's forces dispatched a number of small speedboats to attack Misrata's port early Thursday, but they were repelled by Canadian, British and French warships on the scene.
In Tripoli, Libyan government spokesman Moussa Ibrahim said three people were killed in Thursday's NATO strikes -- a local official and two Libyan journalists who were making a documentary about the hundreds of Libyan civilians who have been sleeping in Qaddafi's compound to show support for their leader.
He said another four people were killed in NATO strikes on the airport road on Wednesday, but their bodies were only found later.
Ibrahim fumed at the persistent airstrikes, which are aimed at pressuring Qaddafi to end his 42-year authoritarian rule.
"All they want is to break our morale, to cause death and destruction everywhere," Ibrahim said. "People are being killed, every single day, every single night."
At the compound, there was a large hole in the ground near stairs leading to an underground passageway. A missile appeared to have landed and penetrated through a smaller hole before blowing up the gaping crater shown to reporters -- a pattern typical of bunker-busting bombs.
Another missile made a small, charred hole in a large concrete area that appeared to serve as a corridor between buildings. Yet another dug a crater close to where khaki tents were strung up. A building described as a VIP reception area had part of its facade blown away.
Qaddafi's compound has been a frequent site of recent airstrikes, including one on April 30 that killed the leader's son, Seif al-Arab. Officials said Qaddafi was in the compound when that strike occurred but escaped unharmed.
NATO has repeatedly said all its targets in Libya are military and that it is not targeting Qaddafi or other individuals. In its latest update Thursday, NATO denied targeting the North Korean Embassy in Tripoli -- a response to a report by the Libyan state news agency JANA that the embassy had been damaged during one of this week's strikes.
Qaddafi had seven sons and one daughter. He also had an adopted daughter who was killed in 1986 when a U.S. airstrike hit the Bab al-Aziziya compound in retaliation for a bombing attack on a German disco in which two U.S. servicemen were killed.
In an apparent effort to dispel rumors that Qaddafi himself had been killed, Libyan state TV showed him meeting tribal leaders. He spoke but the sound was not audible. To authenticate the scene, the camera zoomed in on the date on a TV monitor in the room, which read Wednesday, May 11. It was apparently recorded at the hotel where foreign correspondents must reside in Tripoli. Qaddafi did not make himself available to them.
The last time Qaddafi had been seen in public previously was April 9, when he visited a school in Tripoli.