Putin warns Europe about Ukraine gas debt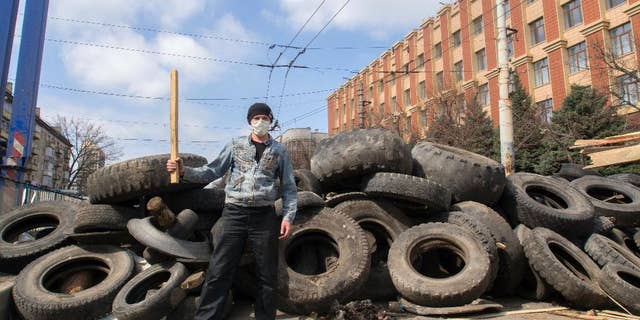 MOSCOW – Dragging much of Europe into his fight with Ukraine, Russian President Vladimir Putin urged European leaders Thursday to quickly help Ukraine settle its gas debt to Russia to prevent an imminent shutdown of Russian natural gas supplies to the continent.
Putin's letter to 18 leaders, released Thursday by the Kremlin, is part of Russia's efforts to retain control over its struggling neighbor, which is teetering on the verge of financial ruin and is facing a pro-Russian separatist mutiny in the east.
A large Russian military buildup alongside the Ukrainian border has also raised fears that the Kremlin could use the tensions in eastern Ukraine as a pretext to invade, following Moscow's annexation of Crimea last month.
Putin's move raises the specter of a new gas dispute between Russia and Ukraine that could affect much of Europe. In 2009, Moscow turned off supplies to Kiev, leading to the shutdown of Russian gas moving across Ukrainian pipelines to other European countries.
The amount that Putin claims Ukraine owes is growing by billions every day. In the letter, Putin said Ukraine owes Russia $17 billion in gas discounts and potentially another $18.4 billion incurred by Ukraine as a minimal take-or-pay fine under their 2009 gas contract.
He added, on top of that $35.4 billion, Russia also holds $3 billion in Ukrainian government bonds.
The amount is far greater than the estimated $14 billion bailout that the International Monetary Fund is considering for Ukraine.
Putin warned that Ukraine's mounting debt is forcing Moscow to demand advance payments for further gas supplies. He warned that if Ukraine failed to make such payments, Russia's state-controlled gas giant Gazprom will "completely or partially cease gas deliveries."
Putin told the leaders that a possible shutdown of Russian gas supplies will increase the risk of Ukraine siphoning off gas that intended for Europe and will make it difficult to accumulate sufficient reserves for next winter. He urged quick talks between Russia and European consumers of Russian gas to prevent a looming shutdown of supplies.
"The fact that our European partners have unilaterally withdrawn from the concerted efforts to resolve the Ukrainian crisis, and even from holding consultations with the Russian side, leaves Russia no alternative," Putin said.
He said Russia may decide to help its struggling neighbor "not in a unilateral way, but on equal conditions with our European partners."
"It is also essential to take into account the actual investments, contributions and expenditures that Russia has shouldered by itself alone for such a long time in supporting Ukraine," he wrote in the letter. "Only such an approach would be fair and balanced and only such an approach can lead to success. "
Putin has been tightening the economic screws on the cash-strapped Kiev government since it came to power in February, after Ukraine's Russia-leaning president fled the country after months of protest.
Starting this month, Russia state energy giant Gazprom scrapped all discounts on gas to Ukraine, meaning a 70 percent price hike that will add to the debt figure.
Russia argues that a gas discount was tied to a lease for Russia's Black Sea Fleet base in Crimea, a Ukrainian region that Russia annexed last month. And Ukraine has promised the IMF that it will cut energy subsidies to residents in exchange for the bailout. That means gas prices were set to rise 50 percent on May 1 even before the latest salvo from Putin.